In This Review
What is Plenity?
Plenity is a hydrogel weight loss product that uses cellulose and citric acid to fill your stomach, curbing your appetite so you eat smaller meals. This is a product which you can only get by meeting with an online physician and getting a prescription first.
It's a safe product that the FDA has approved for weight-loss purposes. There's an online community you can join to get support and information during your weight loss journey.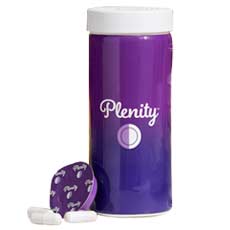 Who is the Manufacturer of Plenity?
A company by the name of Gelesis, Inc. manufactures and sells Plenity Weight Loss Pills. It started in 2006, and they have its headquarters in Boston, Massachusetts. Their parent company is PureTech Health. Gelesis, Inc is a biotechnology company that produces products and technology to help treat obesity.
How Does Plenity Work?
Plenity weight loss supplement primarily contains cellulose and citric acid in capsules, and the user is meant to take them with a lot of water 20 minutes before a meal. In the stomach, the outer part of the capsule dissolves, releasing the ingredients. The particles absorb the water around them and grow much bigger than they were initially.
This creates individual pieces which are firm. They fill your stomach so you feel less hungry, and you consume less during your meal. When the particles get to the large intestine, they break down, and the water releases. It all leaves your body when you go to the bathroom. Ideally, Plenity results in weight loss.
In addition, citric acid can speed up the metabolism, which puts the body into a state of thermogenesis where it burns fat rapidly. This can help you lose weight faster.
A clinical study published in Clinical Diabetes[1] by the American Diabetes Association concluded that Plenity was a safe and effective weight loss method. Another study in the Annals of Pharmacotherapy[2] says it's a non-systemic approach to weight loss for people with obesity, and a good alternative to current pharmacological solutions.
Plenity Ingredients – Are They Safe and Effective?
When looking at Plenity reviews, it is important to scrutinize the ingredients within its formula.
Cellulose – This is a molecule that makes up the walls of plant cells. It contains hydrogen, carbon, and oxygen atoms. It seems like an ideal weight-loss ingredient because it expands inside the stomach, making you feel full.
However, the research is not completely certain about cellulose as a weight loss agent. A study published in Obesity[3] found that it did not affect appetite.
Advertisement
*All individuals are unique. Your results can and will vary.
Citric Acid – This is an organic acid which is found in citrus fruits. It's often included in nutritional supplements as an additive ingredient.
It's a potent antioxidant that can help speed up metabolism, leading to fat and weight loss. According to Science Direct[4], research shows that hydroxycitric acid can reduce appetite, and weight, and improve the lipid profile.
---
What are the Pros of Plenity?
Plenity may suppress your appetite, so you eat less.
The FDA has approved this supplement.
Plenity Pill could help you lose weight.
Its efficacy has been confirmed in clinical trials.
There's an online community to provide support.
What are the Cons of Plenity?
Plenity Diet Pill is an expensive weight loss aid.
You need a prescription to get the product.
There may be side effects like gas and bloating.
---
Warnings & Precautions
Before taking any supplement, you should read warnings and safety information carefully. The manufacturer of Plenity has provided all the information on how you should take Plenity weight loss pills.
Plenity FAQ
Q: How Should You Take Plenity?
A: The recommended dosage is six capsules per day. Take three capsules 20 minutes before lunch and three more 20 minutes before dinner. Drink 16 ounces of water after you take the Plenity pills, as you need this for the product to work. Do not take more than the amount recommended by the manufacturer.
Q: Is Plenity FDA Approved?
A: Plenity is a safe diet pill that has been approved by the FDA. It can help you manage your weight when combined with a good diet and exercise. It acts in your stomach to make you feel full, allowing you to eat less during the day.
Q: How much is Plenity weight loss?
A: You can get this product through the official website and another site called Push Health. However, in order to get the Plenity pills, you have to see a doctor online and get a prescription first. On the official site, the Plenity cost is $98 for a 4-week supply. This works out to $1.75 per meal.
Q: What is Plenity's Return Policy?
A: There are no returns for this product because they do not offer a return policy for prescription products. All sales are final, so make sure this is the right supplement for you before you buy.
Q: Does Plenity Offer a Free Trial?
A: There is no free trial associated with this product. You buy it through the official or another site by meeting with a doctor and getting a prescription; then you purchase it. There are no free samples or trial bottles.
Q: What Do the Plenity Reviews Say?
A: Most of the Plenity weight loss reviews are on the manufacturer's official website, many in the form of video testimonials. Most of these reviews were very positive and spoke about the success stories of the great weight loss people experienced without any side effects after using this product. They mentioned losing weight without feeling deprived or hungry. There were no negative Plenity reviews found on the official site.
Advertisement
*All individuals are unique. Your results can and will vary.
Q: Does Plenity Have Any Side Effects?
A: In a clinical study reported by the manufacturer, users got no more Plenity side effects than the subjects taking a placebo. Based on Plenity reviews, common symptoms included bloating gas or abdominal pain. There were no serious side effects reported for this product.
Q: Who Should Use Plenity?
A: Plenity is designed for people who are overweight or obese and have a BMI of 25 to 40 kg/m2. It aims to suppress appetite and help people eat less, which speeds up their weight loss efforts. Users should follow a healthy diet and exercise regularly while using the product.
Q: Is Plenity Covered by Insurance?
A: Yes, you should be entitled to exclude any more of your Plenity out-of-pocket costs from your HSA (Health Savings Account), FSA (Flexible Spending Account), or MSA (Medical Savings Account).
Q: Where Can I Get Plenity?
A: Plenity availability is only on its official website and not in pharmacies, as it has been licensed by the FDA. We encourage you to revisit this page because medicines can be licensed days, weeks, or months before they are published.
Q: Is Plenity Safe?
A: Plenity is a weight-loss supplement formulated with two natural ingredients: cellulose and citric acid, which has been approved by the FDA. Plenity users lost an average of 10% of their body weight after six months without experiencing any side effects in a clinical trial.
Q: How can I get Plenity prescription?
A: You do not need to meet with a physician in person to get Plenity weight loss pills! You can visit MyPlenity.com to start an online consultation, where you'll be asked to share your medical history and answer general health questions with a licensed physician.
Q: How to cancel Plenity subscription?
A: Plenity's official website does not provide a refund policy. However, if you have any questions about the cancellation of a product, contact them via
Email plenitycare@ro.co or call or text 424-347-6299 (Mon–Fri: 9:30am–9pm EST).
Plenity Review – Final Verdict
Plenity is a weight loss product that uses bioactive technology to make you feel less hungry during a meal, so you consume less. This is a prescription product, and you must meet with a doctor before you can take it. You can also join the online community, which provides you with ongoing support.
Looking at the official website, almost every Plenity review raved about the great weight loss benefits of this product. Many users said it made their journey that much easier and that they never felt hungry. There were a few poor reviews on the official site, if any at all. On Plenity's official website, you can see more before and after testimonials.
This product has been clinically tested and shown to be safe; however, there are some mild digestive symptoms that could occur. If you experience any Plenity side effects that seem more serious, stop using the product. Before you use this supplement, see an online doctor and also your own doctor to get medical approval.
Below you'll find some of the most effective weight loss supplements on the market today, in our opinion.
Our Top Rated Weight Loss Supplement
Verdict on Claimed Benefits: Below is our summary of the available evidence for the claimed benefits of below mentioned diet pills and weight loss supplements based on the available research: