In This Review
What is NJ Diet?
NJ Diet is a feeding program, targeted to help the user lose weight faster and in a healthy way.
It is a program supervised by "nutritionally certified personnel" and customers are assigned different diet plans according to their body needs.
The program is aimed at promoting healthy weight loss and improving overall wellness. It involves consultation and genetic testing, followed by customized diet plans thereafter.
Advertisement
*All individuals are unique. Your results can and will vary.
It is projected that following this program will result in 20 to 45 pounds over a 40 day period. (*According to the CDC, a healthy, sustainable weight loss rate is 1 to 2 pounds per week.)
The developers of this program are confident in the results and have offered a money-back guarantee in the event the user is unable to achieve the expected results.
It is a method that involves a change in the diet plan and claims to help the user to lose weight safely and naturally.
Each user receives their own customized diet plan to suit their body's needs. Under the supervision of "nutritionally certified personnel", there are additional natural supplements included in the user's dietary plan.
The diet plan differs depending on the individual genetics and they claim to help regulate metabolism, fat burning, energy, appetite, and fat storage.
Registration for this program is done online at a cost of $99 inclusive of consultation and evaluation fee. However, there is currently a special on the website and registration is $27.
This program claims to help to detoxify your body, balance hormones, and better the user's life.
It may be a good alternative to the available weight loss products.
How Does It Rate?
Overall Rating: 3.4
NJ Diet
Brand Highlights
This program was developed by weight loss centers located in New York and New Jersey.
Developers of this program consider it to be a safe, natural, healthy, and faster way of losing weight.
The program is supervised by nutritionally certified personnel.
Made bioenergetically personalized supplements
This program claims to help regulate body metabolism, fat storage, appetite, fat burning, and body energy levels. It also claims to help in balancing hormones and detoxifying the body.
This program is available online and registration can be completed through the brand's website.
Pros
Nuvo fat loss system may promote healthy and natural weight loss
Online video consultation
NJdiet claims to help regulate metabolism
It claims to promote fat burning
Cons
The NJdiet cost may be out of the user's price range
In-person appointments are only available in the New York Tristate area
The procedures may be too invasive for some users
---
Who Created NJ Diet?
The NJ Diet is a weight loss program developed by health professionals based in New York and New Jersey. As part of their approach, customers provide hair and saliva samples, which are used to tailor individualized NJ Diet meal plans and supplements designed to facilitate weight loss of 20-40 pounds within 40 days.
The program's goal is to promote healthy weight loss and improve overall well-being. The Nuvo Diet plan has been awarded an "A" rating by the Better Business Bureau and has received 3.5 out of 5 stars.
Dr David Ludwig, a professor of nutrition at Harvard University, suggests that the key to sustainable weight loss is not to focus on calorie counting or portion control but rather to choose healthy, whole foods that fill you up and keep you satisfied.
How Does NJ Diet Program Work?
At the start of the program, an initial consultation will measure body fat percentage, BMI, body water percentage, bone mass, muscle mass, visceral fat, and metabolic age.
The user also submits hair, saliva, and bloodwork samples and undergoes a bioenergetic balancing scan.
Clients are thereafter given a customized diet plan, which contains essentials that will cater to the body's needs.
This program claims to regulate metabolism, fat burning, fat storage, and body energy levels[1].
Below are the features of this program:
DNA Testing – This will help to understand the body's needs and reactions.
Assessment of metabolic age, body water percentage, body fat percentage, visceral fat, body mass index, muscle mass and bone mass
Nutritional controlled natural dietary supplement
This program features diet plans that claim to support healthy weight loss and regulate body metabolism, and the rate of burning fats and energy levels. User success photos are available on the NJ Diet website homepage.
Dr. Holly Lofton, an assistant professor of medicine and director of the weight management program at New York University Langone Health, suggests that successful weight loss requires a combination of healthy eating habits, physical activity, and emotional support.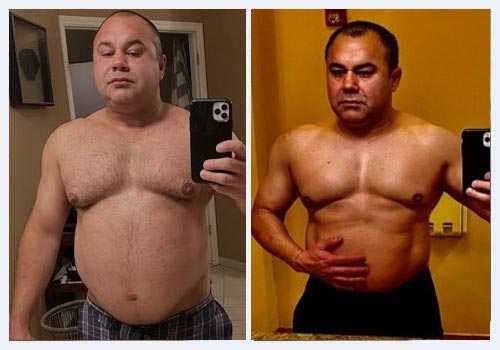 Foods that allowed On NJ Diet
The New Jersey Diet appears to follow a strict low-calorie approach, but information about its specifics is limited to paying customers only.
According to customer reviews, the daily calorie intake can be as low as 500, which is consistent with other 40-day programs that restrict calories to 500-800 per day. However, this level of caloric restriction is considered dangerous and unsustainable for most people.
NJ Diet Menu mainly consists of lean protein like chicken or fish, prepared without additional oil, along with non-starchy vegetables and fruit.
A balanced diet should include a mix of carbohydrates, protein, and healthy fats, with an emphasis on whole, minimally processed foods." – Dr. David L. Katz, Yale University School of Medicine

NJ Diet – FAQ's
Q: How Do I Use NJ Diet?
A: The diet program is made available after registering online. The client will go through an evaluation and a diet plan.
Q: What Are The Precautions When Using NJ Diet?
A: The manufacturer does not provide any information about NJ Diet Precautions.
Q: How Long Before I See Any Improvements?
A: According to NJ diet reviews and founder, It is projected that the user will see a 20 to 45-pound weight loss in 40 days. (*According to the CDC, a healthy, sustainable weight loss rate is 1 to 2 pounds per week. However, results may vary from one person to the other.
Q: What are the Side Effects of the NJ Diet?
A: As per NJ diet reviews, There are no side effects are seen yet.
Q: How much does NJ Diet cost?
A: Attending the Initial Evaluation and Consultation cost of NJ Diet is normally $99, but registering on the website it will cost $27.
Q: How to contact NJ Diet?
A: The official website provide the doctor's personal e-mail and phone number, if you ever have any questions or issues you can contact the doctor directly. You may want to visit one of their convenient locations for your consultation.
In case you wish to get in touch with the NJ Diet company, you may utilize any of the following means of communication:
Phone: 855-5NJ-DIET (855-565-3438)
Email: [email protected]
Q: Can You Drink Alcohol on Nj Diet?
A: The NJ Diet is a weight loss program that is tailored to the individual's needs and includes a personalized diet plan, supplements, and the guidance of a personal coach. Although the program does not explicitly forbid alcohol consumption, it is advised that individuals should limit or avoid alcohol intake since it is typically high in calories and could disrupt weight loss progress.
Q: Does NJ Diet work for weight loss?
A: Following a calorie restriction of 800 or fewer per day, significant weight loss can be expected within the short 40-day period of the diet. However, this rapid weight loss is unlikely to be safe or sustainable in the long run. A study involving 57 participants showed that those on a 500-calorie diet for 5 weeks experienced greater loss of lean mass, including muscle, bone, or water, compared to those on a 1,250-calorie diet for 12 weeks. Additionally, the former group was more susceptible to weight regain.
NJ Diet Reviews from Customers
There are several positive and negative Nuvo Fat Loss reviews present on the internet. While there are reviews of NJ diet program on platforms such as Reddit, it's crucial to be cautious when considering other people's experiences and to seek advice from a qualified healthcare professional before making any decisions about weight loss.
Dr T and his team are experts in their field! According to my physique and weight, I have shed 19 pounds after following the 40-day regimen. The best choice I've ever made! You will see results, but it requires commitment!- Gavriel F
" I completed the NUVO Fat Loss programme and dropped 18 pounds, which for my build is equivalent to dropping 40 pounds for some people. I am so happy with my success, but what interests me the most is that I no longer feel the urge or desire to overeat. I want to express my gratitude to you and Marina for your assistance."-Shoshana G
NJ Diet Reviews – Final Verdict
NJ Diet is a program that may help the user to lose weight faster and in a healthy way. It is an online program, and customers will get started after making an initial payment for the consultation and evaluation.
It may involve genetic testing to understand the body and its biological reactions.
It is followed by a customized diet plan and natural health supplements. This might help to regulate various body functions like metabolism and fat burning. This may result in healthy weight loss.
Below you'll find some of the most effective weight loss supplements on the market today, in our opinion.
Our Top Rated Weight Loss Supplement
Verdict on Claimed Benefits: Below is our summary of the available evidence for the claimed benefits of below mentioned diet pills and weight loss supplements based on the available research: