In This Review
Overview
The easy accessibility of food in the modern era is a double-edged sword.
On the one hand, the ability to order a meal from your phone and have it delivered to your doorstep in minutes is incredible.
In fact, it can be lifesaving for those who are unable to leave their homes. However, on the other hand, this ease of access may contribute to the overall increase in obesity.
According to the World Health Organization (WHO), obesity is a public health issue impacting every nation today.
By 2025, an estimated 1 billion adults will be overweight, and nearly 500 million will be obese.
While most people identify obesity as a major health problem, being underweight can also be a big issue.
The number of people suffering from malnutrition and food insecurity is increasing worldwide.
Obesity is a severe problem facing the U.S. today. According to the Centers for Disease Control and Prevention, over 40% of American adults are obese.
Obesity can increase the risk of suffering from chronic diseases such as diabetes, heart disease, and cancer.
However, taking dietary supplements daily may help to enhance overall health and well-being and strengthen the immune system.
Advertisement
*All individuals are unique. Your results can and will vary.
Metalean Complete is a powdered dietary supplement that promises to support weight loss and decrease blood sugar and blood pressure.
It contains all-natural ingredients that work together to deliver weight-loss benefits without adverse side effects.
How Does It Rate?
Overall Rating: 4.8
Metalean Complete
Brand Highlights
The product is all-natural.
It's in powder form.
It does not require refrigeration.
The product contains no preservatives.
Key Ingredients
Chromium
Guar Gum
Inulin
Cinnamon Bark
Gymnema Sylvestre
Green Coffee Bean Extract
Pros
It may support healthy weight management.
The product could give you an energy boost.
The supplement may improve mental focus.
It might maintain normal cholesterol levels.
It could promote better overall health.
Cons
The results may vary from user to user.
---
What is Metalean Complete?
Metalean Complete is a powdered supplement that you can add to any beverage to help you feel fuller longer, increase your energy levels, and improve your overall wellness. This product is made from all-natural ingredients and works in a safer way.
Metalean Complete helps you achieve a healthier lifestyle by making it easy for you to lose weight without making drastic changes or sacrifices to your daily routine. The product contains natural ingredients known for their health benefits and ability to increase metabolism so that you burn more calories each day.
Metalean Complete also contains fiber, which can help reduce hunger pangs. It may also promote weight loss by reducing the absorption of fat from food into the bloodstream.
The product comes in powder form, and you can add it directly to water or your beverage of choice. There are no additives or preservatives, making it safe and effective for most adults.
Advertisement
*All individuals are unique. Your results can and will vary.
How Does It Work?
Metalean Complete is a dietary supplement that promises to promote weight loss, speed up metabolism, and increase energy levels. It includes a proprietary blend of ingredients such as vitamins and minerals, green tea extract, guarana extract, and kelp.
You should take Metalean Complete in conjunction with a low-calorie diet and exercise program. You can consume it daily as part of a healthy lifestyle or weight loss program.
Metalean Complete – Ingredients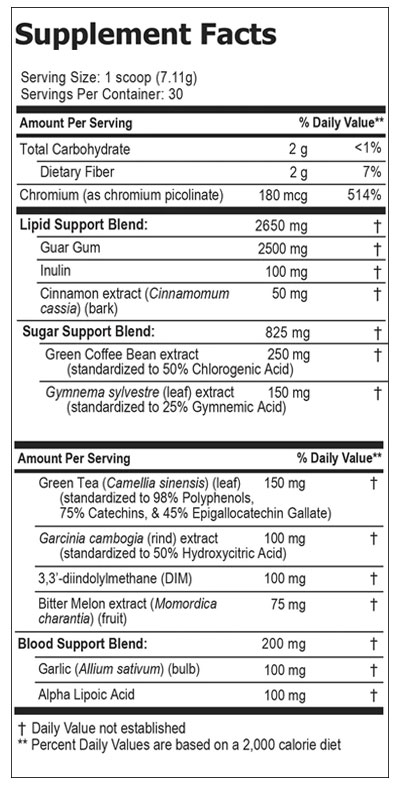 Chromium
Chromium [1] is an element needed for proper bodily functioning, and you can derive it from a variety of foods as well as supplements.
Chromium could regulate blood sugar levels and improve insulin sensitivity, which may help people with diabetes manage their condition. It may also reduce appetite and help to maintain weight loss.
Guar Gum
Guar gum [2] is a powder from the seeds of the guar plant, also known as cluster bean. Included in food and medicine for centuries, today guar gum is often a thickener and emulsifier in foods.
It helps to give foods a smooth texture, making them feel creamier and denser. It's often an ingredient in ice cream, cheese, yogurt, sauces, salad dressings, jams, jellies, and spreads.
Because it's so versatile and easy to use, guar gum is in a variety of products at your local grocery or health food store.
Inulin
Inulin [3] is a carbohydrate that comes from plants. It's also known as fructooligosaccharides (FOS), and it's in many foods that are naturally sweet, such as onions and garlic.
Inulin belongs to a group of carbohydrates called fructans, which include chains of fructose molecules. Fructans are insoluble in water, which means they don't dissolve in the body like other sugars.
Instead, they pass through your system undigested and don't provide any calories or energy for your body to use.
For this reason, inulin is a fiber ingredient in products like breads, cereals, yogurts, and ice creams. It helps you feel full without adding extra calories.
Cinnamon Bark
Cinnamon bark [4] is a long-standing natural remedy for a variety of ailments, including diabetes and high blood pressure, but it is also an effective tool in the fight against obesity. Cinnamon is an excellent addition to your diet because it has many health benefits that can help you lose weight and keep it off.
Cinnamon contains high levels of antioxidants called polyphenols that can prevent the accumulation of fat cells in your body. Studies indicate that cinnamon also helps boost your metabolism, which may promote rapid fat-burning and weight loss.
Advertisement
*All individuals are unique. Your results can and will vary.
Gymnema Sylvestre
Gymnema Sylvestre [5] is an important plant in traditional Ayurvedic medicine. It is native to India and was initially an anti-diabetic herb. It is helpful for diabetes because it blocks the absorption of glucose (sugar) into the bloodstream. This means that it may lower blood sugar levels.
Green Coffee Bean Extract
Green coffee bean extract [6] is a natural supplement and weight loss aid. These is green, unroasted coffee beans with chlorogenic acid. This compound may help burn fat more effectively for weight loss.
Clinical trials indicate its effectiveness for weight loss. Most studies were small in scale, but they did show that people who took the extract lost more weight than the control group.
There's also some evidence that it can help improve blood sugar levels in people with diabetes, which is why some doctors recommend it for type 2 diabetes sufferers who want to lose weight.
Video Review
Metalean Complete – FAQs
Q: How Much Does It Cost?
A You can purchase Metalean Complete on the manufacturer's official website. The prices are as follows:
1 Jar $59.00
3 Jars $147.00
6 Jars $234.00
Q: How Should You Take It?
A For best results It is recommended to take one scoop to 8-12 oz of water once a day, or to the beverage of your choice.
Q: Is It Safe?
A The ingredients used in these supplements are all natural also Metalean Complete has not reported any major side-effects by the consumers. Hence it may stand on your expectation in a safer way.
Q: Where to Buy Metalean Complete?
A You can buy it from the manufacturer's Official Website.
Seller Info
Metalean Complete – Final Verdict
Metalean Complete is a powdered dietary supplement designed to help users lose weight, control blood sugar levels, and manage blood pressure.
This supplement contains a combination of plant-based ingredients, and you should take it in conjunction with a healthy diet and exercise plan.
Studies published in trusted sources support the claim that the ingredients included in this supplement help manage weight and improve health conditions like diabetes.
The company suggests that users take one scoop of powder mixed with water once per day for the best results.
Finally, on the basis of well-researched and all-natural ingredients, along with no negative reviews, we may conclude that you should give Metalean Complete a try to reach your weight loss goals faster.