In This Review
Overview
MetaboUp Plus is a weight loss product that contains ingredients, which are known for their fat-burning properties. It claims to be an energy booster designed to fasten your metabolism and help you lose weight.
MetaboUP Plus is a weight loss supplement that aims to assist in boosting metabolism, increasing energy levels, and reducing appetite.
The supplement contains natural ingredients like green tea extract and caffeine, known for their metabolism-boosting and energy-enhancing properties.
It comes in a pill form, making it easy to incorporate into a daily supplement routine.
How Does Metabo UP Plus Rate?
Overall Rating: 3.7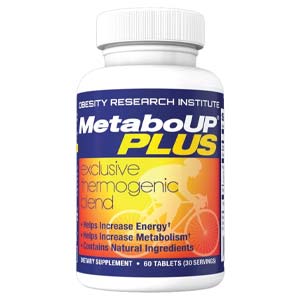 MetaboUP Plus
Key Ingredients
Guarana Seed Extract
Green Tea Extract
Oolong Tea Leaf
Caffeine
Kola Nut Extract
Cayenne Fruit
Vitamin B12
Pros
You can get information regarding the key ingredients of the product, which helps you make an informed decision. Moreover, a complete list of ingredients is also present
The product is easily available online.
MetaboUP Plus is known to increase metabolism, which can help the body burn more calories and potentially aid in weight loss.
Cons
No clinical results are available.
A few ingredients present in the product may cause allergic reactions.
You may not get any money-back guarantee with the product
There may be too much caffeine for some in the product.
---
Metabo UP Plus Ingredients – Are They Safe & Effective?
As mentioned before all ingredients present in MetaboUP Plus are natural and therefore quite safe to be taken. The complete list of ingredients is not available; however here are a few key ingredients present in it;
Guarana Seed Extract
Caffeine present in Guarana increases the rate at which you burn calories. It also has a positive impact on your mood, which makes your weight loss process a healthy and happier one[1].
Dr. Josh Axe, DNM, DC, CNS says that Guarana seed extract is a natural stimulant that is commonly used to improve mental clarity, focus, and energy levels. It is rich in caffeine and other compounds that have been shown to enhance cognitive function and reduce fatigue.
Green Tea Extract
Green tea is known for its weight loss and fat-burning properties. Study in NCBI shows that it has the right amount of caffeine that gives you an energy boost and suppresses your appetite. Green tea also has catechins that help burn calories and releases heat energy in your body[2].
In our comprehensive article on Plexus Metaburn Reviews , we thoroughly documented the presence of Green Tea ingredient in which we provided detailed insights and analysis.
According to Dr. Mark Hyman, MD Green tea extract contains high levels of polyphenols, which have been shown to have anti-inflammatory and antioxidant properties. Some studies suggest that green tea extract may help improve blood sugar control and reduce the risk of heart disease.
Oolong Tea Leaf
The study suggests that aged oolong tea can reduce the accumulation of fats and improve dyslipidemia (abnormal levels of lipids in the blood) by regulating the AMPK/ACC signaling pathway. AMPK is an enzyme that plays a crucial role in regulating metabolism and energy balance, and ACC is a protein involved in fatty acid synthesis. The study found that aged oolong tea can activate AMPK and inhibit ACC, which can lead to reduced fat accumulation and improved lipid metabolism.[3].
Caffeine
It is one of the most famous ingredients used for losing weight. Caffeine present in MetaboUP Plus helps to enhance your physical and mental performance. It also plays a major role in burning calories and increasing your energy level[4].
Kola Nut Extract
kola nut extract has the ability to promote weight loss. This is believed to be due to its ability to suppress appetite and increase metabolism, which can lead to a reduction in overall calorie intake and an increase in fat burning.
Kola nut extract has been used for centuries in traditional medicine and is known for its potential health benefits. One of the most notable benefits of kola nut extract is its ability to boost energy levels and improve focus. This is due to its caffeine content, which acts as a stimulant and can help combat fatigue and improve mental clarity.[5].
Cayenne Fruit
Cayenne fruit extract, derived from the hot chili pepper, has been used for centuries for both culinary and medicinal purposes. One of the most well-known benefits of cayenne fruit extract is its ability to provide pain relief. Capsaicin, the compound responsible for cayenne pepper's heat, has been shown to reduce pain levels by blocking the transmission of pain signals. This makes it a popular natural alternative to traditional pain medications.
Cayenne fruit extract may also be useful for weight loss. Some studies have suggested that cayenne pepper may increase metabolism and reduce appetite, which can help with weight loss efforts.[6] Additionally, cayenne pepper has traditionally been used to aid digestion and alleviate symptoms like bloating and gas. It may also have a protective effect on the stomach lining and help reduce the risk of developing ulcers.
Vitamin B12
One of the main benefits of Vitamin B12 extract is improved energy levels. Vitamin B12 is involved in the production of red blood cells, which carry oxygen throughout the body. A deficiency in B12 can lead to anemia and fatigue, so supplementing with B12 may help boost energy levels.[7].
Who is the Manufacturer of MetaboUP Plus?
Lipozene is the manufacturer of MetaboUP Plus weight loss supplement. Lipozene company based in the United States, and they produce a variety of supplements marketed towards weight loss and appetite suppression. MetaboUP Plus is one of their products and is marketed as a metabolism booster and energy enhancer.
How Does MetaboUP Plus Work?
Metabo Up is a combination of amino acids and herbs. These elements generate a process known as thermogenesis, which helps the user burn calories and produce heat in the body. Thermogensis in your body could happen through exercise, environmental temperature as well as diet. As your body's rate of calorie burn increases your weight loss process also gets fast.
Koala Nut present in the product acts as an appetite suppressant that works to helps you keep your diet and weight in check. The caffeine content present in the product not only keeps your energy levels ups but also helps boost your metabolism and fat burning process.

MetaboUP Plus – FAQ's
Q: How Should You Take MetaboUP Plus?
A: As a dietary supplement take two tablets once daily with water. Consult a healthcare professional before start using it if you have or have a family history of heart disease, diabetes, thyroid disease, etc.
Q: How Much Does MetaboUP Plus Cost?
A: The cost of MetaboUP Plus on Amazon is $25.97 for a pack of two bottles, while Walmart offers a single bottle at a cost of $12.14.
Q: What is MetaboUP Plus's Return Policy?
A: It provides 30 days to return a product excluding the $1.35 processing fee.
Q: Does MetaboUP Plus Offer a Free Trial?
A: It has a risk free trial on its official site.
Q: What Are the Possible Side Effects of Metaboup Plus Supplement?
A: According to online MetaboUP Plus consumer reviews, some possible side effects associated with the use of MetaboUP Plus supplement may include nausea, stomach upset, headaches, jitters, and dizziness. It is important to note that individual results may vary and these side effects are not confirmed by any medical studies.

MetaboUP Plus Review – Final Verdict
This weight loss supplement has its share of pros and cons; however the fact that it contains all-natural ingredients makes it quite safe to be used. But if you have any sort of aversion or reaction to caffeine then you should not try this product at all because even though the exact amount of caffeine present in MetaboUP Plus is not known, but it has many ingredients that have caffeine, which means its quantity may be more than you prefer. It is best to consult your physician before you start using this product.