In This Review
Overview
MetaboLife Ultra is a weight loss supplement claim to be made of herbal formula that can enhance your feeding habit while providing you with energy. The product is advertised to be made with clinically tested ingredients that can help your body size reduce in inches.
With the help of this pill, your BMI should reduce faster than if you were relying on diet and exercise alone. At least that is what the manufacturer wants us to believe. The name "MetaboLife Ultra" is not really new in the market.
The product itself has been around for a while but the brand behind the supplement was sold out and the original product has been renovated to something new. In the early days of the brand Metabolife, certain of its products were believed to be dangerous because they contained substances like caffeine and synephrine.
Since the brand was bought out, a few changes have been made to the product, so we propose to check out MetaboLife Ultra again to find out what is new about it.
How Does MetaboLife Ultra Rate?
Overall Rating: 3.7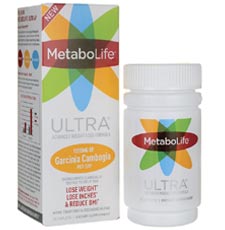 MetaboLife Ultra
Brand Highlights
Manufactured in the Best Facilities.
It may boost your metabolism.
It may relieve you from digestive issues.
It contains natural ingredients.
It may improve your weight loss ability.
Key Ingredients
Garcinia Cambogia Extract
Meratrim Blend
Caffeine
Pros
It is first a product from a very reputable company making it easier to consider its purchase
It may boost your metabolism rates.
May burn down fats in the body, promoting loss of excess weight.
It is easy to use and quick to be absorbed(up to 98% absorption), so you do not have to worry about it not utilizing all the benefits of a single dose.
All-natural ingredients
Improve hair and nails too.
Cons
The supplement has not been approved by the FDA.
---
MetaboLife Ultra Ingredients – Are they Safe & Effective?
The original version of MetaboLife Ultra was advertised to be made with a proprietary blend. But for the newer version, the manufacturer decided to reveal all the key ingredients in their respective quantities. Here they are:
Garcinia Cambogia Extract
The formula is made with 600 mg of SuperCitrimax, a patented version of Garcinia Cambogia Extract[1] believed to supply the body with 360 mg of hydroxycitric acid. This compound is believed to give the user control over his appetite and block the formation of fat.
Meratrim Blend
This blend is made of two herbs, namely Sphaeranthus indicus and Garcinia mangostana. This combination of the herb is believed to make it harder for fat cells to multiply. The blend weighs 267 mg.
Caffeine
The earlier version of MetaboLife Ultra contained higher amounts of caffeine[2] but this time the manufacturer has decided to reduce it to 100 mg. This amount is still enough to cause some level of thermogenesis which is necessary to create an environment unfavorable to fat development.
Other ingredients found in the supplement include calcium, chromium, sodium, and potassium. The supplement is wrapping in a gelatin capsule.
Who is the Manufacturer of MetaboLife Ultra?
By hearing the name "MetaboLife", you might think that is the manufacturer of the supplement and you would have been right some few years ago but that is not the case anymore. The brand MetaboLife International was eventually bought by another company known as Twinlab Corporation.
The renovated MetaboLife products are now recapturing the attention of users and this may have to do with the experience coming from Twinlab. Keep in mind that Twinlab is a company that has been around since 1968 so it has the know-how and expertise when it comes to the marketing of supplements.
The new version of MetaboLife Ultra is believed to help users achieve more out of their exercises and good feeding habits. Let's find out if that is the case.
How Does MetaboLife Ultra Work?
We cannot claim that you will certainly see good results out of using this weight loss supplement but it does contain a number of interesting ingredients that can affect the way fat cells accumulate in your body. Chances are high that this newer version performs better than its predecessor.

FAQs
Q: What Kind of Reviews are Out there for MetaboLife Ultra?
A: We took a look at what the customers had to say on retailer site and the overall impression is that the supplement is doing relatively well with an average rating of 3.6 from 48 different customers.
We need to point out that some people did prefer the older version to the new and that is one of the reasons they gave a lower rating this time. That been said, most users felt energized with this product and some claimed to have lost some weight.
MetaboLife Ultra Review – Final Verdict
In the past, we would have advised you not to even bother to try MetaboLife Ultra. But since it's been re-formulated and owned by another company, maybe it is time you give it a try.
If appetite control has been one of your biggest challenges, this supplement can be of help. And it is not so expensive, so why not? There are many best supplements to lose weight available that will help you reach your final decision.
'MetaboLife' can be purchased through their Official WebSite.