In This Review
Overview of MegaBurn
Weight is a big health concern and is affecting a good number of people across the world and more so women. Most of them struggle with weight due to a number of factors. However, regardless of what might be the cause of the weight gain, we believe that every woman deserves a healthy body.
MegaBurn is a dietary supplement designed to offer you health benefits beyond just losing weight. You can get rid of that embarrassing fat in your flabby upper arms, belly, and the back of your neck using this magic supplement. You can also bank on this product to level up your energy and ignite your sex life. Keep reading for more information on this supplement's health benefits, how it works, the ingredients used, and much more.
What is MegaBurn?
MegaBurn is a supplement formulated to help you naturally burn body fat and lose weight. It is packed with weight-enhancing ingredients obtained from natural sources.
Each ingredient has a role it plays to ensure that your body effectively burns unwanted body fat so that you can be able to maintain a lean body. The formula is designed to increase the core temperature of the body, boost metabolism, and increase energy levels, a process that puts your body in a position where it can lose weight naturally.
How Does It Rate?
Overall Rating: 4.7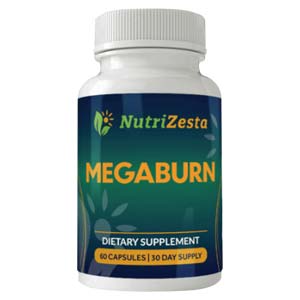 MegaBurn
Brand Highlights
Features all-natural ingredients
Non-GMO
Gluten-free
Zero sugar
Backed by a 100% money-back guarantee
Key Ingredients
Caffeine
Green tea extract
Apple cider vinegar
African slum mango
Raspberry
Pros
Helps you burn stubborn fat
Supports weight loss
Boosts metabolism
Curbs food cravings
Reduces fatigue
Support healthy heart
Cons
Results may vary from one user to the other
No free trial offer but comes with a money-back guarantee
Gradual results
---
Who is the Manufacturer of MegaBurn?
MegaBurn is a product from Nutrazest brand. The US-based company is located in Florida United States and specializes in the manufacturing of supplements and vitamins using 100% naturally sourced ingredients and backed with intensive scientific studies.
How Does MegaBurn Work?
MegaBurn draws its potency from strong weight loss-enhancing ingredients. Each of these naturally sourced ingredients has a role it plays in promoting weight loss. By building on each other, they work to ensure that you achieve your desired body weight results faster.
It contains ingredients like green tea extract which in our RSP Nutrition Green Tea Extract Reviews we saw has potent properties that work to promote fat oxidation which is similar to fat melting of body fat. According to a publication in the Journal of Research in Medical Sciences green tea consumption can help reduce weight and lowers blood pressure.[1]
Caffeine is also another ingredient in MegaBurn. It works to boost the body's metabolism for energy and rapid burning of body fat. According to a research study in Critical Review in Food Science and Nutrition by Reza Tabrizi et al consumption of caffeine has demonstrated that it can help promote weight loss, body fat reduction, and BMI.[2]
The supplement also contains raspberry ketone. This ingredient can help speed up the fat-burning process in the body to get rid of unnecessary fats. A publication in Nutrition & Diabetes, raspberry ketone has shown beneficial effects in the treatment of various health conditions including obesity and diabetes.[3]
MegaBurn Ingredients – Are They Safe & Effective?
We explain some of the key ingredients in MegaBurn in detail below;
Caffeine
As we also noted in our content for Elevate Coffee Review, caffeine is a potent ingredient in weight loss supplements. It has been found to boost the body's metabolism essential for burning body fat.
In a research study by Alexander V. Sirotkin and Adriana Kolesarova in Physiological Review, taking caffeine can be used to manage weight loss in metabolic weight-related disorders like obesity and diabetes among others.[4]
Green Tea Extract
Green tea extract is considered thermogenic because of its ability to support rapid weight loss. It works by melting body fats. It generally increases the body's ability to burn fats.
A publication in Clinical Nutrition by I-Ju Chen et al shows that green tea extract can reduce weight and can also help decrease cholesterol, making it a great ingredient for treating and managing obesity.[5]
Raspberry Extract
Raspberry ketone is a super ingredient found in MegaBurn. It has shown the ability to burn regular fat into brown fat also referred to as good fat. Brown fat is said to burn more calories in the body to increase core temperature, crucial for melting fat.
A research study published in the International Journal of Environmental Research and Public Health by Stefani A. Derrick notes that raspberry extract consumption can help manage chronic diseases including obesity.
African Slim Mango
The African fruit extract is an ingredient sourced from the tropical forests of West Africa. It is packed with potent properties capable of enhancing weight loss.
According to a research study in Lipids in Health and Disease by Julius E. Oben et al., the African slim fruit can help manage obesity and its related complications.[6]
Apple Cider Vinegar
Apple cider vinegar is also another potent ingredient in weight loss supplements. It has shown the ability to promote the feeling of fullness by curbing unnecessary cravings for food which is essential for controlling weight.
Research published in the Journal of Functional Foods by Solaleh Sadat Khesri et al shows that apple cider vinegar can help reduce appetite and body weight. It is also good at managing cholesterol levels.[7]
Verdict: We fully approve of the key ingredients in this product because they are from natural sources and have been scientifically tested and proven to support healthy weight loss.
We Tried MegaBurn – Our Take
To be able to determine the efficiency of MegaBurn I decided to try this supplement myself. I was not able to feel any changes in the first 1-2 weeks. However, after religiously taking the supplement for 4 weeks, I started noticing changes. First, I felt less fatigued and bursting with energy. The body felt lighter than before appetite for food reduced significantly. I only ate when needed and there was no snacking in between meals. The taste was also great. From personal experience, I can say that this product works to give the claimed health benefits, and would recommend it without any reservations.
Benefits of MegaBurn
Boost body energy:
The supplement is packed with caffeine, an ingredient known for its ability to boost energy, burn unnecessary body fat, and promote healthy metabolism.
Burn body fats:
MegaBurn also contains green tea extract a substance known for its ability to burn fat and support rapid weight loss.
Curb food cravings:
This product also contains apple cider vinegar. This substance has been scientifically researched and found to have the ability to control appetite, crucial if you want to lose weight or maintain a healthy body weight.
Supports health metabolism:
caffeine in this supplement is a key ingredient known to enhance body metabolism which in turn leads to rapid burning of body fat and weight loss.
MegaBurn FAQ's
Q: Does MegaBurn Have a Return Policy?
A: All Nutrazest products including MegaBurn come with 14 days money-back guarantee. So if you are not happy with the product's results, you can return it in exchange for a full purchase price refund without hassle.
Q: Where Can I Buy MegaBurn?
A: You can buy MegaBurn supplements through the official website. It is also available for purchase on other authorized online retail shops.
Q: Does MegaBurn Have Any Side Effects?
A: MegaBurn is manufactured using all-natural ingredients which are also backed with intensive scientific studies and proven clinical studies. There are also no reported cases of serious side effects, meaning that the product is safe for consumption.
Q: How Should You Take MegaBurn?
A: It is recommended that you take 3 capsules per day with your main meal or 1 hour after having your main meal. Ensure to go through the usage instructions so that you get all the usage directions right.
Q: What Sets MegaBurn From the Competition?
A: MegaBurn features a revolutionary formula that lets you burn fat and lose weight without hassle. The supplement also features scientifically researched and proven natural ingredients to guarantee potency and efficiency.
Q: How Much Does MegaBurn Cost?
A: The cost of this product as given on the official website is as follows:
1 bottle 30 days supply costs $49.00
3 bottles 90 days supply cost $39.00
6 bottles 180 days supply cost $33.00
We also advise that you buy through the official website so that you can enjoy the discounted prices.
What Do MegaBurn Reviews Say
A close look into the reviews for MegaBurn shows that this product is loved by most users. Here is what users think about this formula;
Awesome supplement!
I have been struggling with weight gain every time I give birth but not anymore. I used this supplement after giving birth to my third child and I have not struggled with weight like I did when I gave birth to my first and second child. This stuff is just awesome. –Cathy
I highly recommend it!
Better than everything I have tried. I highly recommend it without any reservations. –Stephanie
I love it. It works!
I have been hesitant of using supplements but when I started gaining weight I decided to try this particular product because of the overwhelming positive testimonies from consumers. I am glad I decided to settle on this particular supplement because believe me not it worked for me. –Ivy
It works!
It has worked for me and I plan to continue using it until I reach my weight loss target. –Angelina
Great stuff!
It is a great way of trimming fat and losing weight naturally without side effects. –Jolly
MegaBurn Review – Conclusion
Talking of weight loss, the good news is that you don't need to do things like restricting yourself to a diet, running a marathon, or starving yourself to lose weight. There are easy and fewer ways you can trim fat in those stubborn areas and lose weight in the process without much struggle.
MegaBurn is a dietary supplement with a revolutionary formula designed to help you burn fat and lose weight naturally. Unlike other products that require you to combine it with a healthy diet and exercise, MegaBurn lets you enjoy a hassle-free life while it does its work.
The supplement is packed with weight loss-enhancing ingredients that build on each other to ensure that you achieve your weight loss goals. The ingredients are backed by intensive scientific research and have been tried and proven to offer the claimed results.
If you have been struggling with weight and wondering what to do, it's time you try this magic formula. With this supplement on your regimen, you can be assured of getting your lean and healthy body back.