MateFit Overview
MateFit is a detox, which is popular as tea program for boosting metabolism. It is portable due to its small size thus making it convenient for use whenever it is required. The market for the MateFit was established in 2015 in the website. It can be bought online or from outside retailers and if the user is not satisfied with the results, he or she may return within a span of 30 days. This applies on the condition that the product must contain 75% of the initial product. If the product is used cautiously, it improves blood flow and also cuts down the cholesterol level in the body. It is assumed that it partly contributes to weight loss by eliminating fat in the body if taken continuously. There is 15 days sample, which is normally offered to the customers.
How MateFit Works?
This formula contains a substance called epigallocatechin gallate, which highly contributes to an increase of body's metabolism, burning of fats, checks in cholesterol levels, reduces blood pressure as well as improvement of digestive function. It also contains antioxidants, which promotes to good health through combating free radicals. Due to its tremendous success, it is believed to have natural, nutrient-rich and organic ingredient when purchased from accredited suppliers in the market.
MateFit Ingredients List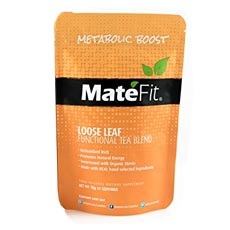 The most commonly ingredients used in MateFit includes:
Dandelion Root
Senna leaf
Rosemary leaf
Black pepper
Cinnamon Powder
Ginger Root
Rhubarb Root Powder
Hibiscus Flower Powder
Blessed Thistle Herb
Lemongrass Leaf
Pepperming Loose Leaf Tea
Grapefruit Peel
MateFit Pros
The refund is allowable by the company within a span of 30 days if the product is above 75% intact.
Some of the ingredients used are completely supported by clinical studies and they are naturally active.
The side effects of the product are not yet proven hence safe for use.
The pricing of this formula is very competitive thus ensuring manufacturing of high quality product.
Discounts are offered after purchasing more than two products.
Free shipping services are offered only in United States.
Products are manufactured in United States following the required standards.
There exist a 30-days offer for returning the product.
There are numerous positive reviews on the MateFit.
MateFit Cons
It contains large amount of caffeine, which is not preferred by many consumers.
There is no clear contact details provided by the manufacturer thus more information concerning the product is limited and unavailable.
Some of the ingredients may lead to adverse effects despite the fact that they are natural.
There exist negative remarks that the product is not effective.
The product is not subject to thelaboratory testing.
MateFit dosage instructions
It is recommended to use MateFit before having any meal, preferably before breakfast and lunch.
Boil water up to an ideal temperature so as to purify it and then pour it into clean container.
Add a teaspoon of MateFit metabolic boost blend in a tea bag of suitable size.
Dip the herbal blend in the container containing hot water for about 4 to 5 minutes. For suitable results, dip for about 5 to 7 minutes.
Possible Side Effects
There is no published side effect of MateFit since it uses clinically proven ingredients, which are naturally made and has positive impacts towards weight loss and body functioning.
Alternatives to MateFit
Final Verdict
The product offers a wide range of reliable health supplements, which are manufactured using natural active ingredients. It is available in the website and its refund is guaranteed within a period of 30 days. Its side effects are not yet known but the user is always advised to consult a physician or a healthcare professional before using this supplement.
Below you'll find some of the most effective weight loss supplements on the market today, in our opinion.
Our Top Rated Weight Loss Supplement
Verdict on Claimed Benefits: Below is our summary of the available evidence for the claimed benefits of below mentioned diet pills and weight loss supplements based on the available research: