In This Review
What is Lipo BC?
Lipo BC is a dietary weight loss supplement that claims to provide users with a safe and effective way to lose weight.
Essentially, this product contains lipotropic ingredients which help the liver break down fat and eliminate them from the bloodstream.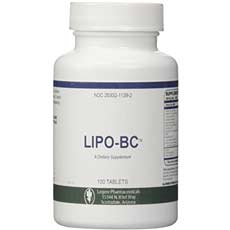 The combination of vitamins in this formula helps the body to improve metabolism, burn fat more effectively, reduce stress, and get the nourishment that otherwise lacks in our daily diets. Lipotropics also aids the liver's metabolic functions including the processing of estrogen, hormones, glucose, and glycogen.
Other benefits of this supplement are energy boost and improved detoxification of toxins by the liver. Read more on this supplement below.
Who is the Manufacturer of Lipo BC?
The company behind Lipo BC is Legere Pharmaceuticals, a health-related supplement industry that has been in operation for over 45 years. This firm specializes in private label supplement brands and is always innovating and launching new products to its client base.
The supplements undergo rigorous testing as part of the company's high-quality standard control. Moreover, the company claims to use only clean raw materials in its formulations.
To further support its clients, Legere Pharmaceuticals has assigned a team of health workers to advise and monitor the consumer's progress.
How Does Lipo BC Work?
Lipotropic ingredients in this supplement increase lecithin production by the liver. This helps the cholesterol maintain a more soluble state that lessens fat deposits in the blood vessels.
Additionally, lecithin prevents fat accumulation in the liver and detoxifies amines that are produced as a result of protein metabolism.
Lipo BC also improves energy production, increases nervous system activity, accelerates cell renewal, boosts red blood cell production, improves concentration and memory, and reduces homocysteine toxic levels.
Advertisement
*All individuals are unique. Your results can and will vary.
Lipo BC Ingredients – Are they Safe & Effective?
Vitamin B1 – This vitamin is also known as thiamin and is responsible for helping the body utilize carbohydrates as energy. A research study in the Advances in Nutrition journal provides that thiamin deficiency may contribute to obesity. Up to 29% of obese patients seeking bariatric surgery were found to suffer from this deficiency.
Vitamin B2 – This vitamin is also called Riboflavin, a water-soluble vitamin with multiple health benefits including anti-inflammatory and anti-aging. A review article in The American Journal of Clinical Nutrition declared that riboflavin plays a role in intermediary metabolism which contributes to the breakdown of fatty acids.
Vitamin C – This vitamin is also identified as ascorbic acid. It is claimed to have the potential to support healthy weight loss. A review published in the Journal of the American College of Nutrition provided that individuals with adequate vitamin C status could oxidize 30% more fat than those with low vitamin C status.
Vitamin D3 – This vitamin is also known as cholecalciferol and is claimed to be effective in weight loss. A double-blind clinical trial in the International Journal of Preventive Medicine discovered that after 6 weeks of vitamin D supplementation, subjects experienced a decrease in weight, waist circumference, and body mass index.
Folic Acid USP – folate metabolism is claimed to have an influence on obesity. Research studies in the Nutrition Journal provide that folate deficiency contributes to weight gain and adiposity. Overweight subjects were found to have 12% lower folate intake and 8.5% lower folate serum concentrations.
What are the Advantages of Lipo BC?
May improve lecithin production by the liver
May prevent fat accumulation
May increase body metabolism thereby burning fat
May enhance liver function and processes
May assist in stress management
What are the Disadvantages of Lipo BC?
Lipo BC is packed with vitamins with no fat burning ingredients
Supplement may cause side effects such as stomach upset, nausea, or vomiting
Users on blood-thinning medications should consult before purchasing this supplement
Lipo BC – FAQ's
Q: How Should You Use Lipo BC?
A: The recommended dose is twice daily, take 1 tablet in the morning and 1 tablet at night.
Q: How Much Does Lipo BC Cost?
A: On Amazon, the 60-count bottle is $23.25.
Q: What is Lipo BC Return Policy?
A: Since the Lipo BC supplement is sold via multiple online retailers, the return policy would depend on the policies of the retailer you purchased from.
Q: Does Lipo BC Offer a Free Trial?
A: No, there is no free trial for this supplement.
Advertisement
*All individuals are unique. Your results can and will vary.
Lipo BC – Final Verdict
Lipo BC is a weight loss supplement that uses a combination of nutritious ingredients to encourage safe and effective weight loss. It contains lipotropic nutrients that stimulate the production of lecithin to help with liver functions while reducing fat accumulation.
Compared to similar supplements in the market, Lipo BC contains more vitamins and minerals thus may contribute to overall health. However, this supplement is low on fat-burning ingredients that are known to support thermogenesis. In this regard, these pills may not work as fast as users may anticipate.
In terms of safety, this product is purely formulated with natural ingredients which may not cause adverse effects. To avoid complications, it is recommended to take the dosage correctly. If you have a health condition and using a medication, seek medical advice before taking these pills.
Additionally, if you have allergic reactions to fish, you may want to avoid this dietary supplement because it contains fish oil.
As for customer reviews, most Lipo BC reviews are positive with consumers agreeing that the product is effective. These reviewers claimed the supplement enhanced weight loss, increased energy levels, and reduced hunger pangs and cravings.
Overall, this supplement may indeed work as advertised. However, we cannot ascertain the rate at which results should be expected. In order to know this, you will have to use this product first and wait for the results.
If you are skeptical about Lipo BC, you can always find better alternatives in the market. Do your research and go for it.
Below you'll find some of the most effective weight loss supplements on the market today, in our opinion.
Our Top Rated Weight Loss Supplement
Verdict on Claimed Benefits: Below is our summary of the available evidence for the claimed benefits of below mentioned diet pills and weight loss supplements based on the available research: