In This Review
What is KaraMD Pure Burn XS?
KaraMD Pure Burn XS is a natural dietary supplement which aims to provide metabolic support within the use of stimulants like caffeine.
It may promote fat burning and weight loss, suppress appetite, lower blood sugar levels, provide energy, and enhance brain health.
The product comes with a number of weight loss tools and information, such as an e-book and video course. It's also high in nutrients and healthy, according to the RDNs on my team. In my opinion, this is a quality weight loss product, however, it also has its downsides. Let's look at the facts about KaraMD Pure Burn XS.
Advertisement
*All individuals are unique. Your results can and will vary.
How Does It Rate?
Overall Rating: 4.7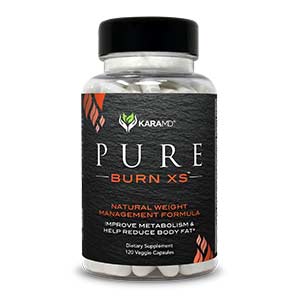 KaraMD Pure Burn XS

Brand Highlights
This is a doctor-formulated supplement.
They provide free e-books, recipes, videos, and other materials with purchase.
KaraMD Pure Burn XS is suitable for vegan diets.
This supplement is gluten-free.
Key Ingredients
Conjugated Linoleic Acid
Turmeric
Coenzyme Q10
Choline
L-Tyrosine
L-Carnitine
MCT Oil Powder
Inositol
Uva Ursi Leaf Powder
Apple Cider Vinegar Powder
Cinnamon Bark Powder
Buchu Leaf Powder
Pros
KaraMD Pure Burn XS may promote fat burning and weight loss.
This product could strengthen the immune system.
KaraMD Pure Burn might suppress the appetite.
It may lower your blood sugar levels.
This supplement could enhance brain health.
Cons
The recommended dosage of Pure Burn XS is 4 capsules daily.
More than half of the ingredients are a proprietary blend, so we don't know the ingredient amounts.
The results may vary among customers.
---
About the Brand
The manufacturer of this supplement is a company by the name of KaraMD, Inc. Located in Cleveland, Ohio, this organization produces and sells natural health supplements to support a number of issues, like heart health, digestion and weight loss. Dr. M Kara founded the company in 2018.
How Does KaraMD Pure Burn XS Work?
KaraMD Pure Burn XS contains non-stimulant ingredients which may help speed up the metabolism, putting the body into a fat-burning state called thermogenesis. This could lead to rapid weight loss. The product may also provide added energy through ingredients like MCT oil, which might cause you to exercise for longer and burn more calories.
It also produces ketones in the body, which could promote further fat burning through ketosis. This supplement contains a number of brain-boosting antioxidants that raise levels of key brain neurotransmitters, which may improve cognitive functioning and possibly mood. An article in StatPearls explored the physiology of neurotransmitters [1].
The formula contains fiber and other appetite-suppressing ingredients. Fiber can also promote digestive health, including bowel regularity and reduction of symptoms like gas and bloating. An article in the Journal of Nutritional Metabolism explored the role fiber plays in energy balance [2].
The formula is high in nutrients as well as antioxidants, which can destroy free radicals and lower oxidative stress. This promotes healing in the body and boosts the immune system. In addition, it has anti-inflammatory agents which reduce swelling in the body and on the skin.
KaraMD Pure Burn XS Ingredients
These are some of the primary active Pure Burn XS ingredients:
Conjugated Linoleic Acid
CLA is an essential fatty acid which is in meat and dairy products. There's some evidence that it can promote weight loss by stimulating fat burning and inhibiting fat production.
In addition, it may help suppress the appetite. CLS could help reduce the risk of heart disease. A meta-analysis in The American Journal of Clinical Nutrition concluded that CLA may lead to modest fat loss [3].
Choline
This is an essential nutrient which plays an import role in the cell membranes. It's the precursor to the brain neurotransmitter acetylcholine, which is important in learning and memory and can provide cognitive benefits [4].
In addition, there's evidence that it can promote fat loss and decrease body weight. A study in the Journal of Human Kinetics found that choline rapidly reduced body mass in athletes without side effects [5].
L-Carnitine
This is an amino acid produced in the liver, kidneys, and brain of the human body. It plays an important role in the functioning of the heart, brain, muscles, and other body parts and organs. It brings fatty acids to your cells, stimulating energy.
L-carnitine may also promote fat burning, which could lead to weight loss. A meta-analysis in Obesity Reviews found that this amino acid could lead to weight loss, but the magnitude of the effects diminished with time [6].
Turmeric
This is a plant which has rich health benefits due to potent antioxidants called curcuminoids. It can strengthen the immune system, promote healing, and it has powerful anti-inflammatory agents which can ease joint and muscle pain and swelling. We have highlighted the advantages of turmeric as an ingredient in our other article on Sculpt Nation Reviews.
In addition, it may have anti-obesity properties and help with weight loss. An article in the International Journal of Molecular Sciences explored the connection between curcumin and weight loss [7].
What Do the KaraMD Pure Burn XS Reviews Say?
Reading through the KaraMD Pure Burn XS reviews, I got the impression that that feedback was roughly half positive, half negative. There were a number of users who liked the brand, and said they lost weight and gained energy. Others got little benefit, and some said it was a waste of money. I've picked out a selection of Kara MD Pure Burn XS reviews for you to read through.
Great Product
I have used this product since March 2021 and when I started I weighed 160. Today I weigh 126. I don't have stock in this company. I just want people to know it did and does work for me.

Of course I changed my whole outlook on eating habits. I cut out sugar and I now start my day off with a protein shake and a small 70 calorie cinnamon fiber one bar. I take 2 of these pills with it every morning. You have to be willing to make a change to your eating habits.

BSW
Need to See
It does have an unpleasant smell and taste but it's manageable. It seems to help with appetite, but I never felt an energy increase like others said.
Nancy W.
Great for Appetite Suppression
They seem to work really well for appetite suppression. I don't feel the need to eat between meals and I can eat smaller portions. I do feel more energized without feeling jittery.

I have used them in combination with an exercise plan to hopefully boost my weight loss goals. I like that they include only plant based ingredients.

Sarah J.
Highly Overrated
I decided to try this product to help lose my stubborn weight. Did not see much difference.
Theresa G.
KaraMD Pure Burn XS FAQ
Q: How Do You Take KaraMD Pure Burn XS?
A: The directed dosage is 4 capsules per day, with a full glass of water. If it's easier for you, divide up the dosage over the day. Do not take more than 4 daily capsules.
Who Should Buy KaraMD Pure Burn XS?
A: KaraMD Pure Burn XS is a suitable product for any adult who is trying to lose weight and gain energy, and wants an additional boost in their efforts. As it also has ingredients which can improve brain health and cognitive functioning, it's a good supplement for people looking for both of these benefits.
Q: What is the KaraMD Pure Burn XS Return Policy?
A: The manufacturer of this product has a 100% 90-day money-back satisfaction guarantee. If you're not happy with the supplement, contact the customer service team within 90 days of the purchase date to request your money back.
Q: Is KaraMD Pure Burn XS Cruelty-Free?
A: This organization does not appear to be cruelty free. They are not on the PETA site as a cruelty-free company, and they do not mention anything about this issue on their site.
Q: Where to Buy KaraMD Pure Burn XS?
A: You can buy this product on the manufacturer's official website, and from a number of other online and offline retailers like Amazon and Walmart. On the official site, the price is $29.95.
The company gives free shipping for order of 2 and more products. If you buy 3 products, you save 10% and if you buy 4 products, you save 20%.
Q: What Sets KaraMD Pure Burn XS Apart From the Competition?
A: The company provides additional weight loss materials and tools with your purchase, such as an e-book, videos, recipes, a shopping guide, and meal planning information.
Read Next – Keto F1

KaraMD Pure Burn XS Review – Conclusion
KaraMD Pure Burn XS is an organic dietary weight loss supplement which promises to speed up the metabolism, increase fat burning, provide energy, suppress the appetite, and promote weight loss.
According to many RDNs it's high in nutrients and antioxidants, and may also improve brain health. It's unfortunate that they don't indicate ingredient dosages for all substances.
I read through many KaraMD Pure Burn XS reviews, and I found that opinions varied somewhat. Some users got great benefits, and lost a lot of weight.
There were also customers, however, who were unhappy with their results. A few people said they did not like taking 4 capsules per day.
KaraMD Pure Burn XS is a safe supplement made in an FDA-registered facility, although it may lead to mild side effects in some customers. In my opinion, this is one of many weight loss supplements on the market that may or may not have solid benefits. The formula is rich in ingredients and does have some merit.
Below you'll find some of the most effective weight loss supplements on the market today, in our opinion.
Our Top Rated Weight Loss Supplement
Verdict on Claimed Benefits: Below is our summary of the available evidence for the claimed benefits of below mentioned diet pills and weight loss supplements based on the available research:
Product reviews are provided for informational purposes only and reflect solely the views and opinions expressed by the contributors and not those of Consumer Health Digest. We do not verify or endorse any claims made in these reviews. Please read the full product reviews disclaimer. *All individuals are unique. Your results can and will vary.
Ask a Question
KaraMD Pure Burn XS Ques and Ans
Q: Kara md Burn XL has a proprietary blend which lists grapefruit powder as an ingredient. I know that eating grapefruit with blood presser medication doesn't mix well. My question is, how much of this grapefruit powder will affect my meds.

A: As you are on blood pressure medication, it is best to talk to your doctor about how much grapefruit Powder is suitable for your body.
Have a Question? Please Tell Us What We Are Missing Here!
PRODUCT NAME
KaraMD Pure Burn XS
PRODUCT BRAND
KaraMD, Inc
PRICE (in USD)
$29.95
ITEM FORM
Supplement
UNIT COUNT
120 Vegan Capsules
INGREDIENTS
Conjugated Linoleic Acid, Turmeric, Coenzyme Q10, Choline, L-Tyrosine, L-Carnitine, MCT Oil Powder, Inositol, Uva Ursi Leaf Powder, Apple Cider Vinegar Powder, Cinnamon Bark Powder, and Buchu Leaf Powder.
Official Website
12 sources
We review published medical research in respected scientific journals to arrive at our conclusions about a product or health topic. This ensures the highest standard of scientific accuracy.
**This is a subjective assessment based on the strength of the available informations and our estimation of efficacy.
*Result may vary. If you are pregnant, nursing, have a serious medical condition, or have a history of heart conditions we suggest consulting with a physician before using any supplement. The information contained in this website is provided for general informational purposes only. It is not intended to diagnose, treat, cure, or prevent any disease and should not be relied upon as a medical advice. Always consult your doctor before using any supplements.
Disclosure of Material connection: Some of the links in the post above are "associate sales links." This means if you can click on the link and purchase an item, we will receive a commission. Regardless, we only recommend products or services which we use personally and/or believe will add value to our readers. We are disclosing this in accordance with the Federal Trade Commission's 16 CFR, Part 255: "Guides Concerning the Use of Endorsements and Testimonials."