In This Review
Overview
Consuming and maintaining a balanced diet takes a lot of time and effort — two things that we don't have a lot of in today's fast-paced and stress-driven world.
Ka'Chava, a meal replacement shake with over 70 plant-based superfoods and nutrients, makes it easier to live a healthier lifestyle by providing us with all the nutrients our bodies need.
What is Ka'Chava Meal Replacement Shake?
Smooth and delicious, Ka'Chava Meal Replacement Shake is made from a blend of plant-based superfoods and organic protein. Available in chocolate and vanilla, this health drink is easy to prepare, has a smooth consistency, and tastes delicious. This dynamic protein powder is loaded with plant-based protein, omega essential fatty acids, fiber, antioxidants, adaptogens (which help the body adapt to stress), vegetables, probiotics, and digestive enzymes.
How Does It Rate?
Overall Rating: 4.7
Ka'Chava Meal Replacement shake
Brand Highlights
Ka'Chava is a plant-based, gluten-free meal replacement shake made with over 85 plant-based ingredients and added nutrients.
The company was founded in 2014 by Simon Malone.
The purpose of Ka'Chava meal replacement is to combine the best superfoods and essential nutrients into one convenient, high-quality meal that can be consumed by health-conscious people on-the-go.
Key Ingredients
Yellow Pea
Antioxidants
Probiotics
Flax Seeds
Adaptogens
Vegetables
Magnesium
Vitamins and Minerals
Iodine
Manganese
Digestive Enzymes
Coconut Milk
Pros
Product benefits include better appearance, mental and emotional well-being, stronger immunity, muscle growth and recovery, fewer cravings, better metabolism, and more energy.
An easy and convenient replacement for regular meals
Vegan, gluten, and soy-free
Contains 70 nutrient-rich, high-quality organic ingredients which are primarily sourced from the United States
Has a reliable and informative website
Has great customer reviews
Reasonably priced at $3.99 per meal if you get the 30-day subscription service
Risk-free and comes with a 30-day money-back guarantee
Flexible purchasing options
Cons
Offers no bulk discounts
Taste isn't for everyone
---
How Does Ka'Chava Meal Replacement Shake Work?
Ka'Chava combines plant-based superfoods that are rich in vitamins, minerals, and antioxidants to deliver convenient meal replacements that can be consumed as shakes or added into recipes.
They use responsibly and sustainably sourced superfoods like camu camu, sacha inchi, and maca root ingredients that have been used by ancient cultures for better health.
With 25 grams of protein and 240 calories packed in each serving, this plant based protein powder is a simple way to up your protein intake, nourish your body and reduce hunger pangs while providing you with sufficient energy for the day.
---
Ka'Chava Meal Replacement Shake Ingredients – Are They Safe And Effective?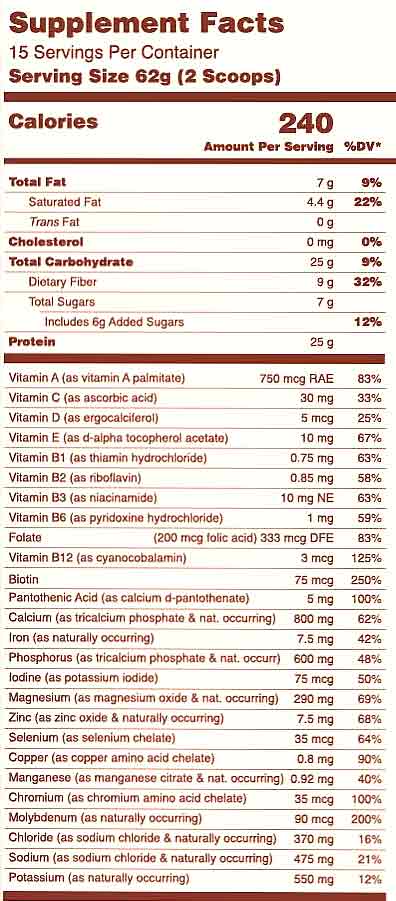 Ka'Chava Meal Replacement Shake has over 70 nutrients and superfoods. While it would be too lengthy to go over all the ingredients, we noted down some of the most important ones.
Yellow Pea
Ka'Chava contains yellow pea, organic whole grain brown rice, organic amaranth, organic sacha inchi, and organic quinoa. Plant proteins allow us to take in more fiber which helps weight management and lowers our risk for heart disease and certain types of cancers.
Antioxidants
The shake is rich with antioxidants and super fruits like organic coconut flower nectar, acai berry, organic maqui berry, organic blueberry, camu camu berry, organic strawberry, organic blackberry, organic tart cherry, organic raspberry. Antioxidants protect our cells from oxidative stress while super fruits have a wealth of benefits that include preventing cancer and heart disease, clearer skin, anti-aging, and weight loss.
Probiotics
Probiotics like Lactobacillus rhamnosus, inulin, and Lactobacillus acidophilus are some of the most beneficial bacteria that promote gut and cardiovascular health, weight loss, and stronger immunity.
Flax Seeds
Ka'Chava features a blend of healthy fibers like organic pure whole grain oat, organic acacia gum, chia seeds, and flax seeds. Regular consumption of fiber promotes regular bowels, lower cholesterol levels, weight management, and longevity, among other benefits.
Adaptogens
Adaptogens like organic maca root, organic reishi mushroom, organic shiitake mushroom, organic maitake mushroom, organic cordyceps mushroom, organic ginger help our bodies adapt to short and long-term stress.
Vegetables
Ka'Chava contains a wealth of vegetables such as organic beet, organic cabbage, organic green pepper, organic asparagus, organic green onion, organic carrot, organic spinach, organic cucumber, organic broccoli, organic tomato, organic parsley leaf, organic kale, organic cauliflower, and chlorella. Vegetables, particularly leafy greens, contain fiber, magnesium, potassium, iron, folate, and calcium.
Vitamins and Minerals
Vitamins and minerals are responsible for hundreds of functions in the body like healing wounds, converting food into energy, and boosting our immune system. Ka'Chava contains vitamins A, B1, B2, B6, B12, C, D, E, magnesium, calcium, iron, biotic, folate, biotin, chromium, pantothenic acid, molybdenum, potassium, iodine, phosphorus, zinc, selenium, copper, manganese, chloride, sodium.
From addressing irritable bowel syndrome, facilitating nutrient absorption, and increasing our energy to combatting anxiety, digestive enzymes in Ka'Chava like protease, amylase, lactase, cellulase, lipase do it all.
Other ingredients – Cocoa, coconut milk, vanilla flavors, xanthan gum, soluble vegetable fiber
Ka'Chava Meal Replacement Shake Nutrition Facts
Here's a brief rundown of the nutrition content per 2 scoops serving:
Calories: 240 kcal
Fats: 7g
Saturated Fat: 4.5g
Carbohydrates : 24-25 grams
Dietary fiber: 9g
Sugar: 6-7g
Protein: 25g
Video Review
Ka'Chava Meal Replacement Shake – FAQ's
Q: Is Ka'Chava Meal Replacement Shake Good for Weight Loss?
A: The ingredients in Ka'Chava can help with weight reduction since it reduces cravings and helps you feel full for longer.
Q: Why Is Ka'Chava Meal Replacement Shake Healthy?
A: KaChava is packed with over 70 superfood ingredients that are organic, rich in minerals, proteins, antioxidants, and vitamins while being free from chemicals and artificial flavors.
Q: Is Ka'Chava Meal Replacement Shake Vegan?
A: Ka'Chava is completely vegan with no trace of egg protein or whey.
Q: Who Can Use Ka'Chava Meal Replacement Shake?
A: From bodybuilders to busy professionals, Ka'Chava is ideal for everyone looking for a healthy and nutritious replacement for regular meals.
Q: Does Ka'Chava Meal Replacement Shake Have A Return Policy?
A: Yes, Ka'Chava offers a 100% risk-free, 30-day money-back guarantee.
Q: What Is The Recommended Dosage of Ka'Chava Meal Replacement Shake?
A – The easiest way to consume Ka'Chava is by mixing two scoops of the powder with 12 to 14 ounces of cold water.
You can then shake it or use a blender to mix it. For variety, you can also add fruits and other ingredients like banana slices and peanut butter.
Another option is to mix the powder with other food like shakes and ice creams.
It's recommended to use it as a meal replacement for one of your meals each day like breakfast or dinner instead of consuming it for every meal.
Q: How Much Is Ka'Chava Meal Replacement Shake?
A – Ka'Chava offers a subscription-based service. You can have a steady supply delivered every 15, 30, 45, or 60 days.
By subscribing, you can save $10 on every bag.
However, you don't need to opt for a subscription since there is also a one-time buying option. If you order two packs at once, you can save on shipping prices too.
Ka'Chava is currently priced at $69.95 for one bag that's good for 15 days. At $69.95, each meal will cost $4.66 per serving.
The products are available on their website and on Amazon.
Q: Is Ka'Chava Meal Replacement Shake Safe?
A – Ka'Chava Meal Replacement Shake is vegan, gluten-free, and devoid of chemicals and artificial sweeteners but loaded with organic ingredients and plant-based foods. It is safe to consume.
To be on the safe side, it's always best to consult your physician before getting started on any supplements.
Q: Are There Any Side-Effects of Ka'Chava Meal Replacement Shake?
A – Ka'Chava Meal Replacement Shake has excellent customer reviews and no severe side effects have been reported.
Q: What Are The Health Benefits of Ka'Chava Meal Replacement Shake?
A – What does Ka'Chava do for you? Let's take a look.
Immunity
Nutrients like Vitamin C, zinc, Vitamin D, probiotics, Vitamin B12 and B6 are excellent for immunity.
Energy
Does Kachava give you energy? Absolutely. Ka'Chava Meal Replacement Shake is full of energy-giving nutrients like iron, B-complex vitamins, Vitamin D, phosphorus, and magnesium that help keep you fit and lean.
Digestion
The fiber and digestive enzymes present in the powder can ease gastrointestinal stress and improve digestion.
Appearance
With a daily dose of this super meal, you can fight signs of aging and boost your appearance.
Good Mental Health
Ingredients like omega-3 fatty acids, iron, potassium, and probiotics can improve mental clarity, boost your mood, calm anxiety, and improve overall cognitive and psychological health.
Weight
You'll benefit from Ka'Chava weight loss due to its unique blend of nutrients that promote healthy metabolism, making you feel full for longer while reducing unhealthy cravings.
Customers Reviews Ka'Chava Meal Replacement Shake
It Does Stand on My Expectations!
I am in love with Ka'Chava… I was looking for a shake that can help me with my food cravings. As I am a food lover… Taste is a very important factor for me. Hence, I went through many of the reviews of Ka'Chava, and every review was satisfying. In the end, I decided to order it, and I am happy to tell you that "It is a well extract of your money". This shake isn't like the other shakes in the market that only taste good. It gives you multiple benefits. After consuming it I am witnessing improvement in my digestion and also feeling that probiotic power. I do recommend this shake. – Tinsley
It Gives You Complete Refreshment!
As a fitness enthusiast… I gym for more than 3+ hours, to replenish my energy and also to get some extra protein. I was looking for a meal replacement shake. so how I found Ka'Chava online and decided to give it a try. I am very satisfied with this shake. After consuming it for more than a month I feel refreshed in my gut. Although this benefit is not mentioned by the product, but I am witnessing some skin benefits also. If you are also looking for a meal replacement shake you must give it a try. – Hattie
Seller Info
Ka'Chava Meal Replacement Shake Review – Final Verdict
Packed with high-quality nutrients and organic superfoods, the Ka'Chava Meal Replacement Shake can be a great alternative to regular meals for everyone short on time.
This nutrient-dense meal is not just healthy and safe, but it's also creamy and delicious, making it easy to incorporate into your routine.
It also offers other benefits like weight loss, improved digestion, better cognitive health, and high energy levels.
Most of its ingredients are natural and free from additives.
Whether you're looking for a breakfast that can power you through the day or a quick and healthy dinner, Ka'Chava is a perfect addition to your daily grind.