In This Review
Overview
If you've struggled with excess weight, you've probably tried several diets and exercises. You would also know that achieving an ideal body shape and optimum fitness level through strict diets and vigorous exercise regimes is easier. What makes weight loss even more challenging is that we often need to drop those extra pounds right before an event, birthday, wedding, or trip to the beach. Putting a time limit frame sets us up for more disappointment and frustration.
In such cases, a dietary supplement can be effective as it supports weight management attempts by speeding up the weight loss process. Here's a detailed review of one such supplement, the K3 Mineral Spark.
How Does It Rate?
Overall Rating: 3.6
K3 Spark Mineral
Brand Highlights
Contains all the essential vitamins and minerals
Helps boost energy levels and overall health
Helps to improve your metabolism
Marketed online as a miracle weight loss aid
Key Ingredients
Beta-hydroxybutyrate (BHB) Ketones, Magnesium-BHB, Calcium-BHB
Pros
Accelerates the weight loss process
It helps reduce appetite and prevents cravings
Contains natural ingredients
Reduces the need for rigorous exercises and stringent diets
Has strong and efficient BBC
Better athletic performance
Improvement in skin and cognitive abilities
Cons
No free trial is available, and the refund policy is unknown
Does not have many customers reviews
No clinical study data is available
Hard to find
---
What is K3 Spark Mineral?
Manufactured by S.O labs, K3 Spark Mineral is a weight management dietary supplement suitable for men and women struggling with excessive weight.
It has been formulated to support people who follow the low-carb-high-fat diet, also known as the ketogenic diet. The dietary supplement K3 Spark Mineral can either be used independently for weight reduction or along with the keto diet to accelerate the weight loss process.
K3 Spark Mineral supplement helps in weight management by helping your body to enter and stay in a metabolic state known as ketosis. It also helps to increase the metabolic rate. Besides aiding in weight loss, these supplements also provide other benefits like improved mental clarity, high energy levels, and better digestion.
Advertisement
*All individuals are unique. Your results can and will vary.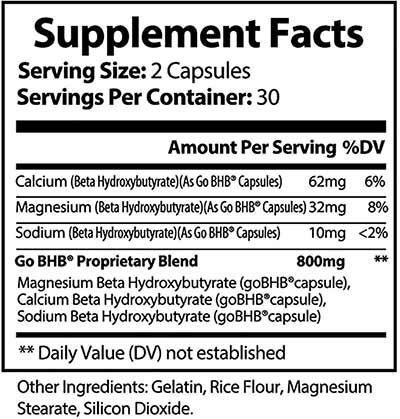 K3 Spark Mineral Ingredients
Wondering what goes in the K3 Spark Mineral pills?
K3 Spark Mineral is an all-natural mineral multi-vitamin supplement.
It contains all the vitamins and minerals that your body needs to maintain good health and promotes weight loss. It includes,
Beta-hydroxybutyrate (BHB) Ketones
Magnesium-BHB
Calcium-BHB
Let's have a look at each ingredient of K3 Spark Mineral in detail.
Beta-hydroxybutyrate (BHB) Ketones – Essential salts that produce energy during low glucose levels. It is the main component responsible for ketosis and aids in weight loss.
Magnesium-BHB – A type of BHB that aids in fat burning and enhances metabolism. Magnesium also strengthens the immune system, keeps blood pressure in check, and supports muscle and nerve functions.
Calcium-BHB – Assists the body in better utilizing BHB and enhances its effects. Calcium is also responsible for bone and muscle development.
How Does K3 Spark Mineral Work?
The human body makes energy for all its bodily functions by producing glucose. It does so by burning carbohydrates. So, to gain more energy, some people consume greater quantities of carbohydrates without realizing that excess glucose consumption leads to fat accumulation in various body parts, causing obesity.
In such cases, dietary supplements like K3 Spark Mineral can help your body produce energy by burning excess fat through a process called ketosis. The supplement contains ingredients known as ketones, beta-hydroxybutyrate (BHB), which quickly puts your body into a continued state of ketosis, allowing you to lose weight. This product also speeds up your metabolism and helps suppress your appetite, leading to weight loss.
Advertisement
*All individuals are unique. Your results can and will vary.
Directions for Use
Take one capsule in the morning before a meal and one before bedtime recommended.
K3 Spark Mineral Price
K3 Spark Mineral weight loss supplement is available for purchase on Amazon for $22.95 a bottle (60 capsules). Consider buying them in bulk instead of a single bottle at the discounted rates. You can also simply search for K3 Spark Mineral Walmart to check if the product is being stocked at a location near you.
K3 Spark Mineral FAQ's
Q: Do K3 Spark Mineral Pills Work Without Keto Diet?
A: Since K3 Spark Mineral pills put your body into ketosis, they can work without the keto diet. However, the supplements are designed to support weight loss for people on a keto diet. For best results, follow the manufacturer's directions.
Q: What are the Side Effects of K3 Spark Mineral?
A: K3 Spark Mineral has no side effects. However, since it puts your body in a state of ketosis, expect the accompanying side effects such as headaches and constipation. Do remember that these will pass as your body gets accustomed to burning fats.
Q: How Long Does K3 Spark Mineral Take to Work?
A: Going by the K3 Spark Mineral reviews online, different people have observed different timelines. While some saw results within a week, others noticed tangible results only after a month.
Q: Is K3 Spark Mineral Safe and Legit?
A: According to the manufacturer, the natural ingredients in this K3 Spark Mineral make it a safe supplement, and it does not contain any harmful substances and K3 Spark Mineral is manufactured in an FDA-approved facility that meets GMP criteria in the United States.
Q: How to Maximize Results with K3 Spark Mineral?
A: To get the best out of any dietary supplements, you must limit your alcohol consumption, exercise regularly, eat a supplement-specific diet, and follow the manufacturer's recommendations.
Q: Where to Buy K3 Spark Mineral?
A: K3 Spark Mineral is available for purchase on its official website and other online marketplaces like Amazon and eBay, though it may not always be in stock.
Q: Does K3 Spark Mineral Offer Refund Policy or Free Trial?
A: It's not clear if the manufacturer provides a return or refund since there's no information regarding the same anywhere.
Q: Is K3 Spark Mineral useful for all?
A: Yes, K3 Spark Mineral supplement can be taken by anyone as it has all-natural ingredients. But you must be more careful before taking it if you are:
Pregnant
Children under 18
A person undergoing any specific medical treatment
K3 Spark Mineral – Safety, Side Effects, and Benefits
Safety

K3 Spark Mineral weight loss supplement is formulated using natural ingredients. Its facilities are FDA-endorsed under GMP standards. There appear to be no reports of safety issues, though we recommend speaking with your medical practitioner before consuming any medication or supplements.

K3 Spark Mineral Side Effects

Some customers have shared that they experienced mild side effects like headaches, stomach upset, and constipation. However, it's essential to note that anyone following a ketogenic diet will experience these mild discomforts while their body transitions from burning carbohydrates for fuel to fat.

Benefits of K3 Spark Mineral

Improves your body's metabolism rate
Helps in achieving weight loss and fat loss by promoting prolonged ketosis
Enhances digestive and cognitive health
Improves energy levels and endurance
Helps lower appetite and inhibits cravings
K3 Spark Mineral Alternatives
Here, we have recommended some alternatives for the K3 Spark Mineral weight loss supplement.
Product Name
Form/Dosage
Benefits
Money Back Guarantee
Age Group
PhenQ
Two tablets per day

Natural weight loss*
Enhances fat burning*
Increasing energy level*

60-day
Adult
Bio X4
One capsule with every 3 time meal

Manages cravings*
Smoothens digestion*
Reduce appetite*

90-Day
Adult
Meticore
One capsule per day*

Potent fat burning benefits*
May decrease cholesterol*

60-day
Adult
Forskolin 250
Two capsules per day

Delivers results fast*
Increases metabolic level*
Promotes weight loss*

90-Day
Adult
Read Next – YouTrim
K3 Spark Mineral Review – The Final Verdict
If you're already on the ketogenic diet and aren't seeing results as quickly as you had hoped, you can try a dietary supplement like the K3 Spark Mineral. Consuming such a supplement is also beneficial as it helps you stay in a state of ketosis should you consume a greater number of carbs than prescribed. Since it is formulated from natural ingredients in an FDA-approved facility, it is a relatively safe supplement. However, we recommend speaking with your doctor before self-prescribing medication, even supplements, as they will be able to guide you best based on your medical history.
Advertisement
*All individuals are unique. Your results can and will vary.
Below you'll find some of the most effective weight loss supplements on the market today, in our opinion.
Our Top Rated Weight Loss Supplement
Verdict on Claimed Benefits: Below is our summary of the available evidence for the claimed benefits of below mentioned diet pills and weight loss supplements based on the available research:
Product reviews are provided for informational purposes only and reflect solely the views and opinions expressed by the contributors and not those of Consumer Health Digest. We do not verify or endorse any claims made in these reviews. Please read the full product reviews disclaimer. *All individuals are unique. Your results can and will vary.
Ask a Question
K3 Spark Mineral Ques and Ans
Q: Can I use this if I have CKD?

A: For people suffering from Chronic diseases like CKD, it is recommended to take proper medical advice before starting any supplementation.

Q: Do you have to use the Keto cleanse with this product? How does it work, and what to expect from taking it?

A: K3 Spark Mineral aids in weight loss by helping your body enter and maintain the metabolic condition known as ketosis. The K3 spark mineral also aids in boosting your body's metabolism. These supplements not only aid in weight loss but also provide additional advantages like increased energy levels, improved digestion, and improved mental clarity.

Q: Where can I buy K3 Mineral in Newcastle NSW, please? I have tried to buy online but it won't let me order it. Hope you can help me please, thanks.

A: The manufacturer claims that they do not have an offline store. At a comparable price to similar items, K3 Spark Mineral is available via the product's official store or reputable online sellers. The price, however, is not displayed. Multi-purchase discounts are frequently available from the distributor. K3 Spark Mineral can be purchased directly from the manufacturer's official website. K3 Spark Mineral is also available for roughly the same price through well-known online merchants such as Amazon.
Have a Question? Please Tell Us What We Are Missing Here!
PRODUCT NAME
K3 Spark Mineral
PRODUCT BRAND
S.O Labs
PRICE (in USD)
$22.95
ITEM FORM
Capsule
UNIT COUNT
60.00 Count
INGREDIENTS
Beta-hydroxybutyrate (BHB) Ketones, Magnesium-BHB,Calcium-BHB
**This is a subjective assessment based on the strength of the available informations and our estimation of efficacy.
*Result may vary. If you are pregnant, nursing, have a serious medical condition, or have a history of heart conditions we suggest consulting with a physician before using any supplement. The information contained in this website is provided for general informational purposes only. It is not intended to diagnose, treat, cure, or prevent any disease and should not be relied upon as a medical advice. Always consult your doctor before using any supplements.
Disclosure of Material connection: Some of the links in the post above are "associate sales links." This means if you can click on the link and purchase an item, we will receive a commission. Regardless, we only recommend products or services which we use personally and/or believe will add value to our readers. We are disclosing this in accordance with the Federal Trade Commission's 16 CFR, Part 255: "Guides Concerning the Use of Endorsements and Testimonials."