There are several kinds of dietary supplements designed for different purposes. Fat burners or weight loss supplements are among the most popular.
This is because of the rising number of overweight and obese people worldwide. When you're in the market for this kind of supplement, you have to be very careful. Aside from making sure that the product works, you also have to make sure that it is free from side effects.
Otherwise, you may be putting your health or even your life at risk. Let's take a popular product under scrutiny and determine if it is worth buying.
Advertisement
*All individuals are unique. Your results can and will vary.
Product Overview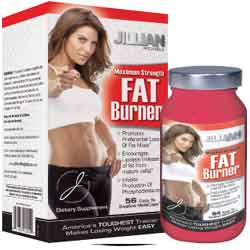 The product to be scrutinized is called Jillian Michaels Maximum Strength Fat Burner. It is a popular brand being sold in most retail stores like GNC.
It can also be ordered online from several online retailers. The price of the weight loss supplement is less than $15 for a bottle that contains 56 meta caps which is quite affordable.
Who is Jillian Michaels?
Jillian Michaels is called America's toughest trainer. She is a personal trainer who is also a well-known celebrity.
Her popularity skyrocketed after appearing in The Biggest Loser and Losing It With Jillian. She is also a talk show host, entrepreneur, and fitness expert. There are several Jillian Michaels books and DVDs regarding weight loss available on the market.
What Does Jillian Michaels Fat Burner Claim To Do?
The Jillian Michaels Fat Burner claims to help promote preferential loss of fat mass. It does so by encouraging lipolysis or the release of fat from mature cells.
It also claims to inhibit the activity of phosphodiesterase which is an enzyme that prevents the metabolism of fat. The weight loss supplement basically claims to turn the body into a fat-burning machine when combined with a sensible diet and exercise plan.

Ingredients Profile
The ingredients in the Jillian Michaels Fat Burner are blood orange extract, bitter orange extract, sweet orange extract, grapefruit extract, guarana extract, coffee bean, alpha-lipoic acid, kola nut extract, cocoa extract, white willow extract, and cayenne pepper powder.
Most ingredients are common in other weight loss supplements. Bitter orange is known to enhance the breakdown of body fat but there is no substantial evidence that it is really effective.
It is a powerful stimulant that has been shown to increase blood pressure which can be dangerous for certain individuals.
The coffee bean is one of the most popular supplements for weight loss today since clinical tests have shown that it helps prevent the storage of fat in the body.
Grapefruit extract is known to prevent fat storage but there is also no substantial scientific evidence that it really works.
The problem with the ingredients of the fat burner is that there were separate lawsuits filed against Jillian Michaels alleging some ingredients in the product are dangerous or ineffective.
However, all lawsuits were dismissed.
Read Also: Standard Process A-F Betafood Reviews

How Exactly Does It Perform?
According to customer feedback, this supplement is an effective fat-burning supplement that enhances the fat-burning process and helps with weight loss when combined with a reduced-calorie diet and/or exercise. However, there are also many reviews and feedback from people who have tried it saying it isn't very effective.
There is also some feedback that stated it caused side effects common to stimulant-rich supplements including sleeplessness, jitteriness, and nausea.
Strengths
Many of the active ingredients are proven to be effective.
There is a substantial amount of positive feedback from customers who have tried it.
It is available in most retail stores like GNC but the supplement can also be ordered online.
It is affordable compared to other fat burners.
Weaknesses
Jillian Michaels Fat Burner is not proven to be effective or 100% safe since it was not clinically tested for effectiveness or safety.
Some of the active ingredients are not clinically proven to be effective.
There are many customer feedback and reviews saying it isn't very effective.
Cases were filed against Jillian Michaels for alleged dangerous ingredients in the product.
There is no money-back guarantee offer.
It contains potentially harmful ingredients like bitter orange extract which can increase blood pressure and heart rate.
Warnings
If you are taking medication or have any medical condition, consult your doctor prior to using this dietary supplement. Do not use if you are pregnant or lactating.

Final Verdict
Jillian Michaels Fat Burner is a good weight loss supplement worth trying. The formulation is notable but the fact that some ingredients are known to cause adverse effects like high blood pressure is alarming.
This is not a weight loss supplement for everyone since it may be dangerous to certain individuals. It should only be for healthy adults with no medical issues.
A topical fat burner may be the missing piece in your overall fitness regimen. Topical fat burners can enhance the appearance of your abs. In addition to an intense fitness regimen and a healthy diet, cutting gels can help reduce the appearance of unsightly surface fat revealing a trim, fit, and sculpted physique.
Below you'll find some of the most effective topical fat burning products on the market today, in our opinion.
Our Top Fat Burners Choices
PrimeGENIX CalmLean

Help Spot Treat Stubborn Fat Pockets*
Keep Skin Hydrated and Healthy*
Reduce Fat Without Risks*
Effectiveness In Addressing*
Helps Meet Weight Loss Goals*
Promotes Appetite Suppression*