In This Review
What is Hydroxycut UltraLean?
Hydroxycut Ultralean is a weight loss supplement made for adults who are looking for a way to speed up the process of losing pounds.
If you already have a losing weight regime, this product can support that plan and accelerate it. Hydroxycut Ultralean may boost your metabolism, as well as increase your energy levels. The supplement may also promote immunity and protect overall health. It should be consumed in the form of capsules, which are of medium size. The product may deliver long-term effects while short-term effects might be limited.
How Does It Rate?
Overall Rating: 3.9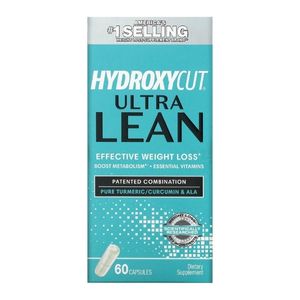 Hydroxycut UltraLean
Advertisement
*All individuals are unique. Your results can and will vary.
Brand Highlights
Hydroxycut UltraLean belongs to the brand of Hydroxycut weight loss products.
The owner of the entire brand and the company behind it is Iovate Health Sciences International Inc.
The company started in 1995 and seemed to have progressed to a successful business in the meantime.
Iovate claims that the Hydroxycut brand has sold over 100 million bottles so far.
The manufacturer is now situated in Canada, but also has offices in the US and Australia.
Key Ingredients
Alpha Lipoic Acid
Turmeric extract
Dragon fruit
Coffee extract
Bioperine
Pros
It may promote your weight loss diet plan.
The product may boost your energy level.
The formula can promote your overall health.
The product contains high-quality turmeric.
Cons
It may take up to 60 days to see best results from the formula.
The formula has limited short-time effects.
It might be unsuitable for those that are sensitive to coffee.
The product has some ingredients that do not contribute to weight loss.
---
How Does Hydroxycut UltraLean Work?
Hydroxycut UltraLean primarily relies on the CurcumaSlim blend, which is a mixture of turmeric extract and alpha-lipoic acid.
These two components may promote weight loss and might work well with an exercise and diet plan. The coffee extract may accelerate your metabolism, which can promote fat burning and increase energy level.
The product also contains some ingredients that may help to boost immunity and promote overall health with their antioxidant and anti-inflammatory properties. As for when you can expect results, it may take from 60 days to up to 16 weeks to achieve the desired goal.
You Can Also Check Other HydroxyCut Products-
Hydroxycut UltraLean Ingredients – Are they Safe & Effective?
The manufacturer emphasizes the CurcumaSlim blend as the primary active ingredient of the formula, but the weight loss product has many other active compounds. Here is the list of some crucial components:
Alpha Lipoic Acid
– ALA is naturally in human body cells, and it may play a role in accelerating the weight loss process[1]. It may assist in optimizing cholesterol levels, and it can play a role in lowering blood pressure levels.
Turmeric extract
– According to study , Curcumin is an active ingredient of turmeric and the main reason of many benefits of this superfood. While it may have a potential role in weight loss[2], it also has anti-inflammatory and antioxidant properties.
Dragon fruit
– Thanks to its antioxidant properties, dragon fruit may help in boosting your immunity and protecting cells from oxidative stress.
Coffee extract
– As a known natural stimulant, coffee may boost your energy levels, as well as stamina and focus. Because it may accelerate your weight rate, it might assist in preventing weight gain[3].
Bioperine
– Black pepper extract may improve the bioavailability of other ingredients[4], but it may also be helpful with weight loss.
Hydroxycut UltraLean also contains vitamins B6, B12, C, as well as niacin, riboflavin, and thiamin. The inactive compounds are rice flour, magnesium stearate, gelatin, mica, titanium dioxide, and silicon dioxide.
---
FAQ's
Q: How Should You take Hydroxycut UltraLean?
A: According to the directions, you should start with two capsules per day. Take one before breakfast and the other one about 30 minutes before lunch. At day three, you can increase the dosage to four capsules daily. Take two in the morning and the second pair before lunch.
Q: How Much Does Hydroxycut UltraLean Cost?
A: The price for a single pack of Hydroxycut UltraLean is set at $39.99. Each bottle should last you between 15-30 days.
Q: What is Hydroxycut UltraLean's Return Policy?
A: You are eligible to return the product within 30 days, and you can expect a refund of the full product price decreased by handling and shipping charges.
Q: Does Hydroxycut UltraLean Offer a Free Trial?
A: It doesn't seem that there is a free trial for Hydroxycut UltraLean available at this moment.

Hydroxycut UltraLean Review – Final Verdict
Hydroxycut UltraLean is a weight loss supplement based on curcumin and alpha-lipoic acid, which may promote losing pounds.
However, the formula has limited short-term effects, and you may also feel an energy spike thanks to coffee.
As for long-term effects, the information varies, but it may take up to 60 days to achieve the desired goals with Hydroxycut UltraLean.
The formula may be beneficial for your overall health, but it also includes several ingredients that do not seem to contribute to weight loss.
Finally, it is important to act wisely when shopping for a weight loss product. That means you should be patient and analyze the market. Make sure to review as many supplements as possible and only make the final decision then.
Below you'll find some of the most effective weight loss supplements on the market today, in our opinion.
Our Top Rated Weight Loss Supplement
Verdict on Claimed Benefits: Below is our summary of the available evidence for the claimed benefits of below mentioned diet pills and weight loss supplements based on the available research: