In This Review
What Is Found?
Your weight is not influenced only by the amount of food you eat but can also be affected by your genetic makeup [1], which is not something that's within your control, making losing weight very difficult.
For instance, if you have a family history of obesity or diabetes [2], you are more at risk for gaining weight than others who don't have these conditions in their families.
This means that even if you follow a healthy diet and exercise regularly, you may still struggle to lose weight.
Advertisement
*All individuals are unique. Your results can and will vary.
Another factor that can influence your ability to lose weight is age.
As we get older, our metabolism slows down, which makes it harder for us to burn calories efficiently.
In addition to this slowing of metabolism due to age, there are other factors, such as decreased muscle mass, that also lead to less efficient calorie burning throughout the day.
Found is a weight loss program that focuses on more than what you eat. It also takes into account your genetic makeup and how it affects you, then it provides you with safe and effective medication that's FDA-Approved.
It combines that with a core team that helps you identify your emotional eating triggers and find workable solutions to help you overcome them.
Found was created by Emily Yudofsky and Jack Abraham, who believed that other weight loss models focused more on willpower and unsustainable quick results. On the other hand, Found takes a comprehensive long-term approach focusing on sustainability.
Found take into account the individual as a whole, including their biology [3], emotional and mental health, social support, and medications. This is something that other weight loss programs ignore.
The founders claim that those who are unable to lose weight through diet and exercise and have trouble losing and sustaining weight loss may benefit from Found. There are doctors on staff who can prescribe medications to help address biological factors. However, the medication is only available in 31 states.
Unlike many weight loss programs, Found is not a quick fix. It's for individuals who want to create a healthy lifestyle and sustainably lose weight for long-term results.
How Does It Rate?
Overall Rating: 3.0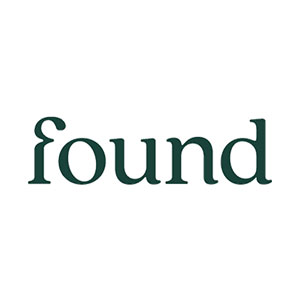 Found Weight Loss Program
Brand Highlights
Individualized flexible program
Sustainable results
Meal guides
Pros
Qualifying members have access to doctors and FDA-approved medication
Energy boost
Access to medical doctors
Community support
Weight loss
Cons
RX only available in 31 states
Lack of transparency regarding the medication the doctors prescribe
No trial period
No App
---
How Does Found Weight Loss Work?
Found differs from many weight loss approaches because it combines health coaches with medication and an extended support community. The health coach's purpose is to help you stay on track with your weight loss goal, support you, and keep you accountable to succeed.
The main aim of this program is
One on one nutrition coaching
Customized individual programming
Mmessaging with a personal health coach
Access to an online community of other committed found users
online consultation with a Physician to discuss medication options
If needed prescriptions and other products
The weight loss program is a 12-week program where you take medication to help you lose weight, meet with your health coach, and set up a nutrition and movement plan. What sets this program apart from similar programs is there are no long-term commitments needed. After 12 weeks, you can choose if you want to continue the program.
When you go to the Found website, you'll see where you can sign up by taking their online quiz. This is a 22-question quiz that asks you questions about your age, history, and if you've tried to lose weight in the past. After the preliminary questions, they ask you more medical questions, such as your family history and any medical conditions you may have.
Once you have signed up, you will schedule a one-on-one consultation with a doctor who will talk with you about hormones, gut health, sleep schedule, and stress you have in your life. Each of these has an impact on how you lose weight. If you qualify, the physician will prescribe you an FDA-Approved medication.
Next, you'll sign up with your personal Found coach. The coach will take into account your activity level, cooking style, and bad habits and create a personalized plan to help you make new healthy habits. In addition to a Found coach, you'll also have access to the online Found community.
Founds Weight Loss Approach
Found has three weight loss approach: the RX, the wellness, and the OTC.
RX
The RX path is available in 31 states and provides access to a medical doctor who may prescribe you FDA-Approved medication to help you lose weight. There are two ways you can connect with your physician messaging or through video. You will be in contact with them regularly to let them know how well your medication is working so they can make any necessary changes.
If your doctor determines you can continue your weight loss journey without a prescription, you can switch from the RX to the wellness plan.
In addition to medication, the RX plan also provides you with personalized nutrition and movement program and a personal health coach to help you achieve your goals and access the Found community.
Wellness
The wellness path allows you to work one-on-one with one of Found's health coaches. They will work with you to create a nutrition and movement plan and help you find ways to deal with life stressors and overcome emotional eating. Your path is customized based on your unique needs and lifestyle. Found doesn't count calories but instead focuses on making long-term lifestyle changes. Your coach is there to help keep you accountable and motivated and educate you about weight loss.
The wellness path includes personalized movement and nutrition plans, personal health coaching, and access to the Found community.
Over The Counter
This plan is similar to the RX plan other than it supplies you with ALLI, an FDA-Approved weight loss medication. This plan includes Alli, a 3-in-one fiber supplement, Access to Found pharmacists, a personal health coach, and access to the Found community.
This plan isn't recommended for pregnant or nursing women; anyone that takes warfarin or cyclosporine has had an organ transplant, has trouble absorbing food, or has a history of liver disease, gallbladder problems, anorexia, or bulimia.
Alternatives To Found
| Company | Price | Win | Lose | Best for |
| --- | --- | --- | --- | --- |
| Found Weight Loss | $99-149 /month | Professional health coaches and doctors | No 24-hour support | Long-term lifestyle changes |
| Noom | $59 /month | Psychological understanding of food | Requires commitment. | Focus on long-term weight loss |
| Calibrate | $129 /month | Easy to follow one-year plan | You pay for health assessment even if you don't join. | Long-term commitment to better health. |
FAQs
Q: Is Found a Real Weight Loss Program?
A: Found is backed by medical experts and health coaches and prescribes medication that the FDA approves for weight loss.
Q: Is Found Covered By Insurance?
A: Currently, Found does not accept any type of insurance.
What Is The Cost Of Found?
A: Found is a month-to-month subscription service, so you decide how long you will continue with the program. The program focuses on building good habits and getting rid of bad habits. The plan's cost varies depending on if you choose the wellness path ($29.00 a month) and the RX path, which ranges between $99 and $149 a month.
Found doesn't offer a trial period, but they do offer a 90-day money-back guarantee. So if you are unsatisfied, you can get a full refund even if the medications have been prescribed and shipped.
Q: How Does found Work?
A: If you sign up for Found, you first fill out an evaluation. Once y that's complete, they'll see if you're the right fit for medication, and if so, a medical provider will prescribe it for you. The third step is one on one health coaching. Your health coach will be with you throughout your weight loss journey.
Who Should Consider Using Found?
A: There is a long list of people who should consider using Found weight loss program.
First, anyone who is struggling to lose weight and feels like they have tried everything else and nothing has worked.
Second, anyone who is ready to make a change in their life and is looking to improve their health.
Third, anyone who wants to feel more confident about themselves and their body image.
Last but not least, anyone who wants to be able to do activities with ease without feeling out of breath or tired quickly from carrying around extra weight on their body.

Found Weight Loss Programs – Final Word
If you're looking for a good weight loss system, we can honestly say that this program is worth considering. Not only does it provide in-depth information on nutrition and dieting, but it also gives you an interactive look at what it's like to adopt these systems as part of your lifestyle. Simply put, this program is useful for anyone looking to lose weight and make healthy eating choices a daily habit.
If you explore some more weight loss plans then you may get the most suitable plan according to your routine hence, we recommend reading an honest review of Ladyboss Challenge which is also a weight loss plan with many satisfied consumers.
Below you'll find some of the most effective weight loss supplements on the market today, in our opinion.
Our Top Rated Weight Loss Supplement
Verdict on Claimed Benefits: Below is our summary of the available evidence for the claimed benefits of below mentioned diet pills and weight loss supplements based on the available research: