What Is Flat Belly Detox?
Flat Belly Detox claims to help you make your digestive juices thin. It is a 21-day program that promises to clear your system of certain elements that are preventing you from losing weight.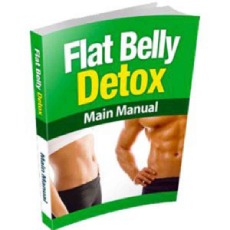 According to the manufacturer, Fat Belly Detox may enable you to shed around 1.5 pounds per week and help you get a flatter belly without having to starve yourself. The weight loss program also offers recipes and information that may help you with your weight loss efforts.
Who Is the Manufacturer of Flat Belly Detox?
The Flat Belly Detox program was developed by Derek Wahler and Josh Houghton[1]. Wahler, commonly known as Coach Derek, is a fitness trainer.
He has also designed many other weight loss programs most of which claim to get results by making small changes to your lifestyle and diet. Houghton, on the other hand, struggled with weight issues in the past.
He tried many things and designed programs that did not work. Houghton finally got together with Wahler to become co-authors of Flat Belly Detox.
How Does Flat Belly Detox Work?
This program claims to get results for both men and women who do not want to work too hard or starve themselves to lose weight.
According to the authors, the program will help you flush out unwanted toxins that result in belly fat. It focuses on diluting your digestive juices that clear your system of the toxins which are responsible for your belly fat and excess weight.
According to the program, you can lose weight without having to restrict food; however, the food you eat during the regime will be recommended by the authors who also provide recipes you can use. The program has three steps that take you on your 21-day weight loss journey.
Step 1 – It is all about your breakfast that will give you instant energy.
Step 2 – It is focused on a lean lunch.
Step 3 – It is about your detox dinner mostly based on a soup diet.
Flat Belly Detox Ingredients – Are They Safe & Effective?
The program claims to use food and recipes with ingredients that do not starve you or make you feel drained, but still allow you to lose weight in a safe manner. The program contains all the ingredients for different breakfast, lunch and dinner recipes.
What Are the Advantages of Flat Belly Detox?
The Flat Belly Detox regime may have the following advantages:
The program claims to help you lose weight without making you work too hard or stave yourself. However, depending on your current weight your overall results may differ.
The program has low-intensity workouts, which may make it more challenging for overweight people to get quick results.
The program has its own recipes and diet plans. However, changing your diet may prove difficult for some people.
The program claims to not only make you healthier physically but also mentally. Eating only the recommended food may be stressful for some people, though.
What Are the Disadvantages of Flat Belly Detox?
Flat Belly Detox Program may have the following disadvantages:
Since it is an online program, there is no personal trainer to keep you motivated which may produce poor results.
The workouts that are part of the program are quite low-intensity, which may slow down your weight loss process.
The program requires you to follow a specific diet plan and workout regime, which may prove stressful.
Even though it is a 21-day program, it may take longer to get any favorable results.
FAQ's
How Should you take Flat Belly Detox?
As mentioned before, you will have to follow the diet program, its food and workout plans for 21 days. You will have to follow the program for all three main meals – breakfast, lunch and dinner.
How much does Flat Belly Detox cost?
The Flat Belly Detox program will cost you about $37.
What is Flat Belly Detox's return policy?
The program offers a 60-day return policy and a money back guarantee if you do not get the desired results. If you want a refund on your purchase, you will have to email the author.
Does Flat Belly Detox Offer Free Trial?
The Flat Belly Detox does not offer a free trial as it is a one-time purchase product.
Flat Belly Detox Review – Final Verdict
Flat Belly Detox is a digital weight loss program that claims to help users shed the unwanted pounds by flushing out toxins that cause belly fat. The program also offers its own diet plans and recipes, which on paper sound good but can be quite stressful for an individual to follow.
Moreover, the program also has low-intensity workout regimes that may make it hard to achieve results within 21 days. One of the major concerns about the program is the lack of information on one of the authors, Josh Houghton, who has almost no internet presence. Therefore, it can become difficult for potential users to trust the program.
The regime also promises weight loss without much effort. However, as most people know, a reliable weight loss plan requires dedication and hard work and there are no short cuts. That is why you should do your research before you buy a program that offers you a weight loss regime that may sound too easy.
Below you'll find some of the most effective weight loss supplements on the market today, in our opinion.
Our Top Rated Diet Pills
Phenocal

Effectiveness In Addressing*
Helps Meet Weight Loss Goals*
Promotes Appetite Suppression*
Effectiveness In Addressing*
Helps Meet Weight Loss Goals*
Promotes Appetite Suppression*
Effectiveness In Addressing*
Helps Meet Weight Loss Goals*
Promotes Appetite Suppression*
Effectiveness In Addressing*
Helps Meet Weight Loss Goals*
Promotes Appetite Suppression*
Plant Pure Turmeric + Forskolin
Effectiveness In Addressing*
Helps Meet Weight Loss Goals*
Promotes Appetite Suppression*