In This Review
What is Elevacity Choclevate?
Elevacity Choclevate is a health supplement meant to be mixed with hot chocolate.
Since it is made up of powerful all-natural ingredients, it works best to improve the users' cognitive abilities and overall health.
We often call a sweet tooth a high affinity for lovely things such as sweets or chocolates. If you have this self-proclaimed condition, it means you have your sweet substance, which makes you feel better.
Advertisement
*All individuals are unique. Your results can and will vary.
This product contains ingredients which, instead of increasing weight, you cut back on the excess fats in your body.
How Does It Rate?
Overall Rating: 3.2
Elevacity Choclevate Reviews
Brand Highlights
The company behind the manufacture of Elevacity Choclevate is called Elavicity.
This company was started in 2014 in Texas, the United States.
This company has a variety of other health products such as Xanthomax and Elevate Smart Coffee.
Brand claim that there is no side effects.
Key Ingredients
L-Theanine
Alpha-Glyceryl Phosphoryl Choline
Cocoa
Kigali Africana Extract
Green Coffee Bean Extract
---
Pros
It might help the user get rid of cravings.
It might help reduce unnecessary weight.
Its powerful nootropics may help improve the users' cognitive ability.
There is a possibility of increased metabolism while decreasing appetite and fatigue of the users.
There may be enhanced memory, greater mental clarity, and increased alertness.
Cons
It does contain stimulating properties of cocoa and therefore might bring about complications if taken with other medications.
There may be a need for long time usage of the formula for notable results to be realized in the body.
The user risks getting cavities if consuming this product for a long time.
---
How Does Elevacity Choclevate work?
This product works by regulating the user on how much he/she eats and eliminates cravings that might make someone unnecessarily add weight.
Elevacity Choclevate helps reduce appetite; therefore, the individual will eat less. It also helps one manage cravings for sweet foods without feeling like one lacks anything.
Elevacity Choclevate is a type of chocolate drink that can satisfy your sweet tooth without worrying about adding weight or other conditions brought about by eating foods with lots of sugar.
It contains nootropics that help keep the user relaxed and also keep a straight mind in maintaining a healthy lifestyle.
This product works by controlling and not converting fat to lean muscles or getting rid of anything. It simply controls cravings and appetite.
Elevacity Choclevate Ingredients – Are they Safe & Effective?
The manufacturers of this product claim that their product is quite safe and that it is effective. The ingredients have been obtained naturally; therefore, we can say this is true.
Let us take a look at the ingredients and what role they each have to play in this product: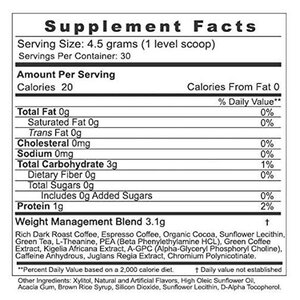 L-Theanine
– This ingredient is a type of Amino acid usually found in tea. This ingredients helps in ensuring that the user has mental relaxation[1] especially if combine with coffee.
Alpha-Glyceryl Phosphoryl Choline
– This ingredient is known for enhancing brain clarity and getting rid of the confusion and fogginess sometimes associated with fatigue or laziness.[2]
Cocoa
– This ingredient is used to reduce the stress levels of the user. Some people tend to eat a lot when they are under stress therefore this gets rid of the stress states study.
Kigali Africana Extract
– This ingredient has protective functions especially of the neural region.
Green Coffee Bean Extract
– This ingredient which contains caffeine is very important in helping the user control their appetites[3] and cravings.
Elevacity Choclevate Questions and Answers
Q: How Should You take Elevacity Choclevate?
A: This product does not have any effects or health repercussions if taken frequently; however, it is advisable to prepare a teaspoonful of this concoction twice a day for at least three months to realize results.
You should accompany it with working out.
Q: How much does Elevacity Choclevate Cost?
A: This product goes for $50 for the full coffee packets in one of the online vendors.
You can get better prices and deals if you purchase from the official website.
Q: What are similar products to Elevacity Choclevate?
A: Nucific Bio X4, Lipozene and Active-PK are some products available in the market with similar benefits.
Q: What is Elevacity Choclevate Return Policy?
A: The manufacturers have given their customers 30 days to return the product if they are not happy with the results for a refund. Shipping and handling costs are not refundable.
Q: Does Elevacity Choclevate Offer a Free Trial?
A: The manufacturer has not mentioned whether they offer free trials for first-time customers.

Elevacity Choclevate Review – Final Verdict
Elevacity Choclevate is a product that is deemed to help many users enjoy their cravings while at the same time getting satisfaction without having to worry about the negative repercussions.
It might allow you to enjoy sweet foods without gaining weight but reduce it. It also helps regulate large appetites; it reduces carbohydrate and sugar cravings.
Having all the necessary information about this product is crucial, especially if you plan to use it. Despite the benefits, you should also care for your teeth lest you get cavities from all this sugar.
The sugar level in it may limit people suffering from given medical conditions like diabetes.
It is, therefore, important to consult your healthcare provider before using it.
You might also find other top weight loss pills with the same benefits if you are not fully satisfied with this one. 'Elevacity Choclevate' can be purchased through their Official WebSite.
More than ever people of all ages are struggling with memory problems. People are unable to disconnect from their work, while students are under immense pressure to perform. Brains are overloaded with information that must be remembered. A quality memory enhancement product might contain clinically proven ingredients that will help to enhance not only memory, but also focus and night concentration. Memory products might help to optimize overall mental health and brain function.
Below you'll find some of the most effective memory products on the market today, in our opinion.
Our Top Memory Supplements
Verdict on Claimed Benefits: Below is our summary of the available evidence for the claimed benefits of below mentioned brain health supplements and nootropic based on the available research: