What is Drop Slim?
Drop Slim, a diet supplement sold by RenuHerbs (a company founded in 2002), is billed as a "quick and easy answer to weight loss success."
It is intended as a dietary supplement that would support your body's metabolism, which might help in weight loss when combined with diet and exercise.
Drop Slim is sold by the maker for $29.95 for a thirty-tablet bottle, which may constitute either two weeks' or thirty days' supply, depending on how you use it.
How Does Drop Slim Work?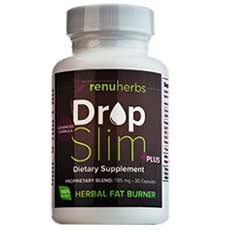 This product contains nine herbs which are intended to provide nutritional support for your metabolic processes, allowing you to more easily lose weight (at least, that's the theory).
It comes in tablets which are easy enough to take, although the stimulant effects of many of these herbs make the manufacturers recommend taking it before 2 PM.
Drop Slim Ingredients – Are they Safe & Effective?
RenuHerbs lists the primary ingredients of their formulation on the product website, although there is no direct information given on either the amount of each ingredient in each capsule or on the clinical benefits of the supplement's ingredients. (You may be able to find these exact figures on the product's label.)
The Active ingredients include:
Guarana and Green Tea: Caffeine-rich botanical products, included for energy and their antioxidant content
Siberian ginseng: Included for both energy and calming purposes
Glucomannan: A botanical extract included for being high in fiber, to encourage feeling full
Gymnema Sylvestre: A herb that is claimed to reduce cravings for sugary foods.
What are the Advantages of Drop Slim?
No known side effects.
Contains all-natural ingredients.
Easy to use
Connected to a system of weight loss, so you can get guidance on how to support healthy habits
What are the Disadvantages of Drop Slim?
Only available through the manufacturer's website
No satisfaction guarantees could be found
No clinical research or studies are cited for its effects
Dosage
In general, take one tablet of the supplement before breakfast in order to help suppress hunger.
You can also take a second tablet after lunch if you need to control late-night food cravings.
These servings can be doubled if a single tablet is having no effect.
Advertisement
*All individuals are unique. Your results can and will vary.
FAQ's
1. How much caffeine is in this supplement?
Unfortunately, the manufacturers don't describe the exact amount of caffeine included in through the herbal ingredients such as guarana and green tea.
Drop Slim Review – Final Verdict
Compared to other products in the diet supplements marketplace, Drop Slim does include a number of widely-used ingredients, and the price is on the high end, but not ridiculously so.
However, there is no clinical information on how quick or effective its results are, and there does not seem to be any rare or powerful ingredient in the blend.
You could very likely find a product with similar or more powerful formulations elsewhere, quite possibly at a better price.
Be sure to shop around before you commit to purchases, so you can get the most for your money.
You can also read reviews on other products like Forskolin Body Blast Reviews, FitMiss BCAA Reviews, and Garcinia HCA Reviews and compare them with this product.
Below you'll find some of the most effective weight loss supplements on the market today, in our opinion.
Our Top Rated Weight Loss Supplement
Verdict on Claimed Benefits: Below is our summary of the available evidence for the claimed benefits of below mentioned diet pills and weight loss supplements based on the available research: