In This Review
What is Cytoburn?
Cytoburn is a 100% all-natural weight loss supplement that works by increasing levels of active cytokines in the body and balancing the gut microbiome.
The formula contains probiotics fiber, and other bioactive ingredients that promote fat-burning and weight loss, enhance digestive health, decrease symptoms like constipation, diarrhea, cramps, and bloating, and lower cholesterol and blood sugar levels.
How does this unique formula compare to other weight loss supplements on the market? We'll tell you the answer to this question and more and give you our honest opinion. Keep reading to find out whether Cytoburn is the right weight loss supplement for you!
How Does It Rate?
Overall Rating: 4.7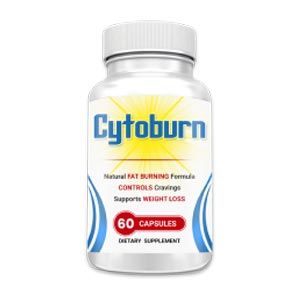 Cytoburn
Brand Highlights
Cytoburn contains 100% organically sourced ingredients.
This supplement is free of GMOs, caffeine, and chemical or artificial additives.
The company manufactures in an FDA-registered, GMP-certified facility.
Cytoburn has no addictive properties.
Key Ingredients
Prune
Oats
Flaxseed
Psyllium
Black Walnut
Bentonite Clay
Aloe Vera
Lactobacillus Acidophilus
Apple Pectin
Glucomannan
Pros
Cytoburn can promote optimal digestive health.
The supplement can curb appetite and cravings.
It can relieve symptoms like gut cramps, diarrhea, and constipation.
Cytoburn can promote fat-burning and weight loss.
Cons
The results will vary based on lifestyle and individual differences.
You can only buy Cytoburn online.
The supplement has tree nuts, which are an allergen for some people.
---
About the Brand
The manufacturer of Cytoburn appears to be a company called Renew Products, headquartered in Aurora, Colorado. They are a health and wellness supplement company, but there isn't a lot of information about the organization online.
How Does It Work?
Cytoburn works on the root causes of weight gain, one of which is proteins called cytokines. Research indicates that people who have trouble losing weight tend to have more dormant cytokines. The formula included ingredients that activate some of them, speeding up weight loss efforts.
A review published in Nutrients by Muhammed Mustafa Atakan, et al examined the role of exercise, diet, and cytokines in controlling obesity [1].
This supplement has probiotics, which are good bacteria that live in the gut and destroy bad microbes. As we explained in our review of Align Probiotic, this helps to balance the microbiome and enhance digestive health.
A review of clinical trials published in Microorganisms by Micha? Wici?ski, et al examined the role of probiotics in balancing the gut microbiota and treating obesity in humans [2].
Cytoburn is rich in prebiotic fiber which feeds the probiotics in the gut, allowing them to proliferate. Fiber also helps cleanse the colon of toxins and waste, which promotes regular bowel movements and helps ease issues like constipation, gas, bloating, and diarrhea.
In addition, fiber slows digestion, so you feel full for longer, for possible weight loss benefits. A systematic research review by Valentina V. Huwiler published in Nutrients concluded that at least 12 weeks of increased dietary fiber intake may lead to a decrease in BMI, waist circumference, and blood sugar levels [3].
This supplement has anti-inflammatory properties which decrease swelling in the gut and other organs for improved health and functioning. Cytoburn also includes powerful antioxidants that reduce oxidative stress levels by killing free radicals. This helps reduce damage in the body, promote healing, and strengthen the immune system.
Cytoburn Ingredients – Are they Safe & Effective?
Glucomannan
This is a rich fiber that comes from the roots of the Konjac plant. It absorbs quickly, slowing digestion to make you feel full and suppressing appetite and cravings. It also improves gut health and helps balance cholesterol and blood glucose levels.
An 8-week clinical trial of obese patients published in the International Journal of Obesity by D E Walsh, et al concluded that glucomannan supplementation led to weight loss and a decrease in cholesterol and blood sugar levels [4].
Psyllium
This is a fiber derived from the Plantago Ovata plant, as we said in our review of Colon Broom. It helps increase stool water to cleanse the colon, relieving issues like constipation and bloating and promoting regular bowel movements.
Psyllium also helps you feel full for longer to suppress hunger and cravings and could lower blood sugar and cholesterol. A study on constipation individuals by Jonna Jalanka, et al published in the International Journal of Molecular Sciences concluded that 7 days of supplementation with psyllium husk increased stool water and relieved constipation [5].
Lactobacillus Acidophilus
This is a probiotic, which is a live, healthy microorganism that lives in the gut and promotes an optimally balanced microbiome. It may ease issues like constipation and bloating, promote regular bowel movements, and offer weight loss benefits.
A study of rats on a high-fat diet published in the Journal of Endocrinology by Sung-Soo Park, et al concluded that administration of Lactobacillus Acidophilus reduced obesity, improved liver function, and enhanced insulin sensitivity [6].
Verdict: The ingredients in Cytoburn have significant research support for their benefits in promoting weight loss, improving digestion, and improving other health parameters.
Cytoburn – FAQ's
Q: How Do You Take It?
A: The recommended dosage is 2 capsules daily with a meal. Do not take more than this dosage daily under any circumstances.
Q: What Sets It Apart From the Competition?
A: The Cytoburn formula takes a different approach to fat-burning and weight loss than most other supplements on the market, focusing on increasing levels of active cytokines. It's an optimally developed formula that also offers a range of other health benefits like improved digestion and more balanced blood sugar and cholesterol levels.
Q: What is the Return Policy?
A: The company has a generous, no-risk 60-day 100% money-back guarantee on Cytoburn. If you are not happy with the results, just send all bottles back empty or full within 60 days of the order for a complete, no-question-asked refund.
Q: Does It Work?
A: Yes, in our opinion the formula works, and there is also scientific research backing its efficacy posted on the official website. This blend of ingredients works on multiple levels to decrease appetite and promote fat-burning and weight loss.
Q: Where to Buy It?
A: The only place to purchase Cytoburn is on the official website, so don't fall for imitations is you see the formula for sale elsewhere. The manufacturer offers great discounts on bulk purchases, and free shipping on every order you place. The prices are as follows:
30-Day Supply – $69
90-Day Supply – $59/bottle
180-Day Supply – $49/bottle
Cytoburn Reviews by Customers
In our evaluation of Cytoburn, this is a high-level formula that works to target one of the key causes of weight loss, low cytokine levels. It's also full of fiber and other nutrients that decrease hunger, improve digestion, and offer multiple other health benefits. We give it a very high 4.5 out of 5 stars.
As the formula is for sale on the official website only, that is where we found the majority of the user reviews. There are some glowing 5-star reports from happy verified buyers, some of whom experienced impressive weight loss results.
One of the best testimonials comes from Jessica, who says the supplement worked extremely well to help her meet her weight loss goals:
Lost 81 Pounds: I couldn't wear any dresses I loved, and once felt sexy and confident in. I was 76 pounds overweight, and my doctor classified me as morbidly obese, it was a reality check that I couldn't handle anymore.

I came across your video and looked at all of the studies you provided and decided. To order 6 bottles of Cytoburn. It was the best decision I've ever made! After just 2 months I can now fit into all of my dresses and have lost 81 pounds!
Another positive comment is from James, who says he lost 8 pant sizes taking Cytoburn:
Losing 8 pant sizes was incredible for me and I can't imagine not taking Cytoburn, it's been a life changer for me. My friends, family and coworkers have all noticed the changes. And instead of criticizing me, they are now asking me for advice.

My depression was out of control and all I wanted to was watch Netflix and binge on takeout. Many times each day I thought to myself, «What if I had a heart attack. And left my wife and the kids alone, fatherless and husbandless». That was a horrible feeling to have.
Verdict: The vast majority of the Cytoburn reviews are on the official website, and multiple users say they experienced powerful weight loss benefits.
Cytoburn Review – Conclusion
In the final analysis, we think that Cytoburn is a unique natural supplement that targets the root causes of weight loss. We give it 4.5 out of 5 stars, as it effectively promotes weight loss, boosts energy levels, enhances digestion, and improves other health parameters like blood sugar and cholesterol levels.
The Cytoburn reviews and testimonials on the official website are very positive reports of incredible weight loss results with the help of this formula, as well as other health benefits. All feedback is from verified buyers, most of whom say the formula is more than worth the reasonable cost.
Cytoburn contains 100% organic ingredients and is free of GMOs, stimulants, and synthetic or chemical additives. Made in an FDA, GMP-certified facility, it's a safely manufactured product with no reported side effects. If you're looking for a little natural help on your weight loss journey, we highly recommend Cytoburn!