In This Review
What is Complan?
Complan is a meal replacement shake. It was originally developed to help users gain weight but is now marketed as a weight-loss meal replacement shake.
It comes in single-serving sachets and is available in various flavors like; original flavor, Complan and oats, vegetable, chocolate, banana, vanilla, and strawberry.
Complan is manufactured by Nutricia Complan located in Wiltshire in the United Kingdom. It is a British Company that makes powdered milk energy drinks.
Advertisement
*All individuals are unique. Your results can and will vary.
It was launched by Glaxo in 1954 and remained part of Glaxo's Health Products till 1994 when it was acquired by Heinz. Currently, the majority stake belongs to the Saatchi brothers' Saatchinvest.
How Does Complan Rate?
Overall Rating: 3.9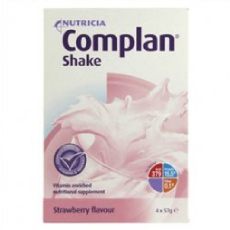 Complan – Weight Loss Shake
Brand Highlights
A nutritionally balanced meal replacement milkshake..
The brand has an extremely impressive line of nutrition products.
Complan uses clinically proven ingredients in their formulations.
They are committed to being a source of top-notch, original goods.
Nutricia Complan is known for developing and releasing the most cutting-edge products.
Key Ingredients
Vitamin A
Vitamin E
Folic Acid
Skimmed Cows' Milk
Vitamin D
Zinc
Vitamin C
Vitamin B12
Pros
It is gluten-free.
Nutritional quantity is provided.
Might stimulate healthy weight loss.
Comes in different flavors.
Cons
Recommended for a healthy weight and not weight loss.
May cause weight gain if taken too often.
Not suitable for people who are lactose intolerant.
No satisfaction guarantee is offered.
---
How Does Complan Work?
Complan is rich in Vitamins, is a good source of proteins and energy, and is also enriched with minerals such as calcium. The vitamins are important in supporting a healthy metabolism and help in balancing the calcium in the body.
It claims to help the user to take a new look at the nutrition they are getting as well as offer a well-balanced diet that will help with activity and fitness. It helps as part of a calorie-controlled diet and can be taken with other foods.
According to the manufacturer, a sachet of Complan contains 250 calories which is equivalent to a light meal, two servings are equivalent to the main meal.
Biotin is known to help in the breakdown of fatty acids and glucose and assist in turning stored fat into energy. Thiamin regulates the appetite and also boosts up the metabolism while Riboflavin also helps to break down and metabolize fats, carbohydrates, and proteins.
Complan Ingredients – Are they Safe & Effective?
Skimmed Cows' Milk
Lactose (from Cows' Milk)
Flavoring (contains Cows' Milk)
These three are sources of protein
Vitamin A
Boosts the immune system according to HHS Public Access Journal and promotes good vision.[1]
Vitamin E
It is an antioxidant that improves overall health.[2]
Folic Acid
It stimulates new cell production.[3]
Skimmed Cows' Milk
Skimmed Cows' Milk[4] – According to study, skimmed milk is low in calories and boosts health.
Vitamin D
Prevents bone abnormalities.
Zinc
It stimulates protein synthesis.[5]
Vitamin C
It promotes collagen formation.
Vitamin B12
It[6] supports healthy blood cells as stated in Medical News Today.
You May Also Like – Ketogenic Diet

FAQ's
Q: How Long Will It Take To Show Result?
A: It is not mentioned how long one should take Complan to see results.
Q: Does It Interact With Other Medications?
A: It causes a reaction in people who are allergic to milk. People who are diabetic should consult with their doctor prior to an administration of Complan.
Q: Who Can Take Complan?
A: Complan is suitable for children above the age of 12 and adults.
Q: Is It Safe to Use Unopened Complan After an Expired Date?
A: Complan is likely safe to consume shortly after its expiration date if there are no signs that it has gone bad. However, the protein content of Complan may decline with age.
Q: Where to Buy Complan?
A: Complan can be purchased through their Official WebSite
Q: How Should You Take Complan?
A:
One can drink Complan either hot or cold according to their convenience.
You only need to add water to it but you can opt for milk as a substitute if you prefer a richer creamier taste.
One needs to maintain an adequate intake of fluids during administration.
Each sachet of Complan requires 200ml (1/3 pint) of water or milk, either cold or hot.
Pour some of the milk or water into a cup, add a sachet of Complan, mix into a smooth cream with a whisk or fork then top up the remaining milk or water while stirring.
Once mixed with water or milk, you can store Complan in the refrigerator for up to 24 hours only.
Q: What are the sides effects and warnings before consuming it?
A:
No side effects are listed.
Complan should only be used within two months of opening.
It should only be given to infants below 12 months upon a doctor's recommendation.
As a food supplement, Complan should be treated as such and not regarded as a substitute for a varied diet.
What Do the Reviews Say?
I am so delighted about receiving my order. Complan is a very good product for "little eaters" that desire extra nourishment. My family loves it.
Shipping was exceptionally fast. The packaging was so cool. I will buy it again.
~ Heina
Read Next – PHEN – MAXX 37.5

Conclusion
If overall health and fitness are your concern, then Complan is a suitable meal replacement shake for you. It is not only affordable, but it also offers important nutrients to the body.
The elements in this product address a healthy system as well as weight loss providing you with an avenue of healthy weight loss as opposed to most weight loss supplements. The fact that it can be used even for children is another plus for Complan.
Below you'll find some of the most effective weight loss supplements on the market today, in our opinion.
Our Top Rated Weight Loss Supplement
Verdict on Claimed Benefits: Below is our summary of the available evidence for the claimed benefits of below mentioned diet pills and weight loss supplements based on the available research: