In This Review
What Is Chromax?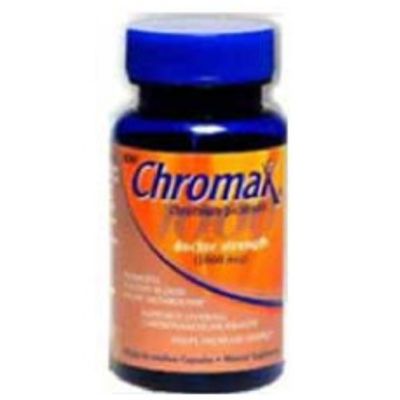 Chromax is a weight loss supplement based on Chromium(III) picolinate. It is claimed to regulate your blood sugar level in order to prevent cravings.
By avoiding cravings, users should be able to cut down on their food, and the long-term result should be weight loss.
Chromium itself is a mineral that is quite common in many weight loss supplements. There are 6 forms of chromium currently sold in the market, some found in diet pills; others sold as supplements.
Today we propose to get a closer look at Chromax to understand better what it is all about.
Who is the Manufacturer of Chromax?
Chromax is a product of Core4Life, a brand owned by the company Nutrition 21, LLC. Nutrition 21 is a company that develops and markets ingredients to other weight loss supplement manufacturers to include in their formulas.
This explains why we see Chromax as an ingredient in many of the weight loss supplements on the market.
Nutrition 21 claims to be committed to advancing science and technology with the hope of developing ingredients that would improve the health of people around the world.
The company has invested itself in biotechnology with the vision of developing patented pharmaceutical products that can enhance the lives of individuals. Chromax is one of the products it currently has on the market. Apparently, it is not doing that bad.
How Does Chromax Work?
It is an advanced weight loss formula that helps to prevent more accumulation of fat by increasing the metabolism rate of the body, offering you that slender and slim body.
It is an anti-cellulite that boosts your body's fat-burning capabilities and stamina.
Advertisement
*All individuals are unique. Your results can and will vary.
Chromax Ingredients – Are they Safe & Effective?
The product is known to contain only one ingredient, and it is:
Chromium Picolinate[1] – This is something that is going to help you lose weight and get rid of unwanted belly fat. It is a natural solution that is well-known in the field of weight loss.
---
What are the Advantages of Chromax?
It promotes healthy weight loss
It helps to suppress your appetite and reduce food cravings
It aids in clearing your body from harmful toxins
What Are the Disadvantages of Chromax?
The product's benefits might take more time to manifest
You might still have to undergo serious diets to lose weight
---
Chromax FAQs
Q: What are the Chromax benefits?
A: Chromax is claimed to help people lose weight by giving them control over their appetite and increasing their metabolism rate,  boosting the body's energy level for the entire day.
Q: What is the Chromax Dosage and Directions for Use?
A: Each bottle of Chromax supplements contains 60 capsules weighing 500 mcg. There is no information provided regarding the daily dosage. One capsule should provide more than enough chromium for the entire day since research suggests 250 mcg of chromium a day.
Q: Are there any Chromax weight loss side effects?
A: Chromium is a mineral known to be safe. It is unlikely that Chromax will cause any harmful side effects, but those with health conditions or taking other medications should use the product with caution or consult with a doctor.
Q: What are the precautions to take while using this supplement?
A: It is still recommended that you consult a health professional before taking this supplement if you are pregnant. The product should only be used by adults over 18 years of age.
Chromax Alternatives
| | | |
| --- | --- | --- |
| Products | Cost Range | Key Ingredients |
| Burn Bullets | $29.99 | Vitamin B6, Chromium, Caffeine, L-Carnitine Tartrate, L-Tyrosine, Citrus Aurantium, Narigin Extract, Bioperine® Black Pepper Extract |
| Burn XS | $20.00 | Raspberry Ketones, Green Coffee Bean, Vitamin D3 |
| Burner MAX | $75.00 | Green Tea Extract, Cayenne Pepper powder, Caffeine anhydrous, Cacao seed extract, Acetyl-L-Carnitine HCL, Alpha Lipoic Acid, Yohimbe bark extract, Guggul extract, Biotin and Pantothenic Acid |
Chromax Reviews – Final Verdict
The product does seem like something which might be able to help you out. It is particularly clean and lean, and it contains no unnecessary ingredients. The product is also all-natural, and there shouldn't be any concerns about its side effects as there are seemingly none. The product might be able to control your carvings, one of the primary sources of additional fat gain.
The best thing to do is to get the professional opinion of your doctor or a nutritionist. Once you have it, you should proceed as per his instructions. If the professional advice against using this product, there are others on the market that you might be able to take advantage of.
Below you'll find some of the most effective weight loss supplements on the market today, in our opinion.
Our Top Rated Weight Loss Supplement
Verdict on Claimed Benefits: Below is our summary of the available evidence for the claimed benefits of below mentioned diet pills and weight loss supplements based on the available research: