In This Review
What is Burn TS?
There is a distinct difference between diet pills and diet supplements. All too often, people end up thinking that they are on in the same but that simply isn't the case.
A diet pill will usually involve in its formula some harsh stimulant that negatively affects the body and tricks it into losing weight unnaturally. A diet supplement will provide your body with nutrients that it may be able to use to lose weight naturally.
The product we will be reviewing today is the latter. It is called Burn TS and it is a diet supplement. That means it works naturally with your body as opposed to upon your body.
Advertisement
*All individuals are unique. Your results can and will vary.
The claims that the manufacturers make regarding their product are that it will help increase your metabolism, help your body burn fat and of course, in the end, help the user lose weight. Burn TS comes in the form of capsules and is to be taken orally.
How Does It Rate?
Overall Rating: 3.3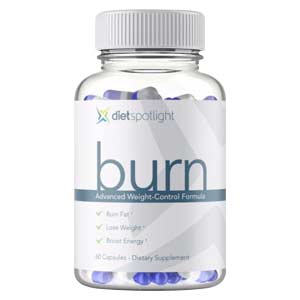 Burn TS

Brand Highlights
Researched Ingredients.
FDA-Approved.
120-Days Refund Policy.
Key Ingredients
Meratrim
ChromeMate
Green Tea Extract
Caffeine
Pros
You may be able to lose weight with Burn TS in as little as two months
This product has been third-party tested for purity and potency.
This is a non-GMO product and it is also gluten-free.
Burn TS may have a positive impact on your metabolism.
Cons
Green tea extract has only been known to have a slight effect on weight loss and weight management[2].
There have been few independent studies on the efficacy of the ingredient ChromMate.
The effectiveness of this product may depend largely on the user's body structure and chemistry.
You will have to commit yourself to exercise and a healthy diet in order to see any weight loss results using Burn TS.
---
How Does Burn TS Work?
A lot of the function of Burn TS hinges on the efficacy of an ingredient called Meratrim.
Meratrim is a patented blend of two different plant extracts: the Sphaeranthus plant and the Garcinia mangostana plant.
It was developed and patented back in 1987 and some studies do suggest that it can result in marked weight loss[1]. It may affect triglyceride and cholesterol levels.
Burn TS Ingredients – Are They Safe & Effective?
The ingredients list for Burn TS is relatively short. It only features 3 main active ingredients, and we are told they are all-natural. It is ultimately up to the user to determine if they can be effective, but let's look at each ingredient's details.
Meratrim
– As discussed earlier, Meratrim is a natural blend of two different plants. These plants are said to have a beneficial impact on cholesterol and triglyceride levels which may help lose weight and maintain a healthier lifestyle[1].
ChromeMate
– Another special blended ingredient, ChromMate, is what you get when you fuse chromium which can help regulate blood sugar levels and curb food cravings, and niacin, which is said to help the chromium absorb into the body more effectively[2].
Green Tea Extract
– Green tea extract is rich in catechins which some people believe help spur the fat burning process as we referenced in our MetaboUP Plus Reviews.
[3].
Caffeine
– There is about 75mg of caffeine in Burn TS, which most likely comes from the green tea extract. Caffeine may help boost metabolism and provide more energy to the user. It is also documented in our Burn Evolved review [4].
SEE ALSO – Hypercor

FAQs
Q: How Should you Take Burn TS?
A: You should use Burn TS twice daily. Take one capsule about half an hour before your breakfast and another capsule about half an hour before your lunch.
Q: How Much Does Burn TS Cost?
A: The price for a single bottle of Burn TS, which includes about a 30-day supply of the supplement, is $58.37.
Q: What is Burn TS's Return Policy?
A: As the company that makes Burn TS does not currently sell it directly, you will be subject to the return policy of the third-party retailer that you buy it from.
Q: Does Burn TS Offer A Free Trial?
A: There is a free trial sample available, but you must cancel your subscription to the auto-ship program within 14 days if you wish to avoid additional charges.
SEE ALSO – Skinny Brew Ingredients and Iaso Tea Weight Ingredients
What Do the Reviews Say?
EFFECTIVE
This stuff is AMAZING! I firmly believe in regular exercise, including cardio and weight lifting. I believe in healthy eating a good food choices. My problem was it took A TON to fill me up. I had some weight management goals and needed to get my appetite under control. This product helped me feel full much quicker with less food consumed and allowed me to go between meals without needing to snack. I wasn't looking for a miracle pill to fix problem areas…that is not realistic. What I was looking for was a little assistance with appetite control to stay on target. That is what I found with burn….it's expensive but worth every penny.
– Nicole Perrotti
Burn TS Review – Final Verdict
Burn TS is a top weight loss pills that does feature some upside.
For example, the user may experience some weight loss in a relatively short amount of time. There is also a free sample available and Burn TS may positively impact your metabolism.
The consumer should also keep in mind that there have been very few independent studies on the efficacy of the ingredient ChromMate. The caffeine in this product may also have a negative impact on some users who are sensitive to caffeine.
Lastly, green tea extract may only have a mild effect on weight loss. We suggest seeing how other products stack up to Burn TS first.
Below you'll find some of the most effective weight loss supplements on the market today, in our opinion.
Our Top Rated Weight Loss Supplement
Verdict on Claimed Benefits: Below is our summary of the available evidence for the claimed benefits of below mentioned diet pills and weight loss supplements based on the available research: