What is BioTrust Leptiburn?
The Leptiburn product claims to help dieters break through the weight loss 'plateau' – the point in their diet where they can't seem to lose any more weight. According to the manufacturer of Leptiburn, the company Biotrust, this is due to a decrease in Leptin levels, a hormone that supports weight loss and fat burning. Leptiburn is one of several Biotrust products and is sold on their official website.
The site is very informative – it contains many details about the company and their founders, the team responsible for the product development and information about the company's charitable work. All contact information is provided for Biotrust and the site also provides details regarding the quality and production of their formulations.
Leptiburn is sold at a cost of $69.00 per bottle but consumers can save money by ordering multiple bottles. The site provides a guideline for consumers, helping them choose the correct amount to purchase depending on how much weight they want to lose. All orders are covered by a full one year money back guarantee and a free gift of a smoothie recipe book is sent with every purchase.

Leptiburn Product Details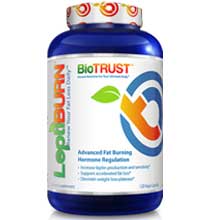 Leptiburn's main purpose is to help the dieter their desired amount of weight by stimulating the hormone Leptin. According to the manufacturer, this hormone decreases dramatically when dieting takes place – levels drop by as much as 50% after 7 days of dieting – and it is this that causes the plateau in weight loss.
Leptiburn's blend of natural ingredients helps to reverse this action, decreasing Leptin resistance and helping the user continue burning fat and losing unwanted pounds. The product should be taken daily at a dose of 2 capsules in the morning and 2 at lunchtime and it is said that most users see significant results in just 30 days of use.
The formula contains no known allergens, making it suitable for most people but, because it does contain a number of stimulants, it should not be taken in the evening as it may interfere with sleep. Overall, the product is safe for long term use and is unlikely to cause harmful side effects.
BioTrust Leptiburn Ingredients – Are they Safe & Effective?
All ingredients used in the Leptiburn formula are listed on the product website as are individual amounts of each.
Green Tea Extract (500 mg) – It has the capability to increase metabolic rate while increasing the way in which the body uses fat for fuel.
Irvingia Gaborensis Extract (150 mg) – It provide support to sensitivity of leptin by means of inhibiting the overall production of a chemical called C-reactive protein (CRP) within the body.
5-Hydroxytryptophan Griffonia Simplicifolia Extract (100 mg) – It increases the body's natural level of serotonin, thus having an impact to feelings of appetite, well-being, quality of sleep, as well as carbohydrate cravings.
Aframomum Melegueta Seed (40 mg) – It boost metabolic rate, thus burning belly fat fast. It can activate the brown adipose tissue, which burns the calories into heat so as to make sure that the body stays warm even when exposed within colder temperatures.
What are the Advantages of BioTrust Leptiburn?
All ingredients are listed with amounts
There is a 1 year money back guarantee
Price discounts are provided for bulk orders
It causes no harmful side effects
The Biotrust company is reputable and established
A portion of the purchase price is donated to charity
What are the Disadvantages of BioTrust Leptiburn?
Full clinical data is not provided
Leptiburn does not address appetite control
Alternatives to BioTrust Leptiburn
BioTrust Leptiburn Review – Final Verdict
Leptiburn does appear to be a good quality product that may help dieters with one of the biggest obstacles in losing weight – the weight loss plateau. It is one of the only products on the market that directly targets the hormone Leptin and, while this is very beneficial, it fails to also address other areas of weight loss such as curbing the appetite and fighting cravings.
Leptiburn is a very expensive product so consumers who find it helpful should definitely take advantage of the manufacturer's discounts for larger orders.
Despite the cost, fact that the manufacturer donates a portion of the purchase price to charity and also offers an excellent money back guarantee make Leptiburn a good choice for consumers.