In This Review
What is Biotox Gold?
Biotox Gold is a weight loss formula that comes in liquid form. It claims to improve a user's ability to cut down weight through burning built-up fat and eliminating toxins that may hold on to the extra weight in the body.
In addition, this effective pill for weight loss is supposedly formulated with all-natural ingredients and absorbs fast thus enhancing its effectiveness. Biotox Gold is also free from artificial chemicals and preservatives.
According to the manufacturer, consumers of this supplement have lost up to 100 lbs, which is quite impressive. However, results may vary from user to user depending on lifestyle among other factors.
How Does It Rate?
Overall Rating: 4.8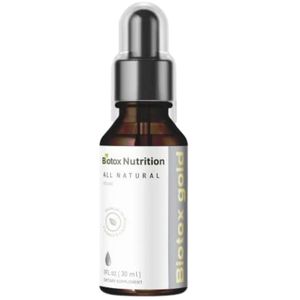 Biotox Gold
Brand Highlights
What we do know is that the product creator is Tonya Harris and the supplement is formulated in an FDA-certified facility.
Harris struggled with obesity and as part of her search for a weight loss supplement, she was inspired to create a supplement that works, which is how Biotox Gold came into existence.
Harris claims to have lost almost 71 lbs which helped her control her high BP.
Key Ingredients
Malabar tamarind
Panax Ginseng
Guarana
Grape seed extract
Capsicum extract
Pros
It promises to actively boost the body metabolism rate
May enhance the fat burning process
Supports the body's detoxification processes
May increase energy levels in the body
May prevent weight regain by reducing fat absorption
Cons
There is limited information available about Biotox Gold's manufacturer
The progressive results may vary from individual to individual
---
How Does Biotox Gold Work?
Biotox Gold is formulated with multiple ingredients that enhance metabolism, fat burning, and detoxification. By hiking the body's metabolism rate, this supplement may induce thermogenesis and energy production.
The energy produced as a result of the process can encourage users to indulge in intense workouts thus bolstering the weight loss process.
As for detoxification, this product helps to flush out toxins that may otherwise impede some of the body's enzymatic processes related to weight loss. With irritants eliminated, these enzymes can work at their optimal level.
Biotox Gold Ingredients – Are they Safe & Effective?
Malabar tamarind
– This ingredient is popularly known as Garcinia Cambogia. It is mostly used in weight loss supplements. A systematic review in the Journal of Obesity found that hydroxycitric acid (HCA), a component of garcinia Cambogia, can cause short-term weight loss.
Panax Ginseng
– This ingredient is claimed to affect the gut microbiota, which is a major factor that affects body weight. An 8-week study in the Journal of Ginseng Research investigated the effect of ginseng on gut microbiota in obese women and concluded that ginseng had a weight loss effect and a slight effect on gut microbiota.
Guarana
– This ingredient is also popular in weight loss supplements. Studies in the Phytotherapy Research journal concluded that guarana seed supplementation prevented weight gain and insulin resistance. The study further declared guarana as a therapeutic agent to treat obesity.
– Scientifically, this ingredient is known as Vitis vinifera. A study in the Nutrition Research and Practice journal assessed the anti-obesity effects of grape seed extract and found that it normalizes body weight, epididymal and back fat weights, and lipid concentrations.
Capsicum extract
– Capsaicinoids are the major components found in this extract and are claimed to enhance metabolism. A research study in the BMC Obesity journal found that capsaicinoids have potential benefits on body fat and fat mass.
See Also – Bio X4 Reviews
Alternatives to Biotox Gold
Biotox Gold – FAQ's
Q: How Should You Take Biotox Gold?
A: The recommended dose is 10 drops of Biotox Gold three times a day. Users are urged to commit to the regimen if they want to experience good results.
Q: How Much Does Biotox Gold Cost?
A: A bottle of Biotox costs $79.00. You can save costs by buying this supplement in bulk that is, 3 bottles at $165.00 or 6 bottles at $252.00. If you buy more than 1 bottle, you get a free multivitamin alongside your purchase.
Q: What is Biotox Gold Return Policy?
A: If you are not satisfied with this product, you can return it within 60 days from the purchase date. Send an email to the company, return the product as indicated on the official website, and await your refund within 48 hours of the return date.
Q: Does Biotox Gold Offer a Free Trial?
A: There are no free trials for this supplement. You can benefit from the company's special offers or discounts that are announced on the official website occasionally.
Real Biotox Gold Reviews
Reduced Appetite & Cravings
It's only been 4 days since I started taking it, but it definitely works. My appetite has been greatly diminished by this. I'm a total sucker for dessert. I find it quite difficult to avoid them, but after taking this, I have no cravings! I went from "needing" something sweet to not even thinking about it after any meal. I'm genuinely amazed.-Toney
Seems to be working…
I was on a low-calorie diet before to starting these tablets. I felt dizzy for about an hour after taking these tablets in the morning for the first five days I took them. Maybe that was brought on by this product's thermogenesis feature, as I no longer have lightheadedness. I haven't weighed myself yet, but these tablets have significantly reduced my tummy and waistline. I began losing weight on the fourth day. I was surprised at how rapidly this medication worked. –MiMi
Biotox Gold Review – Final Verdict
Biotox Gold is a dietary supplement that claims to stimulate weight loss. It is an ideal product for users who want to lose weight but do not engage actively in exercise. It can also be appealing to users who are unable to stick to a weight loss program due to time constraints.
There are 20 plant extracts in this formula and most have scientific backing to prove their effectiveness. According to the manufacturer, this liquid supplement is rich in detoxifiers, antioxidants, and super-food extracts. Since the ingredients are all-natural, they may cause mild or no side effects at all.
Notably also is that Biotox Gold reviews on the official website claim that the supplement works as advertised. Most of the buyers on the official website gave the supplement 5 stars rating. One consumer, for instance, shared that she had lost over 55 lbs in just two months.