Benefiber Healthy Shape Overview
Benefiber Healthy Shape is manufactured by Novartis Consumer Health, Inc. It is a powder that has no taste and can help customers lose weight by making them feel fuller for longer time periods. The product is sold at various retailers and pharmacies across the country. The manufacturer does not list the cost of the product, which varies by retailer.
How Benefiber Healthy Shape Works?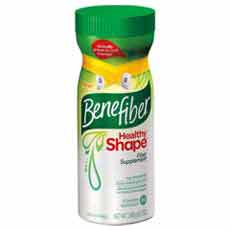 The powder can be dissolved into 8oz of water or favorite drinks. After the powder is added, stir until it is completely dissolved. Those who are 12 and above can use it twice a day. A qualified physician can determine whether or not the product is suitable for those who are 12 or under, and how much can be used.
Benefiber Healthy Shape Ingredients
Wheat Dextrin: This ingredient comes from the wheat plant's outer shell. It is a rich source of dietary fiber and can help relieve constipation by making the colon work more efficiently, helping bowels work better, and increasing the output of stool. It can also help prevent hemorrhoids and assist with irritable bowel syndrome. For now, it is deemed safe for use during pregnancy and breastfeeding.
Advantages of Benefiber Healthy Shape
The product is sold at pharmacies all over the country.
There is only one main ingredient and it can safely be used during pregnancy and breastfeeding.
Coupons are available to help consumers save money during purchase.
Customers can begin using it starting at age 12.
Disadvantages of Benefiber Healthy Shape
The price can vary because it isn't listed online. Customers must check with individual retailers for this information.
A money-back guarantee or sample size isn't mentioned. This could vary depending on the retailer.
The main ingredient, wheat dextrin, can cause discomfort when first used.
Important Features
The product has no taste, so it can be masked by the taste of whatever drink the user decides to mix it in. It is also safe for teenagers to use and for those who are pregnant or breastfeeding.
Frequently Asked Questions (FAQs)
How does Benefiber work?
Benefiber is a tasteless powder that can be mixed into your favorite drink. Its rich source of fiber can help you feel fuller longer and help stave off cravings.
Does cooking with Benefiber change how it works?
No, the powder can be used for cooking and the manufacturer even includes links for Benefiber-friendly recipes. The powder will also not change a food's taste or consistency.
Benefiber Healthy Shape Customer Reviews
One customer, Tracy, said that Benefiber is a helpful product. She said she enjoyed the fact that it completely dissolves in water and doesn't leave a gritty texture known in other fiber-rich products. She also said it may people lose weight if they are already dieting. However, she warned that people should check prices when buying the product from merchant sites.
Wende, another customer, was also pleased by the way the powder dissolves in water. However, the cost seems to be a bit of an issue even though it contains many servings.
Final Verdict
Benefiber uses only one ingredient that has been proven to help with constipation. The product is also available all over the country, which makes it accessible to most people who may want to try it out. Customers also display a high level of satisfaction with how it makes them feel, but they also state that it only really helps if one is already dieting and exercising. For many, a product that displays more information online may be appealing. As of now, customers must first go to a local pharmacy to compare costs, which can be a burden when so many other products share more information.
Our Top Recommended Diet Choices
When it comes to diet supplements, one product definitely does not fit all. We polled experts to get their top picks—so you know that these products will really live up to their claims. Convinced yet? Good. Below you'll find some of the most effective weight loss supplement, diet pill, keto supplement and diet plan in their respective categories which are rated #1 on the market today, in our opinion.
Our Other Weight Loss Products You Must Explore!
*Results may vary based on individual user and are not guaranteed. Exercise and proper diet are necessary to achieve and maintain weight loss and muscle definition.