In This Review
Advaclear Overview
Advaclear is a daily detoxification supplement that can help promote optimum health and vitality.
It is made using potent ingredients that can provide bifunctional support. Moreover, the supplement is said to help enhance the activities of various liver detoxification enzymes.
At the same time, Advaclear Capsules contain compounds that can help promote a balanced working process of detoxification pathways.
This product might also support balanced detoxification by promoting your overall well-being.
It contains vital compounds that offer antioxidant protection against oxygen intermediates.
Usually, the process of detoxification produces reactive oxygen intermediates.
The company behind this product goes by the name of Metagenics.
It claims to create the product using high-quality minerals and vitamins to support healthy detoxification.
According to Metagenics, the supplement can improve the natural detoxification pathways of your body to help keep it free of toxins.
The company promotes this supplement by claiming that it is the perfect choice for people who've been looking to improve their detoxification pathways and improve the detoxification process of their bodies.
Advertisement
*All individuals are unique. Your results can and will vary.
Metagenics adds that its supplement is an all-natural product for detoxification and is capable of providing daily support to ensure that your natural detoxification pathways function optimally.
How Does Advaclear Rate?
Overall Rating: 3.8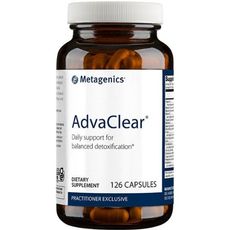 Advaclear

Brand Highlights
Invented by Advaclear.
The brand has an extremely impressive line of sports nutrition products.
Advaclear uses clinically proven ingredients in their formulations.
They are committed to being a source of top-notch, original goods.
Advaclear is known for developing and releasing the most cutting-edge products.
Key Ingredients
Vitamin A
Vitamin C
Riboflavin
Biotin
Zinc
Copper (as copper citrate)
Sodium (as sodium sulfate)
N-Acetyl-L-Cysteine
Pros
It can help free toxins from your body.
Can improve the detoxification process of your body.
Promotes optimal health and function.
It can protect your body from free-radical damage, especially during Phase I detoxification.
Cons
Doesn't have a money-back guarantee.
Available online only.
Doesn't have FDA certification.
Its working process isn't supported by clinical trials.
---
How Do Advaclear Work??
Since this supplement is made using potent ingredients believed to help with natural detoxification, it might work as claimed. Its active ingredients are said to help balance Phase I & II detoxifications and can enhance detoxification enzymes to promote optimal health.
Advaclear Ingredients and Working Process
The ingredients contained in this detox product work to promote energy, well-being, and vitality. They do so by improving your detoxification activities. Moreover, the ingredients have been shown to help balance both Phase I and Phase II detoxifications. They can also enhance detoxification enzymes. The ingredients available in this detox product include:
Vitamin A
A powerful antioxidant that helps maintain neurological function and can help reduce inflammation by fighting free radicals[1]
Vitamin C (As Magnesium Ascorbate)
This has various benefits to the body including repair of body tissues, formation of cartilage, and helping with the immune system[2]
Riboflavin
A water-soluble vitamin and an important nutrient in the diet[3]
Advertisement
*All individuals are unique. Your results can and will vary.
Biotin
Biotin is a B-vitamin that may be found in a variety of foods. Biotin aids in the conversion of carbs, lipids, and proteins in your diet into the energy you require.[4]
Zinc
Zinc is an important mineral that may be found naturally in certain foods, added to others, or taken as a supplement. Zinc can also be present in several cold lozenges and over-the-counter cold medicines. [5]
Copper (as copper citrate)
Copper is a mineral found in foods such as organ meats, seafood, nuts, and grain products. It was historically used for preventing infections after burns.[6]
Sodium (as sodium sulfate)
The inorganic chemical sodium sulfate (also known as sodium sulfate or sulfate of soda) and numerous related hydrates have the formula Na2SO4. All of the forms are white solids that are very water-soluble. Decahydrate is a large commodity chemical product, with an annual output of 6 million tonnes.[7]
N-Acetyl-L-Cysteine
In vivo and in vitro, N-acetyl cysteine (NAC) is a widely used antioxidant as a dietary supplement. NAC is a precursor to L-cysteine, which promotes glutathione production. It works as a direct scavenger of free radicals, particularly oxygen radicals. [8]
FAQ's
Q: How to Take Advaclear?
A: Take a maximum of two capsules every day. Additionally, use the supplement according to your healthcare practitioner's directions.
Q: What are the Precautions When Using This Product?
A: Remember that excessive intake of vitamin A is toxic and can lead to high risks of birth defects. Expectant women shouldn't take preformed vitamin A exceeding 10,000 IU per day. More importantly, nursing and pregnant women are advised not to use this supplement.
Q: How Long Before I See Any Improvements?
A: This depends on how you use the supplement. Expect considerable improvements within a few weeks if you use the supplement as directed.
Q: How much does Advaclear cost?
A: Advaclear comes in two quantities, the first one in 42 capsules for $34.00 and the second one in 126 capsules for $88.00. You can easily choose between both of them.
Q: Does Metagenics Advaclear Causes any Side Effects?
A: As the results of this product may vary from person to person, you may experience the following side effects Diarrhea, Vomiting, Stomach aches, Slight headaches, and Dizziness.
Q: What is the SellerInfo?
A:
Address: 25 Enterprise Ste 200 Aliso Viejo, CA 92656
Contact: +1 800-692-9400
Alternatives to Advaclear
What Do the Reviews Say?
I've been using this product for quite some time, but it hasn't worked for me. It would be better to switch to another product than to waste time and money on this one.
~ Bella
Conclusion
This supplement can promote a balanced process of detoxification in your body. The formula offers a unique support mechanism that leads to a balanced detoxification process. Taking your capsules as recommended can help renew your energy, well-being, and vitality.
According to the manufacturer, this supplement works by promoting bifunctional detoxification.
Advertisement
*All individuals are unique. Your results can and will vary.
Bifunctional support can enhance the activities of various hepatic detoxification enzymes. Additionally, it can promote a balanced activity of detoxification pathways, Phase I and Phase II.
Although Advaclear Capsules can have all these positive effects on your detoxification pathways, they might contain artificial ingredients that can cause side effects. Additionally, the product isn't FDA-certified. Moreover, its manufacturer doesn't provide sufficient information about the ingredients and their working process.
Below you'll find some of the most effective weight loss supplements on the market today, in our opinion.
Our Top Rated Weight Loss Supplement
Verdict on Claimed Benefits: Below is our summary of the available evidence for the claimed benefits of below mentioned diet pills and weight loss supplements based on the available research:
Product reviews are provided for informational purposes only and reflect solely the views and opinions expressed by the contributors and not those of Consumer Health Digest. We do not verify or endorse any claims made in these reviews. Please read the full product reviews disclaimer. *All individuals are unique. Your results can and will vary.
Ask a Question
Have a Question? Please Tell Us What We Are Missing Here!
PRODUCT NAME
Advaclear
PRODUCT BRAND
Metagenics
PRICE (in USD)
$88.00
ITEM FORM
Capsules
UNIT COUNT
126
INGREDIENTS
Hydroxypropyl methylcellulose, magnesium stearate, and silica.
Amazon
**This is a subjective assessment based on the strength of the available informations and our estimation of efficacy.
*Result may vary. If you are pregnant, nursing, have a serious medical condition, or have a history of heart conditions we suggest consulting with a physician before using any supplement. The information contained in this website is provided for general informational purposes only. It is not intended to diagnose, treat, cure, or prevent any disease and should not be relied upon as a medical advice. Always consult your doctor before using any supplements.
Disclosure of Material connection: Some of the links in the post above are "associate sales links." This means if you can click on the link and purchase an item, we will receive a commission. Regardless, we only recommend products or services which we use personally and/or believe will add value to our readers. We are disclosing this in accordance with the Federal Trade Commission's 16 CFR, Part 255: "Guides Concerning the Use of Endorsements and Testimonials."