In This Review
5-HTP Max Overview
The number of people dreaming of losing weight continues to grow. One interesting thing about that fact is many of those who dream to lose weight don't even know they have deep inside their body an important chemical that could help them lose fat if produced in enough quantities.
That substance is called 5-Hydroxytryptophan, in short 5-HTP. The substance is an amino acid produced in the body and is linked to the suppression of hunger and by extension to the loss of weight.
Since 5-HTP has been discovered to play a role in weight loss certain supplement makers have rushed to produced pills made with it. An example of such pill is 5-HTP Max.
It is a supplement promoted as a natural weight loss agent that will facilitate the process of shedding fat. Let's have a closer look at the product and find out more about its background.
How Does It Rate?
Overall Rating: 3.8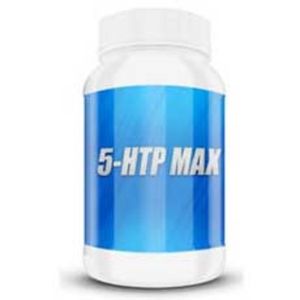 5-HTP Max

Brand Highlights
Made with a natural ingredient.
5-HTP Max helps to improves the mood.
Pros
Made with a natural ingredient

Improves the mood

suppresses appetite

comes with a 90 day money back guarantee
Cons
More information is required about the ingredients used
The

number of capsules inside a bottle is not provided
---
How Does It Work?
The official website of 5-HTP Max does have an about section, but for some weird reason, it failed to mention the name of the company that produces the supplement.
All it says is that it was founded in 2002. Aside from that, there is no information related to the staff working there or the history of the company.
On the customer service page, there is a number to call. The company seems to offer customer service in the UK, the US, Australia, and Brazil. That aside, there is no physical address provided on which you can rely to find the location of the company.
Serotonin is a chemical found in the human body and it is known to improve mood and suppress appetite. But for more serotonin to be produced, more 5-HTP needs to be produced. This is where this supplement comes in. It is supposed to increase the production of serotonin which in turn will prevent cravings.
What Are the Ingredients?
5-HTP
– The only ingredient mentioned on the ingredient page of the website is 5-HTP[1]. It is stated there that 50 mg of 5-HTP was extracted from the seed of the plant Griffonia simplicifolia. Aside from that there is no additional information provided.
Frequently Asked Questions
Q: What is the cost of 5-HTP Max?
A: One bottle of 5-HTP Max goes for $39.95. For those who are willing to pay for 2 bottles for $79.95, they will be given an additional one for free. It gets better when one is willing to pay for 3 bottles. The company then offers 3 more bottles for free.
As for the daily usage, you are expected to take 3 capsules on daily basis.
Q: What are the side effects of 5-HTP Max?
A: The main worry about supplements containing 5-Hydroxytryptophan is that they are suspected to cause eosinophilia myalgia syndrome which in an incurable condition that sometimes turns out to be fatal. Defenders of 5-HTP claim that the condition is only caused by contaminated supplements. The research is still ongoing to find the real cause of the syndrome.
Other suspected side effects are heartburn, stomach pain, drowsiness, sexual problems and vomiting
Q: What are the 5-HTP Max warnings?
A: This supplement is not intended for women bearing a child or nursing one. Any person that is on medication should first see a doctor before trying the supplement. The supplement should be kept away from children.
Q: Is 5-HTP Max a Scam?
A: One thing for sure is the company producing this pill has chosen to remain anonymous. This should already raise suspicion. Why should a company not want to show itself if it is so sure about its product?
Keep in mind that you can't chase them if they run away with your money since there is no physical address provided.
Alternatives to 5-HTP Max
5-HTP Max Reviews from Customers
5-HTP Max Best Product!
Love the prodcut. I used this prodcut for 3 months and i lose 20 pound of weight.-John B.
Conclusion
The risk involved with the purchase of 5-HTP Max is just too high for you to take it.
The reality is the company behind it is anonymous and on top of that, you might incur the risk of developing eosinophilia-myalgia syndrome. In that situation, it is preferable to find another weight loss pill.
Below you'll find some of the most effective weight loss supplements on the market today, in our opinion.
Our Top Rated Weight Loss Supplement
Verdict on Claimed Benefits: Below is our summary of the available evidence for the claimed benefits of below mentioned diet pills and weight loss supplements based on the available research: