In This Review
Standard Process A-C Carbamide Overview
Standard Process A-C Carbamide is one of the best diuretic supplements was introduced to the market in 1946 as a dietary supplement for supporting healthy fluid transfer in body tissues.
It functions as a physiological diuretic that also promotes the healthy formation and excretion of urine. The special formulation also works to promote healthy fluid levels and support the healthy function of the urinary system.
How Does It Rate?
Overall Rating: 3.5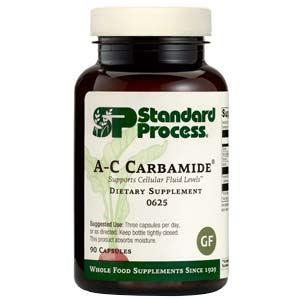 Standard Process A-C Carbamide
Brand Highlights
Standard Process A-C Carbamide is manufactured by a company known as Standard Process.
The company has long established a reputation since it was established in 1929.
This company offers a variety of supplements which can be used for different purposes.
It is actually based in the USA.
Key Ingredients
Calories
Carbohydrates
Vitamin A
Vitamin C
Carbamide
Arrow Root Flour
Pros
It may promote healthy fluid levels.
Supports a healthy urinary system while improving its function.
It may help in the regulation of blood pressure and heart rate.
Helps in protecting the urinary tract against infection.
May support the regulation of tissue growth in the body.
Cons
There is no clinical evidence supporting its claims.
It can only be purchased online.
---
How Does Standard Process A-C Carbamide Work?
The formulation uses a special diuretic formulation to support the healthy formation and elimination of urine. It also contains the potent antioxidant vitamin C which may help protect cells in the body from free radical damage.
It includes the urinary system helping it function optimally. The supplement also contains vitamin A, which is useful in treating urinary tract infections. The vitamin is very useful in keeping the urinary tract healthy and preventing problems like UTI.
Standard Process A-C Carbamide Ingredients – Are they Safe & Effective?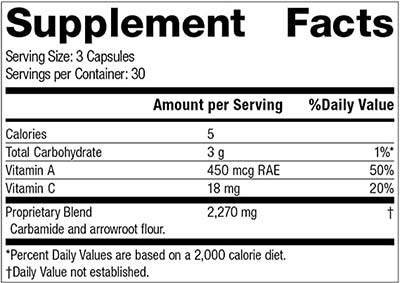 Calories
Accouding to some study Calories are required for human survival. The key is to consume the appropriate amount. Depending on age, everyone requires a different amount of energy each day. [1]
Carbohydrates
Increases energy in the body. It could be a good source of fiber. According to NCBI carbs fit into a healthy diet. [2]
Helps in regulating tissue growth in the body. Helps in maintaining the balance of pH within the body. [3]
Maintains proper conduction in the nerves. Protects the urinary tract against infections. [4]
Improve the health of the urinary function system. Supports fluid levels which are healthy. [5]
Regulates blood pressure and heart rate. According to Dr.Axe, Arrow Root Flour also help boost Immunity and Soothe Digestion. It is a source of many vitamins including riboflavin and pantothenic acid which act as substrates for fat, protein, and carbohydrate metabolism in the body. [6]
Standard Process A-C Carbamide Claims
The manufacturers of this supplement claim that it works to promote healthy fluid levels in a healthy way.
It is also claimed to support a healthy urinary system while improving its function.
Some of its ingredients including Vitamin C are claimed to be potent sources of antioxidant properties.
It is also claimed healthy fluid levels of cells found in the body.
Standard Process A-C Carbamide FAQ's
Q: How Long Will It Take To Show Results?
A: The diuretic effects should be seen within a few days of intake.
Q: Does It Interact with Medication?
A: There is a possibility that the supplement will interact with certain medications. Check with your healthcare professional before taking it if you are under any medication.
Q: Who Can Take Standard Process A-C Carbamide?
A: The supplement can be taken by anyone as long as they are in good health.
Q: How much does Standard Process A-C Carbamide cost?
A: It cost $21.50 for 90 Capsules and $54.50 for 270 Capsules.
Q: How much time does it take to ship the order?
A: For shipping details, you can refer to its Official website.
Q: Are there any alternatives to Standard Process A-C Carbamide?
A: Yes, there are multiple products in the market such as Waterex.
Q: What Kind of Reviews are Out there for Standard Process A-C Carbamide?
A: There are several customer reviews about Carbamide of which not all exhibit the same reactions. Since the reactions are somehow different, we can, therefore, see the extent. It is, however, a normal thing to have different reactions because of how different people react to different products.
One customer loved this supplement because it worked great for her when it came to the stopping of swelling feet. The other customer on the other hand who had fluid retention all over the body and thyroid eye disease could not see any change after using this supplement for only a day. He, however, did not experience any side effects.
Standard Process A-C Carbamide Reviews – Final Verdict
According to the claims of the manufacturer, Standard Process A-C Carbamide is an effective product based on what it can do.
For those looking to have healthy fluid levels and formation and excretion of the urine, this product promises to do just that.
It, therefore, improves the functioning of the urinary system. As much as the formula is however claimed to be effective, there are no sufficient clinical studies proving these facts and so potential customers are encouraged to explore further before purchasing a product.
Water retention can be safely addressed using dietary supplements made from natural ingredients. The best supplements for this problem are those that contain ingredients that are proven to be safe and effective. Take note that when it comes to treating water retention, it is also important to consider the electrolyte balance of the user. An added plus is if the product also promotes a healthy urinary system. Ultimately, we were able to determine the bottom-line value of each product. Now, you no longer have to spend a lot of time researching just to find the best water retention product on the market.
We have listed the top Water Retention products on the market, in our opinion
Our Top Water Retention Choices
Verdict on Claimed Benefits: Below is our summary of the available evidence for the claimed benefits of below mentioned water retention tablets based on the available research:
Diurex | Water Pills + Pain Relief

Reduces Water Retention*
Gold Star Evidence
Alleviates Bloating*
Gold Star Evidence
Supports Weight Control*
Gold Star Evidence
Eases PMS Symptoms*
Strong Evidence
Diurex Max | Effective Bloat Relief
Relieves Water Bloat*
Gold Star Evidence
Reduces Fluid Buildup*
Strong Evidence
Supports Urinary Health*
Gold Star Evidence
Reduces Extremity Swelling*
Strong Evidence
Thermotabs | Salt Supplement Buffered
Maintains Electrolyte Balance*
Gold Star Evidence
Supports Hydration*
Strong Evidence
Supports Cardiovascular Health*
Strong Evidence
Relieves Muscle Cramps*
Strong Evidence