In This Review
Retenix Overview
Retenix is an advanced supplement owned by Newton-Everett Biotech and when combined with Slendersol they help relieve stress, reduce water retention, manage weight, increase focus, balance your mood, stimulate body metabolism, and detoxify the body from harmful toxins.
When Retenix is used alone it supports the body's mineral and vitamin stores and also gets rid of extra water. In addition, it reduces fatigue, detoxifies your body, and can elevate thyroxine levels in the body. Retenix is available in capsule form and can be ordered online from the brand's official website and also accredited retailers.
You will be required to take one Retenix capsule in the morning with water and another capsule in the early afternoon with water too. Perfect results will be seen when this product is used together with exercise program and healthy diet.
How Does It Rate?
Overall Rating: 3.6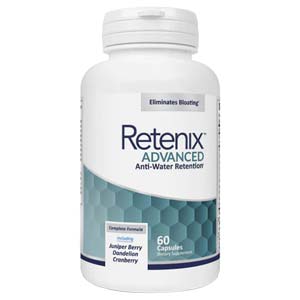 Retenix
Brand Highlights
Retenix and Slendersolare manufactured by Newton-Everett Biotech Company.
This company markets a wide range of supplements.
The manufacturer also claims that when Retenix is combined with Slendersol they alleviate stress, balance mood, stimulate metabolism and increase natural energy.
Key Ingredients
Juniper Berry
Buchu Leaves
Dandelion
Vitamin B6
Pros
It may relieve stress
It helps reduce* water retention and manage weight
It helps increase* mental focus and balance your mood
It stimulate body metabolism
It may increase energy.
Cons
The full list of the ingredients used are not revealed
It needs to be combined with Slendersol for optimal results
---
How Does Retenix Work?
Green Tea is best known for its several powerful health benefits. There are supplements for joint care, increasing testosterone, weight loss, healthy skin, digestion improvement, liver and cardiovascular health, individual minerals and vitamins, and many more.
It helps get rids of excess water while sparing minerals and vitamins, which are mostly lost together with the water. Several claims have been made concerning the benefit and effectiveness of using Retenix products to help eliminate excess water and detoxify the body from harmful toxins.
Clinical research carried out recently suggests that the use of green tea extract can help boost your body metabolism and also help you burn fat. Vitamin B6 is made up of pyridoxal, pyridoxine, and pyridoxamine, which help in regulating your mood and mental function.
Potassium is an important electrolyte in the body which helps in the normal functioning of digestive systems and the heart.
Retenix Ingredients – Are they Safe & Effective?
Juniper Berry
– As study says, Juniper berry oil is mostly used to treat urinary tract infections like cystitis and urethritis. It contains an antiseptic volatile oil that can help relieve urinary tract discomfort as it passes through. [1] Juniper extract or juniper berries are sometimes used in water retention products and natural remedies because of their potential diuretic properties. Products like Metabolic Nutrition Hydravax include this ingredient, which may help reduce water retention.
Buchu Leaves
– Buchu leaves are native to South Africa and are one of the most effective diuretics. Buchu leaves are used to treat urethral inflammation, blood in the urine, support urinary bladder health, and other urinary tract problems. [2]
Dandelion
– According to the research, Dandelion's diuretic properties help the kidneys excrete salt and water while also providing potassium, which synthetic diuretics typically deplete from the body. [3]
Vitamin B6: (pyridoxine)
– Vitamin B6 is actually a group of three closely related substances that work together: pyridoxine, pyridoxinal, and pyridoxaminc, as studies said. [4]
Other ingredients include Green Tea, Potassium, Corn Silk, Apple Cider Vinegar, Cranberry, Watermelon and Asparigas.
Retenix FAQ's
Q: Is it safe to purchase Retenix online?
A: Yes, the websites used to purchase this product use secure and strong data encryption connections that ensure safety and security.
Q: Where can I buy Retenix?
A: Retenix has an official website from where the product can be purchased at a reasonable price with a recommendation of combining with Slendersol.
Q: What products are similar to Retenix?
A: Similar products include Xpel Diuretic , and Mega-T Green Tea Reviews

Retenix Reviews – Final Verdict
This is a revolutionary product that has brought hope in alleviating stress, regulating weight and eliminating the body's excess water and other benefits mentioned above, Retenix and Slendersol may be perfect for you.
However, it is always good to sought medical advice from your physician.
Water retention can be safely addressed using dietary supplements made from natural ingredients. The best supplements for this problem are those that contain ingredients that are proven to be safe and effective. Take note that when it comes to treating water retention, it is also important to consider the electrolyte balance of the user. An added plus is if the product also promotes a healthy urinary system. Ultimately, we were able to determine the bottom-line value of each product. Now, you no longer have to spend a lot of time researching just to find the best water retention product on the market.
We have listed the top Water Retention products on the market, in our opinion
Our Top Water Retention Choices
Verdict on Claimed Benefits: Below is our summary of the available evidence for the claimed benefits of below mentioned water retention tablets based on the available research:
Diurex | Water Pills + Pain Relief

Reduces Water Retention*
Gold Star Evidence
Alleviates Bloating*
Gold Star Evidence
Supports Weight Control*
Gold Star Evidence
Eases PMS Symptoms*
Strong Evidence
Diurex Max | Effective Bloat Relief
Relieves Water Bloat*
Gold Star Evidence
Reduces Fluid Buildup*
Strong Evidence
Supports Urinary Health*
Gold Star Evidence
Reduces Extremity Swelling*
Strong Evidence
Thermotabs | Salt Supplement Buffered
Maintains Electrolyte Balance*
Gold Star Evidence
Supports Hydration*
Strong Evidence
Supports Cardiovascular Health*
Strong Evidence
Relieves Muscle Cramps*
Strong Evidence