In This Review
Claritag Advanced Skin Tag Removal Device Overview
Claritag Advanced Skin Tag Removal Device is a skin tag removal device that uses squeeze and freezes technology to safely "cut off" skin tags. Ideally, the device contains foam treatment pads. When you squeeze the device, the pads are activated with a liquid cooling gas, which initiates the process of skin tag removal.
The manufacturer claims the skin tag will fall off 7-14 days after using the device but may take longer for some users.
Claritag is the brand behind this skin tag removal device. It is supposedly the #1 dermatologist-recommended skin tag removal brand.
The device is manufactured by DGI Technologies located in New Jersey, United States. Claritag promises free replacement for all its devices to ensure the device functions properly and delivers effective results.
The company uses a technology that allows the skin tag to fall off on its own within a few days. Claritag offers free shipping on all orders worldwide. The brand's official website includes real customer reviews and testimonials, which prove that the product is effective and safe.
How Does Claritag Advanced Skin Tag Removal Device Rate
Overall Rating: 3.5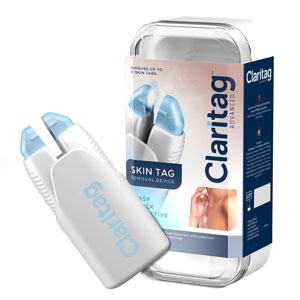 Claritag Advanced Skin Tag Removal Device
Brand Highlights
A clinically tested method of removing skin tags
Claritag treatment takes 60 seconds
Claritag uses squeeze and freeze technology to eliminate skin tags
100% money-back guarantee
Pros
Claims to be safe and effective for use on skin
Takes 7-14 days for the skin tag to fall off
May not leave a scar on the skin, but promotes new skin regeneration
Can be used at the comfort of your home
Claims to easy to use and available over-the-counter
Cons
It does not prevent the formation of new skin tags
The device is not available for sale on the official website
Individual results may vary after using the device
No price mention
---
How Does Claritag Advanced Skin Tag Removal Device Work?
The device uses freeze and squeezes technology, which instantly freezes the skin tag. Claritag contains foam treatment pads and liquid cooling gas, which activates the pads when in use. Once the device is in use, the activated pads freeze and squeeze the skin tags.
In other words, Claritag Advanced skin tag removal claims to be a quick and effective device. However, the skin tags do not fall off immediately. The manufacturer claims that the skin tags will take 7-14 days to fall off.
Most customers have reported that the tags fell off after 10 days. During the process, new skin develops underneath the treated area. Claritag Advanced Skin tag removal does not leave any scarring on your skin. But is it the best skin tag remover? Let's find out the answer.
A publication in the National Library of Medicine reveals that cryotherapy is an effective procedure for skin tag removal, which uses liquid nitrogen on the targeted area. [1]
Claritag Advanced Skin Tag Removal Device FAQ's
Q: How Should You Use Claritag Advanced Skin Tag Removal Device?
A:Claritag Skin tag removal device is effective and easy to use. The device is placed around the skin tags. Once the skin tag is surrounded, the device freezes and squeezes the skin tag for 60 seconds. Leave it at that, as the tag will naturally fall off after 7-14 days.
Q: What is Claritag Advanced Skin Tag Removal Device Return Policy?
A:Claritag offers a hassle-free return policy. If you are not satisfied with the product or it is damaged you can return it. The company offers a free return policy on this product with a 100% money-back guarantee.
Q: Where to Buy Claritag Advanced Skin Tag Removal Device and How Much is It?
A: You can order the device directly from the official website and enjoy free shipping. However, the price is not included on the official website. You may contact customer service to find out the cost.
Q: What Sets Claritag Advanced Skin Tag Removal Device from the Competition?
A: The Freeze and squeeze technology that Claritag uses sets it apart from other skin tag removal devices. The device contains treatment pads that are activated using liquid cooling gas to effectively remove skin tags without pain and scarring.
Claritag Advanced Skin Tag Removal Device Reviews from Customers
Below are some of the customer reviews;
" I had a huge skin tag on my face and for many years I lived with it not knowing that it can come off. I had tried some home remedies for it but none seemed to help eliminate the tag. One day as I was online just browsing, I saw Claritag Advanced Skin tag removal device. I thought, why not try it? The device is magical. My skin tag fell off after 11 days. I should have found it earlier."~Alfred
" The device is amazing and easy to use. I love that there is a video included to help you learn how to use the device. I had several skin tags under my arms. I never wore tank tops because I did not want anyone to see them. After using Claritag Advanced, they fell off naturally. Although the area was sore before it fell off, I would still use it again. I am confident now and can wear anything."~Anna
" A good run for my money because the device is effective and delivers upon its promise. The device is impressive and works great. I would highly recommend it to anyone struggling with skin tags. It is not painful at all and you would not know I had a skin tag at that place."~George
" For 30 years I have struggled with skin tags on my neck. I have tried surgical procedures but they still grew back. I did not have any more cash to spend on surgery. I came across Claritag as I was doing my research and I decided to give it a try. I am glad I did. The skin tags fell off and they have not grown back." ~Christabel
" The device is easy to use and it delivers results within 10 days. The device removed my skin tags and there is no scar on that area. My skin looks new and healthy. I love Claritag device."~Ben
Claritag Advanced Skin Tag Removal Device Reviews – Final Verdict
Skin tags are painless and harmless soft growths that appear on the surface of the skin, often on the upper chest, eyelids, neck, and underarms. Although most skin tags do not require treatment, the fact that they look like inflated balloons may make you want to remove them. Technology has come up with an effective way of removing them.
There are many skin tag removal devices and procedures available today. Most are unsafe and may cause skin irritation.
Claritag is a skin tag removal device that works on the tags and takes one to two weeks for them to fall off.
Well, while it takes around 10 days for the skin tag to fall off. New and healthier skin foams under the treated area and there is no scarring left, some users may be happier if worked faster.
The treatment only takes 60 seconds and you are good to go. The device has been clinically tested to ensure it is safe and effective for use on the skin, which could be encouraging.
However, it doesn't deter the formation of other new skin tags, which means it doesn't deal with the root cause of the tags.
In our opinion, below you will be able to discover the most effective wart and mole removal products being sold today. These have been classified with a number of five key factors being taken into consideration: quality of active ingredients, anti-bacterial properties, skin texture improvement, pain and discomfort relief and the ability to remove warts, moles and skin tags.
Our Top Wart Mole Removal Choices
Verdict on Claimed Benefits: Below is our summary of the available evidence for the claimed benefits of below mentioned wart and moles remover oil and serums based on the available research:
Skincell Pro | Mole and Skin Tag Corrector

Targets Skin Tags & Moles*
Gold Star Evidence
Reduces Risk of Scars*
Gold Star Evidence
Improves Skin Texture*
Gold Star Evidence
Clear Skin Blemishes*
Strong Evidence
Derma Correct | Best Skin Tag Remover
Removes Skin Tag & Moles*
Gold Star Evidence
Provides Quick Results*
Strong Evidence
Non-Irritating Formula*
Gold Star Evidence
Non-Surgical Alternative*
Strong Evidence
Skincell Advanced | Advanced Skin Tag Corrector
Eliminates Tag and Moles*
Gold Star Evidence
Combats Skin Blemishes*
Strong Evidence
Maintains Radiant Glow*
Strong Evidence
Fast Acting Solution*
Strong Evidence