In This Review
What is Super Blue Stuff OTC?
Super Blue Stuff is a topical pain relief cream that contains Emu Oil. It is produced in a bid to fight pain in the joints without any side effects. It promises to work instantly, within five minutes of application, to relieve pain associated with;
Backache, Bruises, Arthritis, Muscle pain, Strains, Sprains and Strains
How Does It Rate?
Overall Rating: 3.7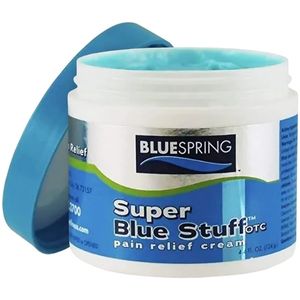 Super Blue Stuff
Brand Highlights
Effectively Combat Persistent Body Pain
Powerful Therapeutic Herbs
Mild Fragrance, Lightweight Cream
Nourishing Antioxidants, Soothing Effect
Accelerates Recovery
Key Ingredients
Emu Oil
Aloe Barbadensis Leaf Extract
Ascorbyl Palmitate
Calendula Officinalis Flower
Pros
Provides instant relief
Comes in various sizes from sachets to family size containers
Quickly absorbed into the body
Pleasant smell and colour
Cons
Some ingredients have not been scientifically tested when used topically
---
How Does Super Blue Stuff Works?
The active ingredient in Super Blue Stuff OTC is Menthol. Menthol is a natural flavouring that is extracted from peppermint oil. Study shows that when topically applied, menthol has analgesic effects in the human body that can soothe pain and sore muscles. In one of these many studies conducted, it was established that menthol offers an almost instant reduction in muscle and joint pain upon application. The soothing effects of topically applied methanol can go for several hours depending on the condition of the patient. Menthol is responsible for giving Super Blue Stuff OTC its ability to produce a cooling sensation experienced when one applies it. Further research shows that methanol can block pain signals from reaching the brain, thereby eliminating the pain within the shortest time possible.
Super Blue Stuff OTC also contains Willow bark extract. Willow bark is gotten from the stem of the white willow tree and is believed to have pain killing effects like those of aspirin.
Super Blue Stuff Ingredient – Are They Safe & Effective
Emu Oil
– Emu oil is believed to reduce the visible signs of aging. It has many benefits which include; Essential Fatty Acids (EFA's) Omega, Linoleic Acid (eases muscle and joint pain)[1]
Aloe Barbadensis Leaf Extract
– Aloe Vera is widely used to treat skin conditions and flu. The sap from Aloe Vera is a natural anti-inflammatory agent with pain soothing properties.[2]
Ascorbyl Palmitate
– Ascorbyl palmitate is an organic compound, ester, formed from ascorbic acid and palmitic acid, a fatty acid in animals and plants. Ascorbyl Palmitate is a natural source of Vitamin C and is an antioxidant.[3]
Calendula Officinalis Flower
– Acts as a stimulant by temporarily increasing vital body processes. It also helps the body to promote sweating, which is helpful in cases of fevers. Traditionally, the yellow flowers were rubbed on the skin as a remedy for pain, sprain and swelling.[4]
Super Blue Stuff OTC FAQ's
Q : What are the directions for use
A : Scoop a small amount of the Super Blue Stuff and apply a thin coat of it on the targeted area. If the pain doesn't stop after five minutes, immediately apply another coat and do this until the pain goes away. In the case of joints, apply all-round the joint and at least one or two inches above and below the affected joint. For back pains, massage with the Super Blue Stuff to the affected area until the soothing is felt.
Q : What are the Warnings to use Super Blue Stuff OTC
A :
Consult a physician if you are pregnant or breastfeeding
For children below 12 years, consult a physician before applying the cream
Causes irritation in the eyes and mouth
Keep away from children
Q : What Kind of Reviews are Out there for Super Blue Stuff?
A : It has recorded, mixed feelings from consumer all over the world. On average the product is rated at 5/10. Here are the two most interesting feedbacks;
"If you have not tried this for sore muscles, you really need to. I used it for my back, which is always in pain several years ago, and then when I started having problems again, I searched all over for it. I am so glad to have found it. It is a real life saver if you have to work regardless of how you feel. I have never found anything that works any better than this." By Steve W.
"I tend to read the instructions, warnings, and other information provided by the manufacturer before use, particularly on medicinal products. Those words are provided on the bottle are unreadable even with the aid of a magnifying glass and directly under a bright light. Okay I can live with that. I was told by someone who has a lot of pain it was wonderful stuff. I put it on and nothing!! It smells cool, but that's it. It didn't get cool or hot its basically blue lotion. I wish I had not wasted my $21.00, could have used the money for something useful" By Betsi Tunnell "audio addict" (Nashville, Tn USA)
Super Blue Stuff – Final Verdict
Super Blue Stuff contains all the topical pain killing ingredients we have on book. It really looks magical, but from the customer feedback we have realized it was magical, but not for everyone.
Bones are connected by joints, which allow us to move with ease. Joint damage can cause pain preventing you from doing the things you once loved. Topical joint relief products tend to work more quickly, helping to relieve pain directly in the affected area compared to products taken orally. A topical joint pain relief product should be evaluated on its: potential to block the transportation of pain signals, potential to act as a counterirritant to reduce soreness and Quality of Ingredients* backed by clinical research.
Below you'll find some of the most effective topical joint pain products on the market today, in our opinion.
Our Top Joint Pain Relief Choices
Verdict on Claimed Benefits: Below is our summary of the available evidence for the claimed benefits of below mentioned joint pain relief gels, gummies, and creams based on the available research:
Well Care Botanicals | Hemp Extract Pain Relief Cream

Remove Inflammation & Soreness*
Gold Star Evidence
Pain-Relieving Benefits*
Gold Star Evidence
Supports Cartilage and Tissue*
Gold Star Evidence
Rapid Pain Relief*
Strong Evidence
Barker Wellness | Cannabinoid-Infused Products
Nurtures Body & Mind*
Gold Star Evidence
Targets Sleep & Focus*
Strong Evidence
Wide Range of Products*
Gold Star Evidence
Natural and Organic*
Strong Evidence
Aspercreme | Best Pain Relief Cream
Non-Greasy Cream*
Gold Star Evidence
Relieves Arthritis Pain*
Strong Evidence
Supports Joint & Muscles*
Strong Evidence
Fast-Acting Formula*
Strong Evidence