In This Review
What is Soothanol X2?
Soothanol X2 is a therapeutic solution which promote blood flow so that you can perform daily activities with ease and comfort. It is manufactured with revolutionary system and quality ingredients which supports joint health and improve mobility.
Product is a pain relief formulation that is applied directly to the skin and can be used in the lower back, neck, knees, fingers for joint pain caused by arthritis and other conditions.
Due to potency of liquid it goes long way but it is only intended for topical use and temporary relief. it does not solve problem from within. Hence, further treatments will still be needed for more long-lasting relief.
Even though the company is not very well known, Soothanol X2 is their most popular product. It works instantly within a minute after application, offering temporary pain relief. They are based in the United States and offer a Gold Standard Guarantee on all their products, which is a full refund.
The product is being sold online for $49.95, but discounts are given when 3 or 6 bottles are ordered from the product's website. Soothanol X2 works for following conditions-
Eliminates pain on contact.
Works on all kinds of joint pain.
Soothes back, hip and other common joint pain problems.
Comes with a pleasant scent.
Very easy to apply.
Safe and all-natural formulation.
How Does It Rate?
Overall Rating: 3.5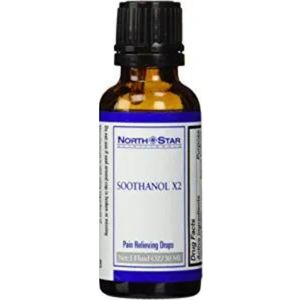 soothanol X2
Brand Highlights
Product of Northstar Nutritionals Company That Offers Natural Supplements and Pain Relief Formulations.
A topical joint pain treatment formulated for both men and women.
Rapidly absorbs and penetrates deeply.
Non-addictive and safe to use every day.
A potent and effective combination of ingredients.
Key Ingredients
DMSO (dimethyl sulfoxide)
Menthol
Capsaicin
Pros
According to user reviews, it helps treat several types of joint pain.
The solution is believed to work instantaneously, so it could provide relief for joint discomfort right away.
It is entirely safe to take every day and completely non-addictive.
Potent ingredients helps you remain active and functional.
It has a soothing, cooling effect on areas where it is applied.
Cons
Some people find the cooling effect to be uncomfortable or even unbearable.
The pain relief is not long lasting according to many feedbacks.
There are some people who may be hypersensitive to an ingredient in the formulation.
It is not always effective, and many say it doesn't really work.
---
How Does Soothanol X2 Work?
Soothanol X2 was specifically designed to provide relief on contact. This effective powerful pain relief formulation improves joint health and reduces pain. The formula contains one of the most powerful natural pain relievers today which is menthol. It causes a cool sensation where it is applied topically to relieve pain and it also enhances blood flow to the area which helps with pain relief by enhancing the body's natural healing process. It also contains capsaicin which stimulates the release of a compound connected to the communication of pain between nerves in the spine and other parts of the body. It initially causes pain which decreases after initial use.
The primary active ingredient (DMSO) is said to target the main cause of the pain in the joints although there is no explanation on what it actually does.
Soothanol X2 Ingredients – Are they Safe & Effective?
DMSO (dimethyl sulfoxide)
– As per research, it is concluded that DMSO has anti-inflammatory properties that have been demonstrated to alleviate joint discomfort. It is said to have been tested for more than 200 health problems.[1] This is the main active ingredient of Soothanol X2 which is said to pass through the skin and all tissue under it to reach the joints and eliminate pain in an instant. It targets the actual source of the pain to deliver relief in an instant.
Menthol
– Menthol products available in a range of formulations and are frequently used to relieve joint pain associated with several kinds of arthritis. It has a cooling impact on the skin while boosting blood flow to relieve pain pain and speed up the healing process. According to research, it enhances blood flow, helps with pain reduction, and speeds up healing.[2]
Capsaicin
– Capsaicin is the main medicinally active component extracted from cayenne pepper. It is proven to relieve mild to moderate pain of the muscles and joints. Data suggests, it possesses noteworthy analgesic and anti-inflammatory properties. It is frequently used to treat joint and muscle pain in medicated creams and lotions.[3]
Other Ingredients – wintergreen, calendula oil, ginger, arnica, MSM, St. John's Worth, Emu Oil, orange peel extract, and virgin olive oil. There are no details on how these active ingredients work on the Soothanol X2 webpage.

Soothanol X2 – FAQ's
Q: How should you take soothanol X2?
A: Apply Soothanol X2 on areas of the body affected by joint pain. Make sure the skin in the area is clean and dry. Apply a small amount then massage gently using a circular motion on the affected areas. Wash your hands after.
Q: What are the Precautions When Using This Supplement?
A: Soothanol X2 is for external use only. Do not use on wounds or damaged skin. In case of severe skin irritation, wash with water. Check the ingredients carefully and make sure you're not allergic to any of them.
Q: Soothanol X2 where to buy?
A: Soothanol X2 can be purchased through the official website. It is also available on Walmart and Amazon.
Q: What are the soothanol X2 ingredients?
A: Capsaicin 0.20% and Menthol 0.12% are the active components in Soothanol.
Q: Are there any precautions?
A:
It's important to wash your hands both before and after applying the liquid and be careful to avoid contact with your mouth and eyes.
Not exceed three or four applications of Soothanol a day.
Because of Soothanol's "warming" ability, do not apply heat after application.
Do not apply on wounds or damaged skin.
Soothanol X2 is for topical use only. Do NOT ingest.
Also, make sure to check the ingredients carefully to know if you're allergic to them or not.
Q: What are the soothanol X2 side effects?
A: There are some side effects of soothanol X2. You may notice a slight burning sensation and temporary skin irritation upon application.
Q: How to use soothanol X2?
A: Don't overdo it, and start with the advised drops. After giving the liquid 10 minutes to soak into the skin, it is preferable to reapply, if necessary. Apply a tiny layer of liquid—about 2-3 drops—or just enough to cover the area you want to treat, then rub it in with your fingertips. It usually takes 2-3 drops to cover your entire knee and 5-6 drops to cover your entire lower back. Wash your hands before and after using the liquid.
Soothanol X2 Review – Consumer Review
This product has not help at all with pain. I have arthritic knees and understood this would give instant relief from pain for a while. Did not help at all. I have a bottle of DMSO that did just a good as paying the high price for this product!! ~ Review by Beverly Bob
Easy to apply, small bottle but lasts a long time. Worked well for my night time sciatica pain when if flares up. Burns and stings when applied but blunts the pain for at least 4hrs so I didn't have to use pain relievers. Sometimes applied a second time during the night if needed. I would recommend trying it. ~ Review by Daniel
It worked great for my back pain. My bottle arrived with the lid separated from the dropper. I waited a while to try it. So I think it is too late to exchange. I won't be using it again because I don't know how much I am giving myself. ~ Review by Steve Hulbrecht
Soothanol X2 Review – Final Verdict
There is a lot of hype behind Soothanol X2. The main problem is that there is no clinical evidence that it is effective. In fact, there is little evidence that the combination of ingredients offers joint pain relief.
However, there are some positive feedbacks from people who have tried it so it may be effective for some types of joint pain. On the other hand, it isn't very effective for moderate to severe joint pain, and the formula is very expensive. Ortho Nesic , Capzasin-HP and Well Care Botanicals, Kion Flex are also a joint pain products that helps you to get rid of muscle pain.There are other best supplements for body aches available on the market.
Bones are connected by joints, which allow us to move with ease. Joint damage can cause pain preventing you from doing the things you once loved. Topical joint relief products tend to work more quickly, helping to relieve pain directly in the affected area compared to products taken orally. A topical joint pain relief product should be evaluated on its: potential to block the transportation of pain signals, potential to act as a counterirritant to reduce soreness and Quality of Ingredients* backed by clinical research.
Below you'll find some of the most effective topical joint pain products on the market today, in our opinion.
Our Top Joint Pain Relief Choices
Verdict on Claimed Benefits: Below is our summary of the available evidence for the claimed benefits of below mentioned joint pain relief gels, gummies, and creams based on the available research:
Well Care Botanicals | Hemp Extract Pain Relief Cream

Remove Inflammation & Soreness*
Gold Star Evidence
Pain-Relieving Benefits*
Gold Star Evidence
Supports Cartilage and Tissue*
Gold Star Evidence
Rapid Pain Relief*
Strong Evidence
Barker Wellness | Cannabinoid-Infused Products
Nurtures Body & Mind*
Gold Star Evidence
Targets Sleep & Focus*
Strong Evidence
Wide Range of Products*
Gold Star Evidence
Natural and Organic*
Strong Evidence
Aspercreme | Best Pain Relief Cream
Non-Greasy Cream*
Gold Star Evidence
Relieves Arthritis Pain*
Strong Evidence
Supports Joint & Muscles*
Strong Evidence
Fast-Acting Formula*
Strong Evidence