NATUREA RunningMax Gel Overview
NATUREA RunningMax Gel it is an advanced sports gel that is manufactured to help runners improve their performance. It is formulated with natural ingredients that work to perform beyond their limits.
It works to reduce and eliminate cramps in muscles and stimulate muscle regeneration as well as fastening recovery.in addition, it allows optimum utilization of the physical and mental resources to support maximum results in training.
The manufacturer has not provided the information about shipping and satisfaction guarantee.
Manufacturer Information and Claims about NATUREA RunningMax Gel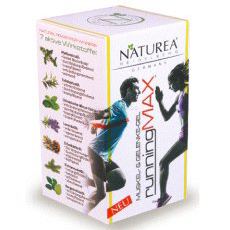 This product is manufactured by NATUREA Heidelberg Germany. However, the manufacturer has provided support information about the potency and how this formula work to promote optimum results.
According to the manufacturer reviews, this product is designed with active natural ingredients that work to support optimum performance during physical exercise or training. It is also claimed to support the recovery of muscles and help to put away pain caused by cramps during training.
Working Process and Ingredients List
This gel is formulated with natural blend of ingredients that support physical performance. It works to activate muscles that result in immense performance. It has anti-inflammation properties that make it prevent swelling of muscles.
The formula also works to relive emanating from cramps as well as supporting muscle recovery. It performs by making use of the physical and mental resources that help to increase endurance that leads to promoting performance beyond the limits.
The featured ingredients include the following:
Bergamot Oil – It offers anti-inflammation benefits, relaxes the muscles and eliminates spasms to enhance performance.
Spruce Needle – It works to recover tissues and muscles while enhancing refreshment after training.
Pine Needles Oil – It helps to revitalize the body, support easy blood circulation and reduces tension while managing blood pressure.
Lavender Oil – It aids in cell regeneration to support cellular functioning in order to enhance proper functioning of muscles.
Eucalyptus Oil – It helps to relieve pain and sore in muscles during exercise and eliminates cramps as well as improving blood circulation.
Chinese Mint Extracts – It works top put away cramps and pains that are felt after training while enhancing blood flow to the needy parts of the body and also offer anti-inflammatory benefits.
NATUREA RunningMax Gel Review – Does it Really Work?
This gel is claimed to help users in improving their performance. It is manufactured with potent natural compounds that are claimed to work in supporting physical performance and muscle recovery.
The Advantages of NATUREA RunningMax Gel
It is made with natural ingredients that might be safe
It may work to support optimum performance
It helps to promote blood circulation
It helps to relieve pains and clear cramps
It assists in combating information that leads to swelling of muscles
The Disadvantages of NATUREA RunningMax Gel
There is no clinical evidence on ingredients to support the product claims
FAQs
How do I Use this Product?
In order to have maximum performance this formula should be applied prior and after a physical activity.
Massage gently this formula 1 to 2 minutes in a circular movement in order the gel to absorb completely in the body through your skin. Repeat the same procedure the following day if pain still persists.
Note the suggested amount of the gel to be applied to the surface of one leg apply 2 full pumps.
What are the Precautions for Using This Product?
This product is meant for external use only. Make sure the formula does not come in to contact with your mouth or eyes.
How Long Before I See Any Improvements?
It's claimed that using this gel as per the usage directions may lead to optimum results.
Possible Side Effects
This product is claimed to hardly have negative effects but it may react negatively with some user's skin due to some ingredients featured in the formula.
NATUREA RunningMax Gel Review – Final Verdict
NATUREA RunningMax Gel is a sports formula that comes in form of a gel that may improve physical performance of sportsmen. It is created with natural ingredients that work to activate muscle to achieve maximum performance during training.
Additionally, it is said to support the recovery of muscles and help to put away pain caused by cramps during training.
However, the manufacturer the information regarding the manufacturer is not available. There is also no information concerning shipping or and satisfaction protection.
It is recommendable to research extensively on this product and especially the ingredients used. This may help you to understand better about the product and how it works to promote support performance.
There are other formulas available on the market that may serve the same purpose as this product. Therefore, it is important to find out about them and compare their prices as this may help to you as you try to choose a suitable formula for your daily routine.
Bones are connected by joints, which allow us to move with ease. Joint damage can cause pain preventing you from doing the things you once loved. Topical joint relief supplements tend to work more quickly, helping to relieve pain directly in the affected area compared to supplements taken orally. A topical joint pain relief supplement should be evaluated on its: potential to block the transportation of pain signals, potential to act as a counterirritant to reduce soreness, potential to act as a counterirritant to reduce soreness and Quality of Ingredients* backed by clinical research.
Below you'll find some of the most effective topical joint pain supplements on the market today, in our opinion.
Our Top Joint Pain Relief Choices
Flexdermal

Fight Joint Pain and Inflammation*
Prevent Recurring Damage*
Fight Joint Pain and Inflammation*
Prevent Recurring Damage*