In This Review
What is Luminas Relief?
The Luminas Pain Relief Patch releases organic ingredients into your body via a pad you wear on areas of your body which require relief. It aims to decrease discomfort and swelling in muscles, joints, injuries, bruises, strains, and sprains.
The product could also decrease issues like headaches and menstrual cramps. Luminas Patch is a potential alterative to a supplement or ointment, but generally speaking the price is higher.
How Does It Rate?
Overall Rating: 3.3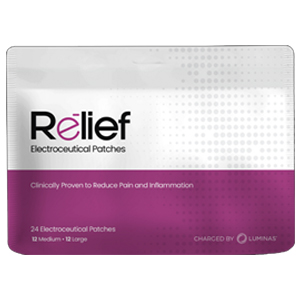 Luminas Relief
Brand Highlights
The formula includes organically sourced ingredients.
According to the manufacturer the patches begin working in 20 minutes.
Clinical studies show some pain-reduction results.
There are no chemical or artificial additives or fillers.
Key Ingredients
Branch Chain and Essential Amino Acids
CoQ10
Glutathione
Green Tea Extract
L-Glutamine
Omega-3 Fatty Acids
Turmeric
Vitamin D
Magnesium
MSM
Olive Leaf
Beet Root
Bioperine
Arnica
Pros
Luminas may provide targeted pain relief to joints, muscles, and injuries.
The manufacturer promises 24 hours of relief.
Luminas Pain Patch could decrease inflammation.
It might lessen menstrual cramps.
Luminas Pain Patches may prevent or decrease headaches.
Cons
Luminas Patches are quite expensive.
Some users may experience irritation from the patch.
The Luminas Patch may fall off during the night.
---
How Does It Work?
Luminas Relief delivers organic ingredients transdermally using electroceutical technology. It's high in amino and omega fatty acids which have anti-inflammatory action. This could help decrease pain and swelling in muscles, joints, and ease other injuries and conditions.
A study with rheumatoid arthritis patients in Global Journal of Health Science concluded that omega-3 fatty acids provide clinical benefit [1].
This product is high in antioxidants like polyphenols, which may abolish some of the roaming damaging free radicals and lessen oxidative stress. This promotes repair and healing in the body, and strengthens the immune system.
An article in Life discussed the effects of dietary polyphenols on alleviating osteoarthritis symptoms [2].
Ingredients like MSM contain sulfur, which may help to rebuild damaged muscles and cartilage tissue for improved functioning. A study in Osteoarthritis and Cartilage showed the efficacy of MSN in treating knee osteoarthritis [3].
There are hydrating ingredients which could improve joint lubrication to decrease stiffness and improve mobility. They may also provide health and hydration benefits to the skin, eliminating dryness and decreasing redness and swelling.
Luminas Relief Ingredients – Are they Safe & Effective?
These are some of the primary active Luminas ingredients:
Turmeric
This plant is very high in antioxidants like polyphenols with potent bioactive properties, like curcumin. They could also boost the potency of other antioxidants in the body. A review in BMJ Open Sport & Exercise Medicine found support for the benefits of turmeric in decreasing knee osteoarthritis pain [4].
Turmeric also has potent anti-inflammatory agents, and may lower pain and swelling in joints, muscles, injuries, and skin. These benefits may also improve heart, brain, and digestive system health.
A review in the International Journal of Cardiology examined the role of curcumin in preventing cardiovascular disease [5].
CoQ10
This is an antioxidant which exists naturally in the body, and it plays an important role in cell growth and development. As we get older, levels in the body decrease.
Coenzyme Q10 may help lessen muscle and joint pain and inflammation. A study on rats in PLOS ONE concluded that CoQ10 may reduce pain and cartilage degeneration [6].
Magnesium
This is an important mineral that is key in supporting muscle and nerve function. Low levels of magnesium could increase the risk of developing osteoarthritis, heart disease, and type II diabetes.
Supplementing with magnesium could lessen the pain and inflammation associated with arthritis, although it is not a treatment for the condition itself. A study in Osteoarthritis Cartilage found a correlation between low levels of magnesium and increased knee pain in osteoarthritis [7].
Frequently Asked Questions (FAQs)
Q: Does Luminas Work?
A: These patches do include some science-backed ingredients, so they may have pain reduction benefits for some users. However, based on the Luminas Pain Relief Patch reviews, they work better for some customers than others.
Q: How Do You Apply It?
A: Peel off the back of the Luminas Pain Relief patch and apply it to the area of your body that you want to treat. According to the manufacturer, you should experience results in 20 minutes which may last for 24 hours.
Q: What is the Return Policy?
A: The manufacturer has a 30-day return policy, but only for unused products in good condition. If you're not happy with the patches, contact the manufacturer for instructions. Then send it back within 30 days of the day you received it for a refund.
Q: What Sets It Apart From the Competition?
A: While Luminas Pain Relief Patch is among quite a few other pain patches on the market, in general, the idea of the patch provides a nice alternative to creams or supplements. This product isn't overly unique from other brands of patches available.
Q: Where to Buy It?
A: You can buy Luminas Relief on the manufacturer's official website, as well as from a wide range of online retailers and stores, including Amazon and Instacart. On the official site, they offer free shipping for U.S orders.
You can make a one-time purchase of a box that has 12 large and 12 medium patches for $39.99. If you subscribe to the monthly service, you pay $27.99 for a 30% savings.
Luminas Pain Relief Patches Reviews from Customers
In general, the reviews for Luminas were not overwhelmingly good. While there were some users who got great relief from the product, there were others who said they did very little.
Some people said that the patch did not stay on for a long period of time. Here are some of the Luminas Patch reviews, to give you a general impression of the feedback:
Cheaper Packaging, But More Expensive!
Love this product, no smell, sticks on the skin well, and happy with results… BUT they changed the packaging to a MUCH cheaper version and raised the price by $5.00!! –Hilary N.S
Zero Pain Relief
Tried different sizes in different locations. Might as well have put a plain band-aid on, these did absolutely nothing for the pain. –Karla
Luminas
I Like this product a lot. Have hurt my shoulder and they reduce pain significantly. It works well for short-term injuries. Love the packaging and the adhesive doesn't make my skin break out or itch. Will order again. –Mark
Conclusion
Luminas Pain Patches delivers organic ingredients via electroceutical technology, aiming to relieve pain and inflammation to joints, muscles, sports injuries, and possibly also headaches and menstrual cramps. While some may prefer them to an ointment or capsule, this product is expensive.
On the whole, the Luminas Pain Relief Patch reviews were only very moderately positive. Some users did find them very beneficial, while others said they were a waste of a lot of money. A number of customers complained that the patches fall off easily.
These patches include only organic ingredients, with no artificial or chemical additives. However, it's possible to have an ingredient allergy or experience irritation from the patch. If this occurs, stop using the product immediately. You may want to check with a physician before using it.
Bones are connected by joints, which allow us to move with ease. Joint damage can cause pain preventing you from doing the things you once loved. Topical joint relief products tend to work more quickly, helping to relieve pain directly in the affected area compared to products taken orally. A topical joint pain relief product should be evaluated on its: potential to block the transportation of pain signals, potential to act as a counterirritant to reduce soreness and Quality of Ingredients* backed by clinical research.
Below you'll find some of the most effective topical joint pain products on the market today, in our opinion.
Our Top Joint Pain Relief Choices
Verdict on Claimed Benefits: Below is our summary of the available evidence for the claimed benefits of below mentioned joint pain relief gels, gummies, and creams based on the available research:
Well Care Botanicals | Hemp Extract Pain Relief Cream

Remove Inflammation & Soreness*
Gold Star Evidence
Pain-Relieving Benefits*
Gold Star Evidence
Supports Cartilage and Tissue*
Gold Star Evidence
Rapid Pain Relief*
Strong Evidence
Barker Wellness | Cannabinoid-Infused Products
Nurtures Body & Mind*
Gold Star Evidence
Targets Sleep & Focus*
Strong Evidence
Wide Range of Products*
Gold Star Evidence
Natural and Organic*
Strong Evidence
Aspercreme | Best Pain Relief Cream
Non-Greasy Cream*
Gold Star Evidence
Relieves Arthritis Pain*
Strong Evidence
Supports Joint & Muscles*
Strong Evidence
Fast-Acting Formula*
Strong Evidence