In This Review
What is Blu Emu Hemp?
Blu Emu Hemp is an organic cream which aims to relieve pain and inflammation in the joints and muscles. The formula may also effectively ease back pain and heal small sprains, strains, and bruises.
It includes natural ingredients like hemp seed, emu oil, and glucosamine, but some like menthol and camphor are notably missing. The manufacturer promises that Blu Emu is an easy to absorb, non-greasy, unscented pain relief cream.
How Does It Rate?
Overall Rating: 3.9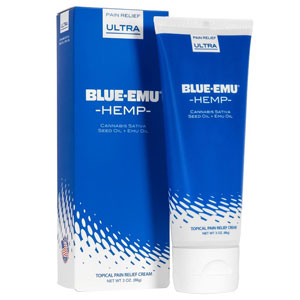 Blu Emu Hemp
Brand Highlights
Blu Emu contains only organically sourced, USP grade ingredients.
The formula is state and federal compliant.
The hemp seed oil is free of THC.
The manufacturing takes place in a GMP-certified facility.
Key Ingredients
Trolamine Salicylate (primary active ingredient)
Hemp Seed Oil (THC Free)
Pure Emu Oil
Aloe Vera
MSM
Glucosamine
Vitamin E
Allantoin
Pros
Blu Emu Hemp Cream may ease muscle, joint and backache pain.
The formula could decrease inflammation.
The cream is not greasy and should absorb quickly.
Blu Emu – Cream might heal strains, bruises, and sprains.
The formula has no scent.
Cons
Some users may have a hemp, sulfur, or other ingredient allergy, leading to a skin reaction.
There are other ingredients they could have added.
Blu Emu Hemp may be more effective for some users than others.
---
How Does It Work?
Blue Emu Hemp contains ingredients which provide pain relief from joint, back, and muscle discomfort, and it offers anti-inflammatory agents which decrease swelling and further lessen soreness in these issues and other strains and sprains.
These properties could also help treat bruises and abrasions on the skin, possibly healing some skin conditions. The formula may help slow the progress of joint and cartilage deterioration, as well as rebuild damaged tissue.
An article on Molecules discussed the use of herbals in cartilage tissue engineering [1].
It contains some very hydrating ingredients which could ease joint stiffness and improve flexibility, mobility, and range of motion. The hydration also moisturizes the skin, eliminating dry patches, and the cream is soothing.
A review in Clinical Medicine and Research discussed the potential of moisturizers in healing skin conditions like dermatitis [2].
Blu Emu Hemp Cream has antimicrobial and anti-fungal properties, which may eliminate germs and bacteria to help prevent infection. It contains antioxidants which promote repair of the skin barrier, cartilage, and other bodily tissue. They may also offer immune system support.
A review in BioMed Pharmacotherapy examined the potential role of polyphenols in decreasing oxidative stress and inflammation in arthritis [3].

Blue-Emu Topical Pain Relief Cream Ingredients – Are they Safe & Effective?
Some of the key Blu-Enu ingredients include:
Trolamine Salicylate
This organic compound is the salt of triethanolamine and salicylic acid. There's some evidence to show its pain-relieving benefits, and it may decrease muscle and joint discomfort as well as general aches and pains.
A study on osteoarthritis patients in Current Therapeutic Research concluded that trolamine salicylate relieved pain and stiffness, but the effect lasted for only 2 hours [4].
While also marketed as a sunscreen, according the Federal Register the FDA has not approved it for this purpose and says it may have health concerns [5].
Hemp Seed Oil (THC Free)
The seeds from the cannabis sativa plant are rich in anti-inflammatory properties via omega acids and other nutrients. They could decrease pain and swelling in the muscles and joints, as well as help heal skin conditions.
Hemp seeds have a wealth of vitamins and antioxidants which repair and promote healing to the skin and to other areas like muscles and joints. An article in Clinical, Cosmetic, and Investigational Dermatology examined the use of CBD in treating skin disorders [6].
Pure Emu Oil
This oil comes from the fat of a bird called the emu, and it's rich in oleic acid, linoleic acid, and palmitic acid. They have powerful anti-inflammatory agents which may decrease pain and swelling in the skin, muscles, joints, and other areas.
It has potent antioxidants which could repair damage, promote healing, and improve immunity in the skin and body. Emu oil apparently penetrates deeply and rapidly. A study on mice in Dermatology Research and Practice concluded that topical emu oil had a positive impact on wound healing [7].
Frequently Asked Questions (FAQs)
Q: How Do You Apply It?
A: Blu Emu Oil is suitable for adults and children 12 years of age and older. For children under 12, consult with a physician before using.
Take some of the cream into your hands and rub a generous amount over the area you want to treat, up to 4 times daily. Make sure it's fully absorbed.
Q: What is the Return Policy?
A: There is a 90-day return policy for Blu-Emu cream. If you are not happy with this product, contact customer service for return instructions. Send it back within 90 days of the purchase for a refund, excluding shipping fees.
Q: Does Blu Emu Hemp Work?
A: Many of the ingredients in the Blu Emu Hemp cream have scientific support for their pain and inflammation relief benefits and healing properties.
The primary active ingredient, trolamine salicylate, has healing benefits but may be less effective for arthritis according to a study in JAMA Network [8]. According to the Blu Emu Hemp cream reviews, the cream is effective for some and less so for others.
Q: Where to Buy Blue Emu Hemp Cream?
A: You can buy Blu Emu Hemp on the official site, and it is also available from other online retailers like Amazon, Walmart, and in stores like Bed, Bath, and Beyond. The price on the official site right now is $12.99, on sale from the regular retail cost of $24.99.
Q: What Sets It Apart From the Competition?
A: The ingredients included are quality organic pain and inflammation relief substances, however, there are also notable things missing like menthol and camphor. Although this eliminates the scent, there may be more potent creams available for a similar cost.

Blue-Emu Topical Pain Relief Cream Reviews from Customers
The Blu Emu Hemp reviews offered different views on the product and its effectiveness. A number of people did say the cream worked well to ease muscles and joint pain, and heal issues like sprains.
Some said it didn't work for them, or that it was less powerful than the previous version. While many appreciated that there was no scent, some users found the product expensive. Here are a few of the comments:
This Is The Only Product
This is the only product that gets rid of the knee pain. Thanks for having it available for people like me!!!~Sherry
Doesn't Help Much
It doesn't work any better than the original Blue Emu and it is way overpriced. ~Amazon Customer
Amazing, And I Am Not Kidding!
This stuff is fantastic! Have used countless CBD and medicinal topicals, some double and triple the cost, and this by far is the best. Plus, it's a lotion not an ointment, and it's odor free. Will only be buying this. Love it! ~ Ren H.
Beware
Put Blue Emu Hemp Cream on my painful lower back and thigh. Next day no relief. Only red strawberry rash and itch! ~ Amazon Customer
Conclusion
Blue Emu Hemp is an organic pain relief cream designed to decrease inflammation and soreness in the joints, muscles, and back. In addition, it promises to help heal bruising, strains, and sprains. The truth about Blu Emu is that it includes ingredients with some scientific support, but it's also missing key substances like menthol and camphor.
The Blue Emu Ultra Hemp reviews on the official site were mostly from happy customers, but on other sites like Amazon there were more complaints. Many users did find the cream beneficial, while others felt it wasn't strong enough. Some said they liked the lack of scent.
Blue Emu Cream includes mostly natural ingredients, but some like mineral oil could cause a reaction in users. If you develop redness or other Hemp Emu Cream side effects on the skin, stop using the cream immediately. You may want to check with a dermatologist before using a new skin product.
There are other joint pain products available in the market like Luminas Pain Relief Patches but this products have effective results than other products.
Bones are connected by joints, which allow us to move with ease. Joint damage can cause pain preventing you from doing the things you once loved. Topical joint relief products tend to work more quickly, helping to relieve pain directly in the affected area compared to products taken orally. A topical joint pain relief product should be evaluated on its: potential to block the transportation of pain signals, potential to act as a counterirritant to reduce soreness and Quality of Ingredients* backed by clinical research.
Below you'll find some of the most effective topical joint pain products on the market today, in our opinion.
Our Top Joint Pain Relief Choices
Verdict on Claimed Benefits: Below is our summary of the available evidence for the claimed benefits of below mentioned joint pain relief gels, gummies, and creams based on the available research:
Well Care Botanicals | Hemp Extract Pain Relief Cream

Remove Inflammation & Soreness*
Gold Star Evidence
Pain-Relieving Benefits*
Gold Star Evidence
Supports Cartilage and Tissue*
Gold Star Evidence
Rapid Pain Relief*
Strong Evidence
Barker Wellness | Cannabinoid-Infused Products
Nurtures Body & Mind*
Gold Star Evidence
Targets Sleep & Focus*
Strong Evidence
Wide Range of Products*
Gold Star Evidence
Natural and Organic*
Strong Evidence
Aspercreme | Best Pain Relief Cream
Non-Greasy Cream*
Gold Star Evidence
Relieves Arthritis Pain*
Strong Evidence
Supports Joint & Muscles*
Strong Evidence
Fast-Acting Formula*
Strong Evidence