In This Review
What is Aspercreme?
Aspercreme is a clinically proven topical salicylate cream (Trolamine Salicylate 10%) used for the relief of minor aches such as in arthritis, simple back pain, strains, and joint & muscle pains.
Aspercreme has an anti-inflammatory effect, reducing the swelling and inflammation in the affected muscles and joints.
It diffuses and infuses quickly into painful areas, and it has deep-penetrating action resulting in long-lasting relief. Aspercreme is manufactured by Chattem, Inc. a Sanofi Company.
How Does Aspercreme Rate?
Overall Rating: 3.8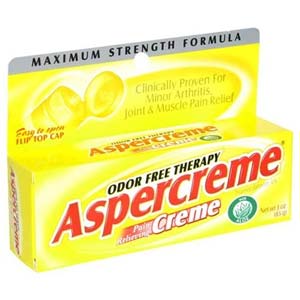 Aspercreme
Brand Highlights
The brand has an imposing line of sports nutrition products.
Aspercreme uses clinically proven ingredients in its formulations.
They are committed to providing top-notch, original goods.
It is known for developing and releasing the most cutting-edge products.
Key Ingredients
Aloe Barbadensis Leaf Juice
Cetyl Alcohol, Glycerin
Methylparaben
Mineral Oil
Potassium Phosphate
Propylparaben
Stearic Acid
Triethanolamine
Water
Pros
Use product only as instructed.
Avoid getting in contact with the eyes and another mucous membrane.
Contact your healthcare provider before using the product or if you experienced any side effects.
Cons
Do not use children below 10 years of age.
Do not apply on wounds or damaged skin areas.
Do not bind tightly or use in combination with heating pads.
Do not expose the areas treated with Aspercreme to direct sunlight.
---
How Does Aspercreme Work?
Aspercreme contains a number of active ingredients, which are highly beneficial for pain, and battling the joint disorder.
It is a joint supplement that promotes joint health and is supposed to relieve joint discomfort. It helps to alleviate the symptoms of arthritis.
Aspercreme Ingredients – Are they Safe & Effective?
The active ingredient of Aspercreme is Trolamine Salicylate (10%, Topical Analgesic).
The ingredients list:
Aloe Barbadensis Leaf Juice
Aloe Barbadensis Leaf Juice relieves tense, cramping muscles, leaving them flexible and pain-free. Additionally, aloe vera[1] has potent decongestant properties that relieve muscle discomfort while calming and soothing the mind.
Cetyl Alcohol
This homeopathic ingredient has anti-inflammatory and analgesic properties that have been used to address musculoskeletal and joint pains.
Methylparaben
Methylparaben can enter the body through skin absorption, ingestion, and inhalation[2].
Potassium Phosphate
Potassium Phosphate is used to increase phosphorus levels in the body.
Stearic Acid
Stearic acids have moisturizing and anti-inflammatory[3] properties.
However, there were no comprehensive details of the study.
YOU MAY ALSO WANT TO READ – Theraworx Relief Review, and FLEXISEQ Gel

FAQ's
Q: What Should I know before Using Aspercreme?
A: It is very important to inform your doctor or pharmacist first prior to using Aspercreme cream since some medical conditions can intermingle with Aspercreme use.
For instance:
Pregnant women should be very cautious in using Aspercreme and it is a must to contact your physician before using this product. Take note that a little amount of this medication can be absorbed systemically or into the bloodstream. Salicylate is not recommended or is contraindicated during pregnancy.
Lactating or breastfeeding mothers should also use this product with precaution. As previously stated, a small amount of this product may be absorbed systemically, and there is a risk for Reye's Syndrome with the use of oral salicylates.
Precaution should also be taken when using Aspercreme to children below 12 years of age. Be warned that prolonged and extensive application of the product may lead to systemic toxicity.
Q: How Do I Use Aspercreme?
A: Just like in any medication, it is always best to follow your doctor's directives in using Aspercreme and check the medication label as well for administering instructions.
Spread Aspercreme liberally over painful or affected areas, then massage the area until the cream is thoroughly absorbed into the skin.
Do not bind or wrap the treated area unless instructed by your physician.
Wash your hands immediately after applying the product, unless your hands are in the affected or treated area.
Aspercreme may be repeatedly used as necessary but should not exceed 4 times daily. If you have missed the recommended dose of Aspercreme, apply the cream as soon as possible then resume its use as directed by your physician or according to the package label.
Q: Can I use Aspercreme for Osteoarthritis hip pain?
A: This Aspercreme gel contains diclofenac. This is known to be effective medicine that's clinically proven to provide temporary relief from arthritis pain. When applied 4 times a day.
Q: What Conditions Does Aspercreme Treat?
A: Aspercreme is recommended to treat pain and inflammation associated with arthritis, joint and muscle pain, backaches, sprains, strains, and even as a remedy for chronic pain.
Q: What Consumers Have to Say About Aspercreme?
A: Consumers have found Aspercreme not just to be effective but also easy to use with its flip-top cover and greaseless consistency. Because it is odorless, the manufacturer made it possible for consumers to use the cream anytime and anywhere.
Reviews about Aspercreme validate the effectiveness of this joint relief product for the treatment of backaches and other minor pain.
There was also a testimonial from a consumer wherein he is very satisfied with Aspercreme that he usually applies the cream on his knees before going on a hike or before and after cycling to keep the pain and swelling away. However, there were also consumers who reported a burning sensation on the skin where Aspercreme was applied.
It is recommended to make sure that you are not sensitive or allergic to Salicylates or to other ingredients of Aspercreme before using the product.
Q: Has Any Research Been Done on Aspercreme?
A: Aspercreme is said to be clinically proven and a lot of reviews testify to its efficacy. However, there was no detailed report as to the research done to substantiate the claims.
Q: If you are on blood thinners for A-Fib, can you use Aspercreme?
A: Interactions between your drugs — No interactions were found between Aspercreme and A-Fib. This does not necessarily mean no interactions exist. Always consult your healthcare provider.
Q: What are the Precautionary Warnings before using Aspercreme?
A: If you are allergic to any of the ingredients of Aspercreme, especially if you are prone to an allergic reaction to salicylates and aspirin, contact your health provider prior to use. Watch out for severe symptoms of an allergic reaction, such as rash, hives, difficulty breathing, tightness in the chest; swelling or inflammation of the face, mouth or tongue.
Avoid contact with the eyes or other mucous membranes such as the mouth and nose.
Stop the use of Aspercreme and seek medical help if your condition worsens if your symptoms persist for more than a week and if your condition clears up but then returns after a few days.
Look out for signs of skin irritation, From redness to stinging sensation to the occurrence of skin ulcers and burn.
Keep Out of Children's Reach, In the event of accidental ingestion, immediately seek medical help from a Poison Control Center.
What Do the Reviews Say?
Works, but not as well as advertised. The first few doses were promising, but the effects seem to not last long, and you kind of feel pain after you come down.
~ Lia
Conclusion
Aspercreme, based on a number of reviews, substantiates its effectiveness as a treatment for minor pain such as arthritis, back pain, and even for chronic pain.
The website of Aspercreme is thorough in giving detailed information as to the uses, ingredients, side effects and precautionary measures with the use of Aspercreme.
This product is also recommended for consumers who are looking for an odorless and greaseless best pain relief cream for joint pain.