Aleve Liquid Gels Overview
Those who are searching for over-the-counter pain relievers will inevitably come across NSAIDs (nonsteroidal anti-inflammatory drugs) like Aleve Liquid Gels. When other options fail, the active ingredient in this product, which is Naproxen Sodium, might help.
But is it really worth giving Alive Liquid Gels a try? What can you expect when you take this product? And are there any side effects? Continue reading to check out our review of these pills and to figure out if they would be right for your condition.
Manufacturer Information and Claims for Aleve Liquid Gels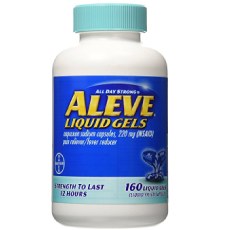 According to the manufacturer, Aleve Liquid Gels is a great option for those who need pain relief without a prescription.
All you need to do is take a single pill to get up to 12 hours of relief from minor aches and pains that could be associated with back and body aches, headaches, and arthritis. And the liquid gel form of Aleve makes it even easier to swallow these pills so that you can get relief fast.
The active ingredient in Aleve Liquid Gels is long-lasting, so you should only have to take a single pill to last a total of 12 hours. This is convenient for those who experience pain all day long and hate having to take multiple doses, and multiple pills per dose, when they are using other over-the-counter pain relievers.
Working Process and the Ingredients List
Overall, the Naproxen Sodium, which is the active ingredient in Aleve Liquid Gels, will work on temporarily relieving minor aches and pains that could be caused by a variety of conditions.
If you suffer with minor arthritis pain, menstrual cramps, muscle aches, headache, backache, or toothache, this product might help. Plus, it might also help you feel relief from symptoms that are associated with the common cold, and it could temporarily reduce your fever as well.
The active ingredient in Aleve Liquid Gels is:
Naproxen Sodium – This is a pain reliever and fever reducer
Aleve Liquid Gels Review – Does it Really Work?
Like so many other over-the-counter pain relievers that are easy to purchase at an affordable price, Aleve is not guaranteed to work for everyone, and that becomes evident when you read all of the mixed reviews on this product.
Ultimately, you will not know if the ingredients in Aleve will work for you until you give it a try, but it is important to know that this product could cause side effects too.
The Advantages of Aleve Liquid Gels
You may get pain relief from just one dose all day
It is easy to take
It may provide relief from pain caused by a range of conditions
You don't need a prescription to buy it
The Disadvantages of Aleve Liquid Gels
It may cause serious allergic reactions in some people
It is not guaranteed to work for everyone
FAQs
How do I Use this Product?
Take one pill every 8-12 hours. You could take 2 pills within the first hour of your first dose.
What are the Precautions When Using this Product?
Ask your doctor before use if you have a history of stomach ailments, if you have heart problems, if you're taking a diuretic, if you have liver cirrhosis or kidney disease, or if you have asthma or you've experienced side effects from other pain relievers.
How Long Before I see any Improvements?
You should start to notice a reduction in your symptoms within an hour of taking your first dose of Aleve Liquid Gels.
Possible Side Effects
This product is not associated with side effects in case it reacts negatively due to some of the featured ingredients discontinue and consult a doctor.
Aleve Liquid Gels Review – Final Verdict
Aleve Liquid Gels is a product that makes some pretty big claims regarding its ability to relieve pain for an extended period of time. But after reviewing the ingredients in Aleve, the directions for use, and the customer reviews from those who have already tried it, we have determined that this is not a product that will work on everyone.
Therefore, it may not be worth your time or your money. Thankfully, though, there are plenty of other great pain-relieving options on the market that you can purchase without a prescription, and many of them are even based on natural pain relieving ingredients so you can avoid the risk of severe side effects.
If you would like to give Aleve Liquid Gels a try, just be sure to follow the directions closely, as you don't want to take too much of this product. We feel that there are safer options available, so we recommend that you continue your search for the over-the-counter pain reliever that will work best for your unique body and needs.
Bones are connected by joints, which allow us to move with ease. Joint damage can cause pain preventing you from doing the things you once loved. Topical joint relief supplements tend to work more quickly, helping to relieve pain directly in the affected area compared to supplements taken orally. A topical joint pain relief supplement should be evaluated on its: potential to block the transportation of pain signals, potential to act as a counterirritant to reduce soreness, potential to act as a counterirritant to reduce soreness and Quality of Ingredients* backed by clinical research.
Below you'll find some of the most effective topical joint pain supplements on the market today, in our opinion.
Our Top Joint Pain Relief Choices
Flexdermal

Fight Joint Pain and Inflammation*
Prevent Recurring Damage*
Fight Joint Pain and Inflammation*
Prevent Recurring Damage*