In This Review
What Is Thyromine?
It is a special dietary supplement for improving thyroid health. It is an all-natural formulation designed to treat hypothyroidism safely and effectively. The product can be used by people who find it very difficult to lose weight. An underactive thyroid is one of the most common causes of gaining excess weight and difficulty in losing it. The formula can be used by those who are suffering from chronic fatigue, depression, poor concentration and other symptoms of hypothyroidism.
The manufacturer of Thyromine is Ultra Herbal which offers a wide range of supplements made with all-natural ingredients. The company aims to provide consumers and retailers with the highest quality supplements at affordable prices. All of their formulations are made from the finest pharmaceutical grade ingredients available. The manufacturer sells this formula online.
How Does It Rate?
Overall Rating: 3.1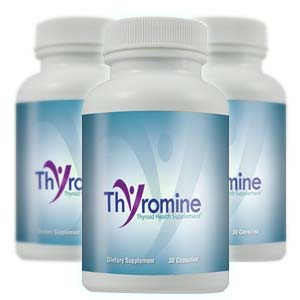 Thyromine
Brand Highlights
Manufacturer of Thyromine is Ultra Herbal
Improve thyroid health.
Speed up a sluggish metabolism.
Helps the user look and feel better.
Increase energy level and reduce fatigue.
Help the user lose excess weight.
Key Ingredients
L-Tyrosine
Thyroid Powder from Bovine
Adrenal Powder from Bovine
Guglipid
Nori
Piper Longum Extract
Ginger Extract
Pros
The formulation is composed of all-natural ingredients.
It comes with a money back guarantee.
The active ingredients are backed by scientific and clinical data.
There are many good reviews from people who have tried it.
Cons
No free trial is available.
So far, there aren't any disadvantages associated with this supplement.
---
How Does Thyromine Work?
Thyromine's ingredients are a blend of old wisdom and cutting-edge research. Thyromine's potent thyroid-supportive ingredients include: L-Tyrosine, Bovine Thyroid Powder, Bovine Adrenal Powder, Ginger Extract, Guggal Tree Extract, Nori Extract, Piper Longum Extract.
To provide Thyramine the best qualities and to get the best outcomes, all of the ingredients are put through rigorous quality and potency testing in the lab. Thyramine is an effective supplement that genuinely helps consumers become and feel healthier because the ingredients are natural and meet high criteria of potency and purity.
Thyromine Ingredients – Are They Safe and Effective?
L-Tyrosine
– Data suggest that, this is an important amino acid when it comes to the hormone production of the thyroid. It helps stimulate the metabolism which is the reason it is common in the formulation of most weight loss products. It also helps improve brain function.[1]
Thyroid Powder from Bovine
– This helps the thyroid function properly. It naturally treats the symptoms of hypothyroidism.
Adrenal Powder from Bovine
– It helps address adrenal hormone deficiencies and assists with stress management. It is commonly found in weight control products because of its ability to stimulate the metabolism.
Guglipid
– This extract from the Indian Guggal tree improves thyroid function helping treat hypothyroidism and cause weight loss. Some studies have found that it helps increase good cholesterol and lower bad cholesterol.[2]
Nori
– This is seaweed which helps to prevent thyroid problems like goiter because of its high iodine content. It also helps strengthen the circulatory system and helps reduce bad cholesterol.[3]
Piper Longum Extract
– Commonly known as long pepper, it was found to help with the production of thyroid hormones. It is an Ayurvedic medicine used to treat respiratory and digestive problems.[4]
Ginger Extract
– Studies have found that it helps prevent blood clots while lowering cholesterol. It is also a natural anti-inflammatory agent that helps address problems like arthritis.[5]
Thyromine Review – FAQ's
Q: How does it work?
A: Thyromine only uses active ingredients that have been shown to help improve thyroid function. Most of the ingredients are herbs that have been used in traditional Eastern Chinese remedies or Ayurvedic medicine for centuries. You can read a lot of good customer feedback on this thyroid health supplement saying that the formula did work for them. Thyromine is even offered with a money back guarantee which is a testament to the manufacturer's confidence in its product.
Q: How to use Thyromine?
A: In order to achieve the optimum benefits, it is advised to take at least 1 to 2 capsule daily for one to three months
Q: What precautions should be taken when using Thyromine?
A: If you are under medication or have any medical condition, check with your healthcare practitioner before using this supplement. The case is the same for pregnant and nursing women. Check the ingredients carefully and make sure you're not allergic to any of them before taking Thyromine.
Q: Is Thyromine Safe to Use?
A: All the ingredients are recognized as safe, but there is a possibility that some people are allergic to certain ingredients. There are no known serious side effects from the thyroid health supplement.
Customer Reviews for Thyromine
Within the first week of treatment, thyromine begins to show results. The intestinal problems gradually disappear, and sleep patterns return to normal. Overall, it was beneficial to my health.~ Review by sylvia charless
Thyromine Review – Final Verdict
If you are suffering from low energy and find it very difficult to lose weight, this is a product worth trying. It can be used to treat hypothyroidism naturally using clinically proven ingredients that have been used in traditional medicine for centuries. Thyromine even comes with a money-back guarantee, which allows anyone to check if it really works or not.
In our opinion, below you will be able to discover some of the Best Thyroid Supplements available on the market. The rating of these have been determined with the following five key factors in mind: Promote* the Healthy Functioning of the Thyroid Gland, Improve* Energy Levels, Prevention of Weight Gain (Weight Management), Efficient on Hyperactive/Underactive Thyroid.
Our Top Thyroid Supplement Choices
Verdict on Claimed Benefits: Below is our summary of the available evidence for the claimed benefits of below mentioned thyroid supplements based on the available research:
Thyroid Support | Supports Healthy Thyroid

Improves Thyroid Function*
Gold Star Evidence
Increases Energy Levels*
Gold Star Evidence
Enhances Immune System*
Gold Star Evidence
Supports Focus and Clarity*
Strong Evidence
Thyrolin | Advanced Thyroid Support Formula
Optimizes Thyroid Levels*
Gold Star Evidence
Facilitates Weight Loss*
Strong Evidence
Regulates Hormonal Activity*
Gold Star Evidence
Revitalizes Stamina*
Strong Evidence
Iodoral | High Potency Iodine/ Potassium Iodine
Balances Thyroid Function*
Gold Star Evidence
Regulates Body Temperature*
Strong Evidence
Maintains Hormonal Balance*
Strong Evidence
Enhances Cognitive Function*
Strong Evidence