In This Review
Thyroid Support Overview
Thyroid support is a special dietary supplement that aims to support healthy thyroid function, according to the manufacturer.
Thyroid glands are responsible for the production of important hormones and the body needs a consistent supply of such key hormones to maintain a healthy function of these glands.
The ingredients in this formula may play a role in supporting healthy thyroid hormone levels.
In supporting thyroid hormone levels, this product may influence other important body mechanisms; for instance, your thyroid support development, protein synthesis as well as improve metabolism. This suggests this product could be essential in supporting normal intellectual function.
How Does It Rate?
Overall Rating: 4.9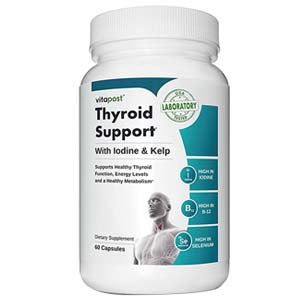 Thyroid Support
Brand Highlights
The company involved with manufacturing this supplement is called VitaPost.
However, they don't directly sell the product themselves, they do so through retailer websites.
As such, the key distributor for this formula is Thyroid Support.
The company states that every ingredient they use is lab tested and goes ahead to give the study links to the research records that confirm their claims.
Such information and transparency are vital and suggest that the product is likely to deliver the promise it makes.
It also indicates the confidence the company has about the product.
Key Ingredients
Ashwagandha
Iodine
Selenium
Zinc
Vitamin B12
L-Tyrosine
Pros
Said to support the healthy production of thyroid hormone
May supports healthy energy levels
Might improve clarity and mental focus
Supports healthy metabolism
Cons
It's hard to tell whether the product has started working
It may not work the same for everybody
It is only available online
The product may not work immediately
---
How Does Thyroid Support Work?
Well, there is nothing so complicated about how this dietary supplement works as it supplies important nutrients for healthy thyroid function.
As an organ, the thyroid gland has the major function of making hormones that regulate protein synthesis in the body, growth and regulate metabolism.
The ingredients in Thyroid Support may help to strengthen the function of thyroid glands in making these hormones.
With a stable and healthy thyroid function, symptoms such a feeling cold when it is hot, poor focus and mood instabilities may reduce.
Thyroid Support Ingredients – Are they Safe & Effective?
Companies that make thyroid supplements use ingredients that have a history of being potent and safe.
However, from the science point of view, this supplements for thyroid support supplement may be worth some attention owing to the fact that all its components have research sources backing the claims they make.
Ashwagandha
– It may support healthy thyroid function as indicated in an article in the Journal of the International Society of Sports Nutrition. It may also play a role in helping the body manage stress, as well as improve concentration on tasks. [1]
Iodine
– It is a key constituent in healthy thyroid function, as reported in one study in the journal Annals of Pediatric Endocrinology & Metabolism. The research concludes that the human body doesn't have a mechanism for making iodine and that it needs to be supplied in diet. Iodine is also a key requirement in the body for healthy thyroid hormone production. [2]
Selenium
– It might help reduce the negative effects of free radicals due to its powerful antioxidant properties. Findings indicate it may act as a factor in supporting proper thyroid function, according to a review article in the International Journal of Endocrinology. [3]
Zinc
– Studies say this mineral may play an important role in the synthesis of key thyroid hormones. In precise it may strengthen thyroid function and help maintain natural hormone production, as suggested in a review article in the International Journal of Trichology. In fact, the absorption of zinc is better when thyroid hormones are at optimal function. [4]
Vitamin B12
– It is a key essential vitamin and is associated with healthy brain function. It might support a healthy synthesis of DNA and red blood cells. Different studies also indicate it might support focus, reduce mental distraction and improve a person's energy levels, according to a research piece featured in the Journal of Family and Community Medicine. [5]
L-Tyrosine
– It is a common ingredient in cognitive support supplements, a claim that is also supported by a review article in the Journal of Psychiatric Research. It has amino acid components that may promote thyroid hormone production and maintenance, improve energy levels and support clarity. [6]
Thyroid Support FAQ's
Q: How Should You Take Thyroid Support?
A: Take 2 capsules daily preferably after a heavy meal or as advised by your doctor.
Q: How Much Does Thyroid Support Cost?
1 bottle with 60 pills retails for $23.95
2 bottles = $42.96 (save $4.94)
3 bottles (+1bottle free) = 64.44 (Save $31.36)
Q: What is Thyroid Support's Return Policy?
A: The product can be returned only within 30 days from the day you received the order.
Q: Does it Offer a Free Trial?
A: No detail from the producer suggests they offer sample products.
Thyroid Support Reviews – Final Verdict
Thyroid glands take part in the natural production of important hormones that help to monitor the metabolic rate and the regulation of minerals in the body such as calcium. Now what this product does is it supports thyroid function to ensure all the natural mechanisms of hormone production by this organ go as naturally required.
As such, the long-term results for using this product may include an improvement in energy levels, increased focus, and cognitive function.
However, the detail that the producer hasn't share and that which the public may really want to understand is, after how long exactly will the formula begin working.
A projected time span that users can expect the results helps you know whether the product is working for you or not.
Besides, it may not work the same for everybody, which means some people may see the results after consuming the bottle, while others may notice changes after consuming a few pills, so it is not standard.
When choosing thyroid support supplements it is important to prioritize those that deploy tested ingredients.
Product reviews are provided for informational purposes only and reflect solely the views and opinions expressed by the contributors and not those of Consumer Health Digest. We do not verify or endorse any claims made in these reviews. Please read the full product reviews disclaimer. *All individuals are unique. Your results can and will vary.
Ask a Question
Have a Question? Please Tell Us What We Are Missing Here!
PRODUCT NAME
Thyroid Support
PRODUCT BRAND
VitaPost
PRICE (in USD)
$23.95
ITEM FORM
Capsule
UNIT COUNT
60 Capsules
INGREDIENTS
Ashwagandha, Iodine, Selenium, Zinc, Vitamin B12, and L-Tyrosine
$23.95 At Official Website
6 Sources
We review published medical research in respected scientific journals to arrive at our conclusions about a product or health topic. This ensures the highest standard of scientific accuracy.
[1] Wankhede, S., Langade, D., Joshi, K. et al. Examining the effect of Withania somnifera supplementation on muscle strength and recovery: a randomized controlled trial. J Int Soc Sports Nutr 12, 43 (2015). https://doi.org/10.1186/s12970-015-0104-9
[2] Iodine and thyroid function:
https://doi.org/10.6065/apem.2014.19.1.8
[3] Selenium and Thyroid Disease: From Pathophysiology to Treatment:
https://doi.org/10.1155/2017/1297658
[4] Betsy A, Binitha M, Sarita S. Zinc deficiency associated with hypothyroidism: an overlooked cause of severe alopecia. Int J Trichology. 2013 Jan;5(1):40-2. doi: 10.4103/0974-7753.114714. PMID: 23960398; PMCID: PMC3746228.
[5] Jabbar A, Yawar A, Waseem S, Islam N, Ul Haque N, Zuberi L, Khan A, Akhter J. Vitamin B12 deficiency common in primary hypothyroidism. J Pak Med Assoc. 2008 May;58(5):258-61. Erratum in: J Pak Med Assoc. 2009 Feb;59(2):126. Wasim, Sabeha [corrected to Waseem, Sabiha]. PMID: 18655403.
[6] Effect of tyrosine supplementation on clinical and healthy populations under stress or cognitive demands—A review:
https://doi.org/10.1016/j.jpsychires.2015.08.014
**This is a subjective assessment based on the strength of the available informations and our estimation of efficacy.
*Result may vary. The information contained in this website is provided for general informational purpose. No medical claims are implied in this content, and the information herein is not intended to be used for self diagnosis or self treatment of any condition.
*Disclosure of Material connection: Some of the links in the post above are "associate sales links." This means if you can click on the link and purchase an item, we will receive a commission. Regardless, we only recommend products or services which we use personally and/or believe will add value to our readers. We are disclosing this in accordance with the Federal Trade Commission's 16 CFR, Part 255: "Guides Concerning the Use of Endorsements and Testimonials."