In This Review
T-Balance Plus Overview
T-Balance Plus refers to a thyroid product that is responsible for solving the problems and signs linked with low or an underactive thyroid. It is a product that has been formulated to be used by women. It is known to relieve signs such as tiredness, weight gains, lack of energy, hair loss, sensitivity to cold and fuzzy thinking. It is meant to help in restoring thyroid balance and helps in supporting healthy functioning of the thyroid gland. It helps you in controlling your moods and reducing mild depression for a better working person. The product is known to produce results within thirty days of regular use as per the directions provided.
How Does It Rate?
Overall Rating: 3.5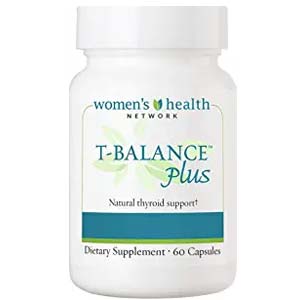 T-Balance Plus
Brand Highlights
This is a product whose its manufacturer is Women's Health Network.
It is a product that is made in FDA inspected facility and it is manufactured through the use of newest science.
This herbal product that is safe &meant to help relieve low or underactive thyroid gently.
It is designed to help in relieving the most common signs for a healthy person.
It is known to create maximum levels of the thyroid hormones function which help in the elimination of its symptoms without risk of any serious adverse effects.
Key Ingredients
Bacopa Monnieri
Sage
Iodine
Selenium
Ashwagandha
Pros
May relieve signs such as fuzzy thinking, forgetfulness, lack of energy, hair loss, sensitivity to cold and weight gain for a healthy working person.
It is known to help in controlling your moods and reducing* stress to help you lead a happy life.
May prevent trigger of thyroid when it is present in your body in the required amount.
Cons
There is no provision of exact quantities of ingredients contained in this product.
---
How Does T-Balance Plus Work?
The thyroid gland regulates metabolism and how your body uses energy. These supplements for thyroid support is safe and natural. T-Balance Plus is designed to increase energy and promote healthy cell metabolism in the thyroid gland and other areas where thyroid hormone receptors and thyroid hormone conversion activity are present.
T-Balance Plus Ingredients – Are they Safe & Effective?
This product contains a blend of seven natural ingredients which work together to relieve the signs. The Supplement to support thyroid provides you satisfaction, as confirmed through the Women's Health Network. You can purchase the product through online and you are advised to take two capsules every day preferably one in the morning and one in the evening before sleeping.
This is a product that works perfectly through the use of the following ingredients:
Bacopa Monnieri
– This is an ingredient that is responsible for fighting against forgetfulness and fuzzy thinking for a better person.
Sage
– This is known to reduce inflammation and has antioxidants effects. It has phytochemicals meant to support enhanced memory, mood and control healthy balance of your sugar levels. [1]
Iodine
– This is used to synthesize thyroid hormones while it is also vital in the maximum functioning of all the organs and cell in your body. [2]
Selenium
– According to ncbi, It is helpful in regulating thyroid working and metabolism of iodine. [3]
Ashwagandha
– This is helpful for reducing stress and helps in calming you. It is also used to support the production of thyroid hormones.
T-Balance Plus FAQ's
Q: For How Long Will I Take The Product To See Improvements?
A: It takes about one month for desired results.
Q: Where to buy T-Balance Plus Supplements?
A: This T-Balance Plus Thyroid supplements are available online. you can buy it from Amazon as well as Walmart.
T-Balance Plus Reviews – Final Verdict
This is a product that may help in relieving symptoms of underactive or low thyroid. It may help in combating fuzzy thinking, lack of energy, forgetfulness, sensitivity to cold, tiredness, weight gain and hair loss so that you can perform your tasks as expected of you. The product is manufactured using natural ingredients. This product may help in reducing the levels of stress and it may control your mood so that you can remain a happy person who undertakes her assignments well.
It is formulated for women. The reviews on t balance plus is positive. You are reminded to research more on the product's ingredients if you wish to try this product to verify possible effects linked to them. You are also advised to take the right dosage as per the directions to avoid negative reactions associated with wrong dosages.
In our opinion, below you will be able to discover some of the Best Thyroid Supplements available on the market. The rating of these have been determined with the following five key factors in mind: Promote* the Healthy Functioning of the Thyroid Gland, Improve* Energy Levels, Prevention of Weight Gain (Weight Management), Efficient on Hyperactive/Underactive Thyroid.
Our Top Thyroid Supplement Choices
Verdict on Claimed Benefits: Below is our summary of the available evidence for the claimed benefits of below mentioned thyroid supplements based on the available research:
Thyroid Support | Supports Healthy Thyroid

Improves Thyroid Function*
Gold Star Evidence
Increases Energy Levels*
Gold Star Evidence
Enhances Immune System*
Gold Star Evidence
Supports Focus and Clarity*
Strong Evidence
Thyrolin | Advanced Thyroid Support Formula
Optimizes Thyroid Levels*
Gold Star Evidence
Facilitates Weight Loss*
Strong Evidence
Regulates Hormonal Activity*
Gold Star Evidence
Revitalizes Stamina*
Strong Evidence
Iodoral | High Potency Iodine/ Potassium Iodine
Balances Thyroid Function*
Gold Star Evidence
Regulates Body Temperature*
Strong Evidence
Maintains Hormonal Balance*
Strong Evidence
Enhances Cognitive Function*
Strong Evidence