In This Review
Iodoral Overview
Iodoral is an iodine supplement. Primarily, the product was created to supplement iodine to the thyroid gland in an effort to improve thyroid function.
If the thyroid is functioning properly, the process of weight loss becomes easier. Moreover, proper thyroid functioning may lead to more energy and stamina.
Although the product was originally created to deal with a different condition, anecdotal evidence shows that the supplement can effectively promote weight loss.
Manufacturer Information and Claims About Iodoral
The product is claimed to provide iodine support. The manufacturer says that Iodoral offers nourishing and energizing support to the thyroid.
According to the manufacturer, a single tablet weighs 12.5mg and has the ability to aid the thyroid to generate the desired amount of hormones for energy levels and healthy metabolism maintenance.
The produced hormones are said to help improve clarity and balance. Moreover, the tablets are said to be professionally formulated to allow easy absorption.
The manufacturer also claims to have carefully researched the ingredients to design a product that will have a positive impact on the health of users.
It is readily available for purchase via the company's Official Website. Those interested should place their orders via this site.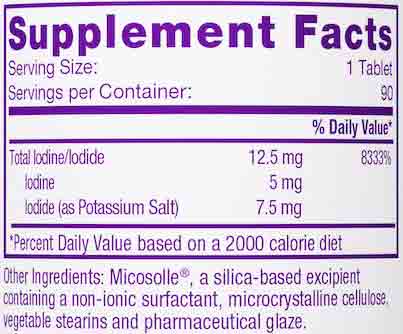 Working Process and the Ingredients List
The supplement has high potent ingredients shown to promote healthy living. The main ingredients, iodine, and iodide work to promote thyroid health and overall well-being.
Their working process is claimed to promote the production of hormones in the thyroid required to correct imbalance symptoms, such as mental fog, poor metabolism as well as low energy. The ingredients include:
7.5mg Iodide or potassium salt, which promotes thyroid health and overall well-being.
5mg iodine, which works together with iodide to correct imbalance symptoms and promote thyroid health.
Other ingredients include:
Microcrystalline cellulose, which promotes overall health.
Pharmaceutical glaze, an inactive ingredient.
Micosolle, an additional source of iodine.
Vegetable stearins, which easily blends with vegetable oils during supplement production.
Iodoral Review- Does it Really Work?
The makers claim that this supplement works by increasing thyroid gland productions. The product may also work by providing nourishment to the thyroid. It also offers energizing support leading to a healthy thyroid gland. The tablets contain iodine and iodide as chief ingredients.
These two work efficiently to aid the thyroid gland to produce hormones required to maintain high energy levels. Its working process is also said to support the production of hormones needed to maintain clarity and balance.
---
The Pros of Iodoral
May help nourish the thyroid.
May help energize the thyroid to function maximally.
May support clarity and a sense of balance.
It is easily absorbed.
The Cons of Iodoral
Available online only.
The supplement isn't FDA certified.
Its working process is unclear.
It may cause side effects such as cystic acne.
---
FAQ's
Q: How do I use this product?
A: You should take 1-4 tablets of this iodine-iodide supplement in a day. Additionally, you can use it according to the guidelines given by your physician.
Q: What are the precautions when using this supplement?
A: The supplement should only be used after consulting a physician. Before using the supplement, go through the label for warnings, and usage directions.
Q: How long before I see any improvements?
A: Improvements may differ between users. However, some users reported feeling some improvement after using the product for two days.
Q: Will this benefit me if my thyroid has been surgically removed?
A: You may need to decrease your thyroid hormone medication dosage as a result of taking Iodoral, but do so only under your prescribing doctor's guidance.
Possible Side Effects
Since the ingredients used in the manufacture of this supplement are natural, there is less possibility of side effects after the use of this product. In case of allergy immediately stop the use of this product.
Iodoral Review – Final Verdict
Iodoral appears to be all-natural. Moreover, the product is created using few ingredients. The science behind this supplement's working formula is valid. Iodine has been shown to help improve thyroid function. The tablets are said to offer iodine support meaning that they can energize and nourish the thyroid.
Using this supplement may help your thyroid gland to produce more hormones required by the body to function optimally and maintain healthy levels of energy and metabolism. The thyroid may also produce hormones that promote clarity and improve balance.
You are advised to consult a physician prior to using this supplement. Also, use it according to the provided guidelines.
Although the ingredients have a clinically proven working process, the product doesn't have Vitamin A, which guarantees product efficacy.
However, because there is no clinical evidence to support the claims that the product can promote weight loss, the product may not be the best choice. Consider purchasing weight loss supplements that support their claims using scientific evidence.
More importantly, supplements for weight loss with money-back guarantee appear more genuine.
In our opinion, below you will be able to discover some of the Best Thyroid Supplements available on the market. The rating of these have been determined with the following five key factors in mind: Promote* the Healthy Functioning of the Thyroid Gland, Improve* Energy Levels, Prevention of Weight Gain (Weight Management), Efficient on Hyperactive/Underactive Thyroid.
Our Top Thyroid Supplement Choices
Thyroid Support -
5% OFF Today

Promote the Healthy Functioning of the Thyroid Gland*
Prevention of Weight Gain* (Weight Management)
Efficient on Hyperactive/Underactive Thyroid*
Controlled Appetite & Better Digestion*
Promote the Healthy Functioning of the Thyroid Gland*
Prevention of Weight Gain* (Weight Management)
Efficient on Hyperactive/Underactive Thyroid*
Controlled Appetite & Better Digestion*
Promote the Healthy Functioning of the Thyroid Gland*
Prevention of Weight Gain* (Weight Management)
Efficient on Hyperactive/Underactive Thyroid*
Controlled Appetite & Better Digestion*