In This Review
Testosterone UP RED Overview
Testosterone UP RED is a product that is specifically designated to ensure that you get an increase in the production of your testosterone levels. The product is designed to enhance your overall sexual prowess, and unlike other formulas available on the market, this one is specifically designed without any chemicals or added artificial ingredients.
This is something quite important, and you should most definitely take it into very serious consideration. With this in mind, it is also important to note that the product is going to help you build muscles more quickly.
This is due to increased testosterone production. It will help you get quicker and bigger pumps which are definitely something to look forward to. However, there are quite a lot of things that you want to take into account when it comes to it, and this is why we have decided to provide you with a serious and in-depth review of the product.
How Does It Rate?
Overall Rating: 3.3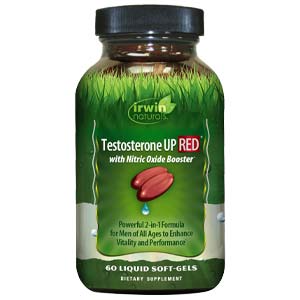 Testosterone UP RED
Brand Highlights
Enhance the production of nitric oxide.
Maintain testosterone levels within the necessary levels.
Enhance mood, muscle strength and mass and overall sex drive.
Easy-to-Swallow Liquid Soft Gel Delivery enhanced with Bioperine
30-Day Refund Policy.
Key Ingredients
Plant Sterols
Tribulus
Asian Ginseng
Tongkat Ali
Chrysin
Gamma Oryzanol
BioPerine Complex
Pros
Could enhance your overall sex drive
Could enhance your muscle and strength growth
Enhances the production of testosterone
Cons
Horrific smell
Lacks FDA approval
---
How Does It Work?
The working process of the product is based on a tremendous amount of different ingredients, and it's worth noting that this is something that we are not fans of. With this in mind, they are supposed to come together and interact with your hormone production to enhance the levels of testosterone.
Testosterone UP RED Ingredients – Are They Safe and Effective?
Plant Sterols
– These are known to reduce the levels of bad cholesterol[1].
Tribulus
– This is the most common ingredient to enhance the production of testosterone[2].
Asian Ginseng
– It's a powerful aphrodisiac as per Complementary and Integrative Health (NCCIH)[3].
Tongkat Ali
– It's another therapeutic herb which is known to increase your libido suggest study[4].
Chrysin
– It has a serious influence on the production of testosterone[5].
Gamma Oryzanol
– It's another product that will enhance the production of testosterone[6].
BioPerine Complex
– This is a powerful compound that contains black pepper and ginger extract for detox properties[7].
Read Also – Alpha Shred

Testosterone UP RED Questions and Answers
Q: How To Use This Product?
A: The most important thing to consider is to follow the close guidelines of the manufacturer. This will increase your chances of receiving the associated and claimed benefits.
Q: What are the Precautions To Take When Using This Supplement?
A: There are no serious precautions. If you have some medical disorder, you should definitely consult your doctor in advance. This is something quite important.
Q: How Long Does It Take To See Any Improvements?
A: The benefits should start manifesting within a few weeks of active usage.
Q: What Are the Possible Side Effects?
A: There are no side effects that are reported or disclosed by the manufacturer.
Q: Does It Really Work?
A: Some people complain that the product doesn't smell really well and this prevented them from trusting it. There are other positive reviews confirming some of the benefits. All in all, the functioning of the product is rather questionable.
Customers Reviews
I would give 5 star except for the price.
A year or two ago the price was more like $21.00 a bottle and recently they jacked up the price a whole lot. I think they are overpricing this product. I like the product but there is a tipping point on what you get for the price.
~ Jerry Lawson.
Testosterone UP RED Review – Final Verdict
The truth is that this seems like a product that could enhance the production of testosterone. However, the fact that people report bad smells and the true and unnecessary abundance of ingredients is not something that we are particularly fond of.
With this in mind, we tend to believe that there are better and more effective options on the market such as Weider Prime, and Ageless Male Max that you can take advantage of when it comes to it.
One must choose a supplement that belongs to a reputable company, contains scientifically tested ingredients, offers several benefits, comes with an affordable price as well as capable of providing fast and effective results. Below are our most effective testosterone boosters that have been ranked on the basis of these essential factors. Each product has been researched thoroughly in terms of its Effectiveness* and safety.
Our Top Testosterone Booster Choices
Verdict on Claimed Benefits: Below is our summary of the available evidence for the claimed benefits of below mentioned testosterone booster supplements based on the available research: