In This Review
Testo Prime Overview
Testo Prime is an all-natural testosterone booster that promises to improve physical and mental energy, sex drive and raise low testosterone levels.
Thanks to raised testosterone levels you can build more muscle mass and gain strength.
How Does Testo Prime Rate?
Overall Rating: 4.8
Testo Prime
Brand Highlights
Formula is Third-party tested and retested for quality
They offer 100%, no questions asked, money-back guarantee
Products are made with the highest standard with GMP-certified facilities
The brand has legacy of using natural ingredients.
Key Ingredients
Ashwagandha
D-Aspartic Acid
Garlic
Panax Ginseng
Green Tea Extract
Pros
TestoPrime pills increase your testosterone levels.
This supplement can elevate your sex drive.
It can increase both physical and mental energy.
TestoPrime can help you burn fat and lose weight.
The ingredients are clinically tested and proven effective.
Cons
Most testosterone boosters cost around $59.99 per month so can be quite expensive.
You have to take 4 large capsules per day.
It's possible to have mild side effects like stomach upset and dizziness.
---
Who is the Manufacturer of Testo Prime?
TestoPrime is an all-natural dietary supplement designed and manufactured by Wolfson Berg Limited.
The product is created and packaged in facilitates that are GMP certified and approved by the U.S. FDA and the U.K. MHRA.
How Does Testo Prime Work?
This supplement contains vitamins that are healthy for the immune system and overall functioning, such as Vitamin D, B5, and B6. An article in Nature Reviews Immunology[2] looked at the effects of various vitamins on the immune system.
Ingredients in TestoPrime can raise testosterone levels in the body, like zinc, garlic, ashwagandha and d-aspartic acid. This in turn increases sexual libido, and it can help build muscles. A review in Current Opinions in Urology[3] found that testosterone therapy improved erectile function and libido in men.
There are a few weight-loss ingredients including fenugreek, which can help speed the metabolism and put the body into a fat-burning state called thermogenesis. In addition, several of these ingredients improve your overall fitness.
Black pepper is a substance that is included because it greatly increases the absorption of all of the other ingredients. This leads to a more potent formula.
You can BUY it directly from the
Testo Prime
Official Website
Testo Prime Ingredients – Are They Safe & Effective?
Here are some of the primary active Testo Prime ingredients:
KSM 66®Ashwagandha
TThis is a potent and very pure form of Withania Somnifera, which is a powerful aphrodisiac. It can raise testosterone levels, increasing libido and sexual stamina and promoting muscle mass and strength.
A study published in the American Journal of Men's Health[4] found that 8 weeks of supplementation with this plant led to an increase in testosterone production in the body.
Ashwagandha synthesizes key brain neurotransmitters like GABA, dopamine, and serotonin, which decreases anxiety, improves mood, and enhances cognitive functions like focus and memory. It may also promote weight loss, and it boosts general health and immunity.
D-Aspartic Acid
This amino acid boosts luteinizing hormone, increasing natural testosterone production in the body. This raises sexual arousal and helps build muscle bulk and strength. In addition, there's some evidence that it may help with weight loss.
A research review published in the International Journal of Reproductive Biomedicine[5] found that in animal studies, this acid can increase testosterone levels. However, there have not been adequate human studies yet to conclude the same.
There's also evidence that D-Aspartic Acid improves male fertility. A study in Scientific Research concluded that it improved sperm motility and ability to conceive[6].
Garlic
This is a plant bulb which can improve sexual libido, stamina, and performance by raising natural testosterone production. It may also build muscle bulk and strength and speed up the metabolism, helping with fat-burning and weight loss [7].
It contains potent antioxidants which repair damage to the body and strengthen the immune system. A study on rats in the Asian Pacific Journal of Biomedicine[8]found that garlic increased serum testosterone levels as well as sperm proliferation.
Panax Ginseng
This plant is full of potent antioxidants which boost health and immunity. It's also an adaptogen which decreases anxiety, and this could improve sexual performance.
It enhances circulation, and the added blood flow to the penis can promote harder, stronger erections. Ginseng has fertility benefits for men, improving sperm count and motility. An article in Spermatogenesis discussed the ginseng and male reproductive function[9].
Fenugreek
This plant may offer health benefits like balancing blood sugar levels and promoting weight loss. It boosts levels of testosterone, which elevates libido and sexual stamina, as well as building up muscle bulk and strength.
A study in Phytotherapy Research boosts the physiological aspects of male libido[10]. In addition, it could improve male fertility by enhancing sperm count and quality.
Green Tea Extract
Green tea has potent bioactive compounds called catechins which have numerous health benefits, including blocking the transfer of testosterone into the hormone DHT so there's more available.
It also has fertility benefits. A study on rats in Scientific Reports concluded that green tea boosted sperm concentration and quality[11]
.This helps heighten libido and build muscles. Green tea also has caffeine which offers energy, improves exercise performance, and speeds up the metabolism for fat-burning and weight loss.
Pomegranate Extract
This fruit is rich in nutrients and polyphenols which boost immunity and improve circulation, for harder, stronger erections. It may also increase testosterone levels for enhanced libido, sexual stamina, and muscle strength.
A study on rats in Discovery Phytomedicine showed the potent antioxidant activity of pomegranate[12].
Zinc
This key mineral boosts testosterone levels by preventing its conversion into the hormone estradiol. This increases sexual arousal, improves stamina and performance, and builds up the muscles.
In addition, zinc has benefits for prostate health, and it improves male fertility by enhancing sperm quality, quantity, and motility. An article in the International Journal of Molecular Sciences discussed the role of zinc in male fertility[13].
Vitamin D
This nutrient promotes bone health by improving calcium and phosphorus absorption, and it may improve mood.
A study in Hormone and Metabolic Research concluded that supplementation with Vitamin D may increase testosterone levels[14]. This promotes heightened libido and sexual stamina and could assist in building muscle mass and strength.
Vitamin B6
This vitamin could boost energy levels, and it also promotes higher testosterone levels for elevated sexual libido, improved performance, and enhanced muscles.
A study on rats in the Journal of Steroid Biochemistry found that Vitamin B5 raises the body's sensitivity to testosterone[15].
It also plays a key role in cognitive development and functioning and boosts general health and immunity.
Vitamin B5
One of the key roles of this vitamin is to convert carbs and fats into energy, and it may offer weight loss benefits. An article in Medical Hypotheses discussed the benefits of Vitamin B5 as a weight loss agent[16].
It supports healthy hormone levels and could boost testosterone for added sexual arousal and bigger, stronger muscles.
Black Pepper Extract
Black pepper contains the potent bioactive agent piperine, which has many benefits including supporting brain and heart health. In addition, it powerfully enhances the absorption of nutrients, making the ingredients in this supplement much stronger.
A study in published in the Asian Pacific Journal of Tropical Biomedicine mentioned the potent bioavailability enhancement properties of black pepper[17].
FAQ's
Q: Does Testo Prime Really Work?
A – TestoPrime is specifically formulated with top-of-the-line and clinically researched natural ingredients.
There are many positive customer reviews on TestoPrime which makes this product trustworthy and a must-try.
Q: Is TestoPrime Safe?
A – Yes, TestoPrime is highly safe and free from gluten, dairy, soy, harmful additives, and fillers. It does not require any prescription. One must consult their medical advisor before starting any supplement.
Q: Are There Any Testo Prime Side Effects?
A – There are no reported side effects of TestoPrime.
However, our body takes time to adjust to any of the dietary supplements.
Because of this, you might experience mild side effects such as nausea, upset digestion, and some allergies from some ingredients.
Q: How Should You Take It?
A – The manufacturer suggests that you consume 4 capsules before your morning meal. These are potent supplements, and you may feel an effect quickly. Do not take more than the suggested dosage under any circumstances.
Q: How Much Does This Product Cost?
A – You can buy TestoPrime on the manufacturer's Website. The shipping is free. The prices are as follows:
1 Month – $64.99
2 Months + 1 Month Free – $129.99
3 Months + 2 Months Free – $194.99
Q: What Is TestoPrime's Return Policy?
A – TestoPrime has a 100%, hassle-free lifetime guarantee. If you're not happy with the results, contact customer service by email at ANY time after your purchase, and you'll get a full refund.
Q: Does It Offer Any Free Trial?
A – No, there is no TestoPrime free trial associated with TestoPrime Male Enhancement. You make a one-time purchase each time, and there's no auto-shipment program.
Q: Who Should Use This Product?
A – TestoPrime is a supplement made exclusively for adult men. It's for anyone who feels their sexual functioning needs a boost, be it an increase in sex drive or help to strengthen erections. Naturally, anyone considering taking this supplement should check with their doctor first to make sure it's medically suitable for them.
Q: How Does This Product Compare To Other Male Enhancement Supplements?
A – These products vary widely in their quality and price. The cost of TestoPrime is somewhat high in the market, but it's clearly worth it when you look at the list of effective, clinically tested ingredients. This is not something every brand offers. There are also some other quality brands on the market, but TestoPrime is certainly in the top end of sexual supplements for men.
Q: Does This Product Promotes Healthy Testosterone Levels?
A – Yes, TestoPrime is a highly effective supplement when it comes to improving sexual functioning in men, keeping healthy testosterone levels, increasing libido, and improving energy levels and stamina.
It contains 12 potent ingredients which help to increase hormone levels and elevate overall sexual performance. The TestoPrime review listings indicated that users were very happy with this supplement.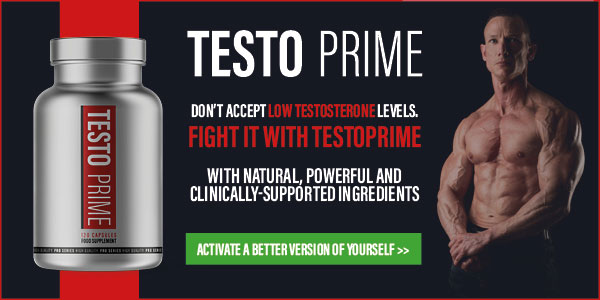 Customers Review TestoPrime
Yes, You Must try It.
It's only been a week since I've used it, but I can already tell a difference. I have more energy than I used to. I would recommend it. – Homer
Yes it's Showing Results!
GI've been taking it for about a week now, and my bench press has increased by 10 pounds, and I feel stronger. – Giff K.
TestoPrime vs Testogen
Products
TestoPrime
Testogen
Price
$59.99
$59.99
Key Ingredients
D-Aspartic acid, Panax Ginseng, Ashwagandha extract, Fenugreek
D-Aspartic acid, fenugreek, Red Ginseng, Magnesium, Boron, Zinc
Dosage
4 capsules before morning meal
4 capsules in a day
Benefits

Increases your testosterone level
Elevates your sex drive
Increases both physical and mental energy

Boosts libido
Increases stamina and endurance
Treats erectile dysfunction
Testo Prime Review – Final Verdict
TestoPrime natural testosterone booster is a potent supplement for men which aims to improve sexual functioning.
It contains 12 proven ingredients which can raise testosterone levels, boosts libido, and enhance muscle mass. This is a high-quality brand that should be effective.
As this is a new product, there aren't a lot of TestoPrime reviews out there. However, the existing ones spoke very well of the product and its benefits.
TestoPrime testosterone booster has certainly helped men overcome some of their sexual issues and emerge with new confidence. There weren't a lot of complaints about this supplement.
There is the possibility that you may develop mild TestoPrime side effects by taking this product.
If you have uncomfortable symptoms, discontinue use immediately.
Before you begin taking TestoPrime, it's essential that you see your doctor first to get medical approval.