In This Review
What Is Redcon 1 Boom Stick?
Redcon 1 Boom Stick is a supplement that has become an essential companion for men seeking to regain their youthful vigour in various aspects of life. It is compounded using biologically grown and manufactured ingredients.
It supplies the body with essential nutrients and importantly facilitates protein synthesis hence enhancing energy production. Redcon 1 Boom Stick helps redeem youthful sexual energy, by increasing Libido, enhancing erections and ensuring that the erection lasts longer.
This product does more good by facilitating the burning of excess fats from the body while ensuring that users attain lean muscles that are ripped while improving their masculine appearance.
How Does It Rate?
Overall Rating: 3.9
Redcon 1 Boom Stick
Brand Highlights
Redcon 1 BoomStick is a compound manufactured using natural herbs and nutrients that supplements daily efforts to help in boosting sex life and enhancing body manly physique.
The ingredients do not produce their own synthetic testosterone, but they trigger the body to increase its own testosterone production.
This testosterone booster is manufactured by a company called Redcon 1 which manufactures other fitness products. Interested consumers can purchase the product from the company's official website.
Key Ingredients
Tribulus Terrestris
Fenugreek Seed Extract
Nettle Extract
Ashwagandha Extract
DHEA.
Pros
While a large number of competing products include an array of products that may cause some side-effects to develop, Vesele only contains two amino acids that can improve blood flow and one additional ingredient that enhance the absorption of the included amino acids.
This male enhancement pill does not use any kind of artificial ingredients and only relies on natural ingredients.
When purchased in bulk, a buyer can save as much as $50 on an order.
Unlike many of the competing products that are only available to potential buyers that reside within the United States, Vesele provides worldwide shipping.
Cons
Contains DHEA a substance that has been banned by several athletic organizations.
Increases estrogen a female hormone.
Contains Tribulus Terrestris a substance that causes increased prostate weight.
---
How Does It Work?
Redcon 1 Boom Stick supplement decreases anxiety levels, minimizes fatigue and provides energy. It is power-packed to facilitate the burning of excess fats, enhances sexual performance and helps in attainment of the masculine body structure.
This product can be used as a pre-workout supplement as it facilitates in increasing endurance and ensures one gets more than signed up for.
Redcon 1 Boom Stick Ingredients – Are they Safe & Effective?
Redcon 1 Boom Stick helps in enhancing aggression to life's passions and activities.
The major influence of this product on the body is that it contains ingredients that stimulate the body to produce testosterone. The work of testosterone in the body is clearly evident during the prime youthful years.
But as men advance in age and hit forty's this hormone declines. Redcon 1 BoomStick rekindles youthful glory. It triggers sexual passion, enhances erection while eliminating erectile dysfunction, and premature ejaculation and provides stamina for better sexual performance.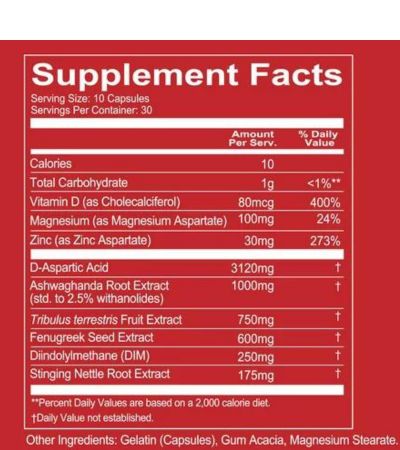 Tribulus Terrestris
– It enhances sexual performance by increasing Libido as per PubMed.[1] According to research, Tribulus Terrestris may have benefits for male testosterone levels.
According to some research, using Tribulus terrestris supplements may raise testosterone levels, which can enhance athletic performance and muscle strength and mass.
While Tribulus Terrestris has been used for centuries as a traditional medicine to enhance sexual function and athletic performance, there is limited scientific evidence to support its effectiveness as a testosterone booster." – Dr. Andrew Weil, founder and director of the Andrew Weil Center for Integrative Medicine at the University of Arizona.
Fenugreek Seed Extract
– Boosts testosterone production and increases sex drive.[2]According to studies, fenugreek seed extract may help men's testosterone levels.
According to one study, males who consumed 500 mg of fenugreek extract every day for eight weeks had their free testosterone levels rise. A rise in testosterone levels and an improvement in body composition were observed in men who took a supplement containing fenugreek extract and other components, according to a different study.
A fenugreek seed extract has been shown in some studies to increase testosterone levels in men, but more research is needed to fully understand its effects." – Michael T. Murray, naturopathic physician and author of The Encyclopedia of Natural Medicine.
Nettle Extract
– Helps treat oversize prostate and increases testosterone.[3]Nettle extract may help boost testosterone levels by preventing the conversion of testosterone to oestrogen, according to research.
To put it another way, it might aid in preventing testosterone oxidation, resulting in larger quantities of the hormone in the body.
Ashwagandha Extract
– According to Psychology Today, is found to be very helpful to calm anxiety levels hence minimizing stress and increases physical performance.[4]
Ashwagandha has been used in Ayurvedic medicine for centuries to treat a variety of conditions, including sexual dysfunction. While there is some evidence to support its use as a testosterone booster, more research is needed to determine its optimal dosage and long-term effects." – Dr. Ryan Terlecki, director of men's health and an associate professor of urology at Wake Forest Baptist Health.
DHEA
– As stated in Mayo Clinic, DHEA is banned in most athletic activities, though it has the ability to increase physical performance and eliminate sexual dysfunction.[5]
---
Products Similar to Redcon 1 Boom Stick:
Redcon 1 Boom Stick FAQ's
Q: How Do I Use Redcon 1 Boom Stick?
A: Users are advised to take three capsules of Redcon 1 Boom Stick, three times a day, with food. The product can be taken consistently for four to eight weeks.
Q: What Are The Precautions When Using Redcon 1 Boom Stick?
A: Redcon 1 Boom Stick contains DHEA a substance banned from being used by athletes, contains Dim which when overdosed converts testosterone to estrogen, while Tribulus Terrestris causes an increase in prostate weight. It is therefore important to check on these effects before purchasing.
Q: How much is the cost of the Redcon 1 Boom Stick?
A: According to the official website the cost of Redcon 1 Boom Stick is $64.99 for a single bottle.
Q: What are the benefits of Boom Stick?
A: Boom Stick marketed as a natural testosterone booster, can aid in muscle building, enhance strength, promote weight loss by reducing body fat, and increase aggression during workouts.
Q: When should I take a Boom Stick?
A: As per manufacturers recommendations, you need to take 3 capsules of three boom stick three times a day.
Q: Is Boomstick a good testosterone booster?
A: According to Redcon1 Boom Stick reviews, some users claim that this supplement help them gain strength, lose weight, and build muscle, no scientific studies have proven these claims.
Q: Where to buy Redcon 1 Boom Stick?
A: The product can be bought from its manufactures website, Amazon and other online retailers.
Q: How Long Before I See Any Improvements?
A: Individual bodies respond to supplements differently. However, consistent use of the Redcon 1 Boom Stick can cause improvements.
What are the Possible Side Effects of Redcon 1 Boom Stick?
Although Redcon1 Boom Stick has many benefits, it contains three ingredients, DHEA, DIM and Tribulus Terrestris that cause adverse impacts.
These side effects include an enlarged prostate, excess Dim causes increases in estrogen production and DHEA can cause disqualification of a professional athlete from a race because it has been banned by several athletic organizations.
Redcon1 Boom Stick Reviews from Customers
There are some positive and negative Boomstick testosterone reviews present on the internet. Before settling to any conclusion, it is important to read real customer reviews of the Redcon1 Boom Stick.
I am halfway through the month's supply of Boomstick supplement, The benefits were very noticeable with workouts. A little excessive for the daily amount of pills needed though. But it is working for me. Highly Recommended!" –Mike J
I'm in my mid-40s and use Redcon 1 Boom Stick daily. I'd highly suggest it. After taking it for only a few days, I noticed a significant difference in how rested I felt in the mornings. I also noticed that my joint discomfort had vanished, and I was no longer always exhausted. –Greg M.
Redcon1 BoomStick Reviews – Final Verdict
Redcon 1 Boom Stick is a supplement infused with natural ingredients that help in triggering the production of testosterone.
This product works by increasing aggression, reduces anxiety and eliminates exhaustion.
It facilitates in improving blood circulation hence enhancing sexual performance by increasing libido and boosting stamina for longer lasting performance.
Redcon 1 Boom Stick is also essential in eliminating excess fats and facilitates in achieving lean muscles. From the benefits accrued from using this product and its ingredients content, it can be a go-to supplement to regain youthful vigor.
However, this product is constituted of ingredients that pose health risks such as enlarged prostate, possible elimination from professional athletics due to DHEA, a substance that has been banned by athletic organizations and sometimes overdose of Dim can cause conversion of testosterone to estrogen.
Therefore, it is important to carry out further research and consult a medical expert before incorporating this product into your pre-workout schedule and using it as a male sexual enhancement formula.
Redcon 1 Boom Stick can be purchased through their Official Website.
One must choose a supplement that belongs to a reputable company, contains scientifically tested ingredients, offers several benefits, comes with an affordable price as well as capable of providing fast and effective results. Below are our most effective testosterone boosters that have been ranked on the basis of these essential factors. Each product has been researched thoroughly in terms of its Effectiveness* and safety.
Our Top Testosterone Booster Choices
Verdict on Claimed Benefits: Below is our summary of the available evidence for the claimed benefits of below mentioned testosterone booster supplements based on the available research: