In This Review
What is Palmers Cocoa Butter?
Stretch marks are a very common problem that affects both women and men. It is basically caused by tiny tears in the dermis. It starts out purplish or reddish and fades over time and turns into grayish streaks on different parts of the body.
The main cause of stretch marks is rapid weight gain such as during puberty, pregnancy, or obesity.
There are several treatment options to address this skin problem including cosmetic procedures (laser therapy), special massages, oral and topical treatments.
In this article, we will be taking a close look at one of the most popular brands of stretch mark topical formulations with the goal of learning if it really works or not.
How Does It Rate?
Overall Rating: 3.7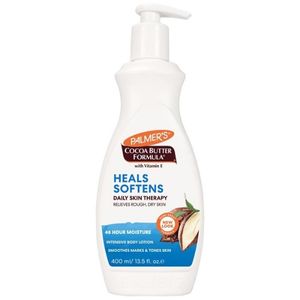 Palmers Cocoa Butter
Brand Highlights
Luxuriously rich formula heals and softens skin all over the body
Perfect for all skin types
Provides 24-hour moisture
no parabens or phthalates
It will remove the stretch marks on your body.
There are unlikely to be any side effects.
Key Ingredients
Cacao Extract
Palm Oil
Glycerin
Cocoa Seed Butter Extract
Water
Pros
The product could help you remove the stretch marks on your skin.
It might be effective enough to guarantee that you don't go through wrinkling and fine lines.
The product contains entirely natural ingredients without any chemicals.
The product could also increase the hydration of your skin and make it more ample.
Cons
The product might provide its benefits slower than it promises.
It doesn't come with a money-back guarantee.
There are a few negative reviews.
---
How Does Palmers Cocoa Butter Work?
The topical formulation is designed to heal and soften dry, rough skin. It helps smoothens marks on the skin and assists in toning the skin for an improved appearance and texture.
It contains ingredients that help smooth and blend unattractive scars and marks on the skin like stretch marks.
Palmers Cocoa Butter has become a popular treatment and prevention of stretch marks. It is typically used during and after pregnancy for preventing and reducing the appearance of stretch marks.
Palmers Cocoa Butter Ingredients – Are they Safe & Effective?
The Ingredients Include:
Cacao Extract
– This is well-known for the prominent nutrients that it might be able to bring to your skin.
As per study by nutrients, anti oxidants found in cocoa are capable of protecting the skin from inside by neutralizing oxidative stress which is a major factor in dermal structure deterioration.[1]
Palm Oil
– This is going to nourish your skin and enhance its overall ampleness and plumpness.
Glycerin
– This is a natural ingredient that is going to attract additional water molecules and hydrate your skin.
According to NCBI, glycerine is one of the most effective humectant. This was as per a 2016 study.[2]
Cocoa Seed Butter Extract
– This is also going to introduce a lot of prominent minerals and vitamins, guaranteeing the efficacy of the product.
Cocoa butter can prevent stretch marks during pregnancy. However, per a report, several reports have failed to prove the efficacy of cocoa butter in stretch marks removal.
Water
– This is going to help dilute the ingredients and distribute them through the entire skin.
Palmers Cocoa Butter FAQ's
Q: Is It Really Risk Free?
A: Palmers Cocoa Butter is relatively safe aside from the allergic reaction it can cause certain people who are allergic to one or more ingredients.
It is not completely risk-free but the formulation doesn't include harsh chemicals that can cause serious side effects.
Q: What is the Buzz over Palmers Cocoa Butter?
A: Palmers Cocoa Butter became popular for preventing stretch marks during pregnancy through word of mouth.
Many women who have used it claim it is really effective for preventing stretch marks so it has become one of the unofficial uses of the product.
It was initially designed to make the skin smoother and reduce scars and other marks.
Now, it is marketed as a product for preventing stretch marks during pregnancy.
However, reducing stretch marks that have been around for a long time, many users claim it isn't effective.
Q: Where can you buy Palmers Cocoa Butter?
A: You can purchase this product from Walgreens and Walmart.
What Kinds of Reviews are Out there for Palmers Cocoa Butter?
A: There are quite a few customers reviewing the product and this is definitely something that you want to keep in mind. This shows that the product manages to attract customer traction, which is undoubtedly very important.
Now, one of the users says that the product seems to be very thick and that it was far too strong of ascent. This is something that has to be accounted for.
Another user goes on to say that it has helped her skin heal after a hard hit on her arm. It is also supposedly a lot more effective than other solutions.
Palmers Cocoa Butter Review – Final Verdict
Overall, Palmers Cocoa Butter is a good product worth trying.
However, it is the only effective form of preventing stretch marks so you have to use it before stretch marks appear. Yet, the ingredients that it has to seem to be capable of bringing additional benefits as well.
Going further, all of the substances are said to be quite effective and, at the same time, you might be able to enjoy additional benefits.
Of course, it is a good idea to go ahead and talk to a dermatologist and see if he would recommend it. If he doesn't – don't worry, there are a lot of available alternatives on the market. Some of the alternatives you may want to check out our Queen Helene Cocoa Butter Creme, Apothederm, and Dermactin – TS.
The unfortunate truth is that more than 90% of the stretch mark creams being sold today are ineffective. Some are even unsafe and can cause side effects like skin irritation. Choosing a stretch mark cream is a very difficult process that takes a lot of time for thorough research. To make it a lot easier for you, we have carefully examined the top stretch mark creams on the market and ranked them based on effectiveness, safety and affordability. Here are the best products for your consideration.
Our Top Stretch Mark Cream
Skinception Stretch Marks Therapy

Diminishes New and Existing Stretch Marks
Improveme in Skin's Elasticity
Effective for All Skin Types
Quality of Natural Ingredients
Clarins Stretch Mark Control
Diminishes New and Existing Stretch Marks
Improveme in Skin's Elasticity
Effective for All Skin Types
Quality of Natural Ingredients