According to the CDC
[1]
, a quarter of the U.S. population reports occasional sleep problems while nearly 10% suffer from
chronic insomnia
. Considering how important sleep is for the maintenance of good health and normal functioning, it comes as no surprise that sleep aids are frequently sought out by the chronically sleep-deprived part of the population.
All about Sleep Aid Pill
Sleep aid pills come in the form of prescription medication, over-the-counter drugs, and natural supplements. There are advantages and disadvantages to each type of treatment that largely depend on a person's general health status and the nature of their sleep problem.
Pharmacological sleeping aids usually work by targeting the GABA receptors in the brain which are responsible for the inhibition of the central nervous system. Their sleep-inducing effects are strong and have a sedative and hypnotic quality to them. On the other hand, natural supplements induce sleep by working as anxiolytics. Some natural sleep supplements also target GABA receptors while others increase the amount of melatonin in the brain which is the hormone most responsible for sleep.
Top Sleep Aid Pills of 2022 Revealed
W?hat is the best over the counter sleep aid Finding a suitable product that will help you sleep better is not easy. To help you out, we've completed a list of top sleep aids of 2022.
Sleep Support Plus is a product that is responsible for ensuring that you have a restful night to promote normal development and growth of your brain. It also helps improvement development of the whole body as a whole for a healthy and better-living individual.
It helps you experience deep sleep so that you concentrate and perform your tasks well during the day. It utilizes active and natural ingredients that deliver satisfying results without causing side effects. Sleep Support Plus best natural sleep aid. It is a product that is available online and its pricing depends on the number of bottles that you purchase. One bottle is priced at $37.08, two bottles at $64.94, and 3 bottles cost $104.74 with one bottle free.
You can learn more about Sleep Support Plus here.
---
Onnit New Mood is the ultimate mood-boosting and stress-busting supplement with high-level organic ingredients whose benefits are supported by scientific research. According to reviewers, this formula is highly effective when it comes to relaxing and calming, elevating positive mood, and decreasing anxiety.
In addition, it can help promote restful and quality sleep. You take 2 before sleep, and 2-4 during the day if you need them. The product is safe, manufactured under strict safety conditions, and should not lead to any harmful side effects.
A reputable manufacturer called Onnit Labs Inc makes this supplement. Although it's not cheap, at $59.90 it falls within the average cost for this type of formula. You can buy it from the manufacturer's official website, from numerous other online sites, and in some stores.
You can learn more about Onnit New Mood here.
---
According to the supplement website, this product is helpful, particularly for those who have inconsistent sleep habits, whose natural sleep patterns have changed, nervous or apprehensive before falling asleep, and those in a bad mood and are having trouble sleeping.
Another point worth mentioning is that the supplement's active ingredients are believed to aid in the restoration of natural sleep hours and the reduction of anxiety.
Sleep wave is a well-known best sleep supplement manufactured by Nutri-health. The manufacturer claims to manufacture the supplement from natural herbs for insomnia that have been shown to be the best sleep aid products. This is also due to the fact that it encourages profound relaxation. The product is also said to interact with hormones to help you get back on track with your sleep cycle.
Vitamin C, Vitamin B6, the extracts of Valerian root, Lemon balm, Passionflower, Chamomile, GABA, Hops, L-theanine, and Melatonin all present in this Sleep Wave supplement.
The product's active ingredients are claimed to have been clinically studied and verified to help you relax before going to sleep. It is recommended that adults take two capsules for about 30 minutes or an hour before going to bed.
You can learn more about Sleep Wave here.
---
Unlike other anti-snoring products or supplements, VitalSleep is said to be comfortable because it fits perfectly into the mouth and can be adjusted to meet your needs.
VitalSleep, like other supplements, can be placed in your mouth before going to bed. According to the manufacturer, it will aid in the reduction of snoring since it has a latex layer that is BPA-free and not only durable but also safe sleep aids to use in the mouth.
VitalSleep is available in two sizes to accommodate both men and women. This shows that the manufacturer is aware that some ladies suffer from snoring as well.
VitalSleep, according to the manufacturer, may have some adverse effects similar to other sleeping aid products such as soreness, mouth and jaw pain, mouth clogging, and salivation.
VitalSleep may be the ideal product for you if you want a good night's sleep and pleasant dreams. The product is available on the manufacturer's official website and can be purchased for $69.95.
You can learn more about VitalSleep here.
---
AirSnore Mouthpiece is an innovative device that is designed for special sleeping difficulties associated with snoring and enhance a restful and quality sleep. It works to clear inhibitors in your nose to facilitate easy breathing.
Melatrol claims their product aids in pacing your jaw at a certain angle to favor the passage of air molecules while preventing the subject from unhealthy snoring. This equipment is made with a suitable structure that enhances normal and healthy breathing without depending on what causes the snoring.
This formula is sold in combination with AirSnore drops. The mouthpiece goes for $49.95 while the said drops are priced at $59.95. Buying two sets of this product is an advantage since you get the discounted price of $89.95.
You can learn more about AirSnore Mouthpiece here.
---
Melatrol a melatonin sleep aid is another melatonin-based product, Melatrol is meant to boost your melatonin levels for better-quality sleep. Other ingredients in this product are rhodiola rosea extract, 5-hydroxy tryptophan, gamma amino butyric acid (GABA), passionflower, and valerian root.
The manufacturers of Melatrol claim their product minimizes sleep-onset latency which helps develop a good sleeping hygiene. You can learn more about Melatrol here.
---
SnoreZip is a product that has been uniquely formulated to reduce frustrating and irritating snoring sounds. It makes sure that you sleep peacefully all through the night without disturbing other people. It significantly works by breaking up mucus to make sure that you breathe with a lot of ease.
In addition, this formulation relives the indications that may result in snoring. It provides consumers with quality sleep that they have been yearning for.
Some of the ingredients used include Carbo Vegetabilis 12x, Lung Porcine 6x, and Antimonium Tartaricum 200c, which have been alleged to be free of harmful components. Nevertheless, even with so much said about this formula, it is good to note that there are better working supplements on the market.
You can learn more about SnoreZip here.
---
Another natural sleeping pills, Somnapure is meant to improve your sleep hygiene with the help of melatonin, Valerian, hops, passionflower, lemon balm, chamomile, and also L-theanine which is an amino acid in green tea that studies found was an effective sleep aid for various disorders and medical conditions.
You can learn more about Somnapure here.
---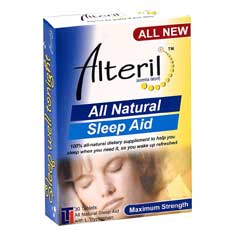 Customers may choose the sleeping tablet, gel cap, and suspension form of this all-natural sleeping aid. The three main ingredients in Alteril are melatonin, valerian, and L-tryptophan.
These ingredients work by boosting the levels of sleep-inducing neurotransmitters in the brain and inhibiting central nervous system functioning. The result is a calm and sleepy state of mind that people with chronic insomnia definitely need. Alteril is the best sleep aid for adults.
You can learn more about Alteril here.
---
Why You Need Sleep Aid Pills?
Those experiencing a type of sleeping problem that does not respond to relaxation techniques and lifestyle changes may benefit from sleep aid pills. Because sleep problems can cause a wide range of health consequences such as diabetes, obesity, and heart disease, it is important to treat insomnia as quickly as possible.
Sleep problems can also interfere with one's work so people will ask for the strongest sleep aids in order to function better during the day. However, most sleep aids aren't meant to be taken long-term as they carry some side effects and don't really address the underlying cause of your sleep problems which are usually anxiety, depression, and some medical conditions.
Should I just take antidepressants like Trazodone for sleep?
One of the most common questions that people have about sleep aids is whether they can use 50mg Trazodone for this purpose. Trazodone is an antidepressant that belongs to the group of serotonin modulators that work by regulating the levels of this neurotransmitter in the brain.
The medication was approved by FDA in 1981 and over the years it became a commonly prescribed treatment for a number of purposes including insomnia. This is why most people wonder whether they can simply get a prescription for this medication instead of taking a supplement.
Although some doctors do prescribe Trazodone for sleep improvement it's important to bear in mind this is not the drug's initial purpose. Also, prescription medications always carry the risk of side effects and Trazodone isn't the exception. Common side effects of this drug include headache, muscle ache, vomiting and nausea, dry mouth and eyes, confusion, blurred vision, sweating, rash, and others. It's always better to start with natural solutions and strive to improve your sleep in a way that is associated with minimum side effects risk.
Sleep Aids Supplement Formulations
While the modern generation's best sleeping pills contain mostly benzodiazepine and non-benzodiazepine ingredients that have a strong effect on GABA receptors, sleep aid supplements usually contain mostly herbal ingredients.
Some herbs such as lavender and chamomile have an anxiolytic effect on the brain making them a perfect option for anxiety-related insomnia. However, natural sleep remedies are also capable of affecting the GABA neurotransmitter as well as serotonin and natural melatonin concentrations as explained in an article published in Current Neuropharmacology. Most of these herbs for sleep are also mild and won't cause sedation or hypnosis.
Things to Consider While Choosing Sleep Aid Pills
Without addressing the underlying cause of your insomnia, you won't experience the full benefit of sleeping pills. However, if you believe you need the help of sleep aid to function normally, first talk to your physician before considering sleeping pills.
If you choose to purchase non-prescription and herbal sleep aid pills, make sure to find a reputable company. You should also consider doing some online research on the main ingredients on your sleep aid of choice to check for product safety and efficiency.
Conclusion
Sleep problems are common and, most people will experience some sleep problems during stressful life events. Maintaining regular sleep hygiene is important for both overall health and daily functioning so, sometimes, the help of sleeping aids is necessary.
The products listed here are a safe and natural option for those experiencing sleep problems who don't want to deal with the side effects of conventional medicine. However, do keep in mind that their effectiveness depends on your general health status and the root cause of your insomnia.
**This is a subjective assessment based on the strength of the available informations and our estimation of efficacy.
*Result may vary. If you are pregnant, nursing, have a serious medical condition, or have a history of heart conditions we suggest consulting with a physician before using any supplement. The information contained in this website is provided for general informational purposes only. It is not intended to diagnose, treat, cure, or prevent any disease and should not be relied upon as a medical advice. Always consult your doctor before using any supplements.
Disclosure of Material connection: Some of the links in the post above are "associate sales links."This means if you can click on the link and purchase an item, we will receive a commission. Regardless, we only recommend products or services which we use personally and/or believe will add value to our readers. We are disclosing this in accordance with the Federal Trade Commission's 16 CFR, Part 255: "Guides Concerning the Use of Endorsements and Testimonials."