In This Review
What is Power to Sleep PM?
This dietary supplement, Power to Sleep PM, is designed to help promote a healthy sleep cycle.
The sleep aid product might enhance a deep sleep for a speedy recovery.
It is alleged to consist of vitamins and botanical extracts to help users achieve improved sleep quality.
The included ingredients are believed to promote relaxation without leading to further health complications.
This item is said to help boost calmness and ensure you stay asleep for longer.
Also, Power to Sleep PM may help minimize anxiety and tension, which often interrupt your sleeping cycle.
The company responsible for the formulation and distribution of this sleep aid supplement is known as Irwin Naturals.
The manufacturer seems to rely on the health benefits of herbs to help users improve their health with a reduced chance of any side effects.
The manufacturer is well established with several natural supplements formulated to help ensure the health and an active lifestyle.
On this note, Irwin Naturals combines detailed knowledge of a natural ingredient with present sleeping trends to formulate a sleep aid pill called Power to Sleep PM.
It is supposed to help combat insomnia by providing users with a better sleeping cycle.
How Does Power to Sleep PM Rate?
Overall Rating: 3.8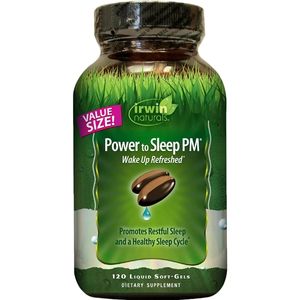 Power to Sleep PM
Brand Highlights
The brand has an imposing line of sports nutrition products.
Power to Sleep PM uses clinically proven ingredients in its formulations.
They are committed to providing top-notch, original goods.
It is known for developing and releasing the most cutting-edge products.
Key Ingredients
Vitamin B6
Magnesium
Flaxseed Oil
Magnolia extract
Chamomile extract
Ashwagandha
California Poppy extract
GABA
Passionflower extract
Lemon Balm extract
Ginger extract
Pros
Users may experience better sleep experience if used religiously and as directed.
An improved level of recovery and better energy may be experienced after waking up.
The supplement may help boost your productivity since it eliminates dozing during work.
It may help regulate your sleeping pattern by avoiding long night stay before sleeping.
Cons
The product may not be sufficient for combating chronic sleep conditions, as it is only intended for supporting better sleep.
The supplement contains ingredients like chamomile, which every user may not favor.
It may not be appropriate for people involved in late-night emergencies since it promotes deeper night sleep.
The sleep aid contains powerful sedatives and may not promote natural sleep in all users.
---
How Does Power to Sleep PM Work?
This sleep aid supplement features a unique working process, which begins from quick assimilation by the body for rapid stimulation of some areas of the brain to provide better sleep experience.
The proprietary blend, especially 5-HTP, GABA, and Ashwagandha, may help leave users calm and relaxed by modifying the body's activity.
Besides, the supplement is formulated to increase the level of serotonin and decrease the level of the stress hormone, cortisol, in the body for a restful night's sleep. This mechanism helps tackle the causes of unhealthy sleeping patterns.
Power to Sleep PM Ingredients-Are They Safe and Effective?
The supplement includes several potent ingredients that have been linked to improved sleep experience in users. These ingredients are added in a ratio to ensure they work synergistically to provide a calm and relaxed mind.
Some of the components featured in the proprietary blend are:
Vitamin B6 (as Pyridoxine Hydrochloride)
This vitamin B6 plays a vital role in the production of melatonin, which is known to help in the regulation of the sleeping cycle[1].
Magnesium (as Magnesium Citrate)
This mineral is helpful in accomplishing a deep and restful sleep state, as it[2] helps eliminate night terrors.
Flaxseed Oil
This oil is extracted from flax seed. It helps to increase the amounts of the sleep-regulating compound, serotonin, in our body since it is a rich source of omega-3 fatty acids and tryptophan.
Magnolia extract
This herbal extract has antioxidant properties which help protect your brain cells from oxidative stress. Also, it increases the activities of a neurotransmitter that keeps excitatory neurons quiet for better sleep.
Chamomile extract
This Chamomile ingredient has a long history in traditional remedies for combating insomnia, as it acts as a sleep inducer[3]. Its tranquilizing effects are linked to apigenin, an antioxidant, it richly contains.
Ashwagandha (Withania somnifera) extract
It decreases the level of the stress hormone, cortisol, released by the adrenal glands.
California Poppy extract
This plant-based ingredient is known for its effectiveness in treating insomnia, and nervous agitation. Also, it is used to promote relaxation.
5-HTP (Griffonia simplificifolia)
This ingredient is a natural chemical converted into serotonin to help re-establish a regular sleep pattern
GABA
This substance is essential and plays a crucial role in achieving better sleep.
Passionflower extract
This kind of herb is related to decreased stress levels and is often used because of its mild sedative effects.
L-Theanine
This substance works by ensuring your body and mind are calm and relaxed for a better night's sleep.
Lemon Balm extract
This extract is included to enjoy users' sound health with increased immunity.
As documented in our Pitch Black Review article, features this ingredient in which we provided detailed information and analysis.
Black Pepper Extract
This extract is a rich source of Bioperine, which is known to boost other included ingredients' bioavailability.
Ginger extract
Ginger extract packs a lot of antioxidants and antimicrobials which improve your health status[4].

FAQ's
Q: How Should You take Power to Sleep PM?
A: The manufacturer recommends that adults use three liquid soft gels about 30 minutes before going to bed, preferably with a meal.
Q: What is the maximum amount one can take in one night?
A: The amount of medicine that you take depends on the strength of the medicine. Follow your doctor's orders or the directions on the label. In general, a dose between 0.2 and 5 mg is considered a safe starting dose.
Q: How Much is Power to Sleep PM?
A: The supplement price is stated on the manufacturer's website at $18.98. You can also avail yourself of other discounts and extras offered by the manufacturer.
Q: What is Power to Sleep PM's Return Policy?
A: The manufacturer offers customers who may not be pleased with the product a 30-day money-back guarantee. Customers can return unopened products and ask for a full refund.
Q: Does Power to Sleep PM Offer a Free Trial?
A: There is yet to be a detailed statement about a free trial bottle of Power to Sleep PM.
What Do the Reviews Say?
Works, but not as well as advertised. The first few doses were promising, but the effects do not last long, and you feel burned out after its effect comes down.
~ Liza
Conclusion
The product comes with lots of promises touting the product as a solution for individuals looking to enhance their night sleep. The sleep aid supplement may boost your sleep experience by using natural ingredients alone.
With Power to Sleep PM, it is said users may also have increased productivity and speed recovery the next day. Unfortunately, there are some demerits regarding the usage of this supplement, which include its ineffectiveness in supporting individuals dealing with chronic sleep conditions to achieve better and deep sleep.
More so, some users who do not favor ingredients like chamomile because of its taste might want to take a look at other top rated sleep aids available on the market. Some other options available in the market are Sheer Sleep, RESTMORE Sleep Aid, and removal.
There are many people who may have a hard time falling or staying asleep. Consequently, they wake up exhausted and irritable. Effective, natural sleep aids can help return to a normal sleep schedule resulting in improve overall health, mood, and well-being.
Below you'll find some of the most effective all natural sleep aid formulations on the market today, in our opinion.
Our Top Sleep Aid Choices
Verdict on Claimed Benefits: Below is our summary of the available evidence for the claimed benefits of below mentioned natural sleep aids, sleep support supplements and anti-snoring mouthpiece based on the available research:
VitaPost Sleep Support Plus | Best Sleep Support Supplement

Supports Healthy Sleep Cycles*
Gold Star Evidence
Occasional Sleeplessness Relief*
Gold Star Evidence
Enhances Sleep Quality*
Strong Evidence
Supports Relaxation Feelings*
Gold Star Evidence
NooCube Sleep Upgrade | Boost Cognitive Performance
Fall Asleep Fast*
Gold Star Evidence
Stay Asleep Longer*
Gold Star Evidence
Improves Brain Performance and Memory*
Strong Evidence
Improves Mental Health*
Strong Evidence
Snoran Plus | Say Stop To Snoring!
Reduces Snoring*
Gold Star Evidence
Improves Breathing*
Strong Evidence
Provides Deep and Relaxing Sleep*
Gold Star Evidence
Promotes Restful Sleep*
Strong Evidence