Sunflower oil extracted from sunflower seeds is commonly used in cooking and in cosmetic products as an emollient. It is non-volatile and was first industrially produced in Russia back in 1835.
Sunflower has been demonstrated to be effective in alleviating a number of skin conditions including dryness, acne, sun damage, and premature aging.
Its efficiency comes from a compound called beta-carotene, which is commonly found in fruits and vegetables.
In addition, sunflower oil is rich in antioxidants that help in the elimination of free radicals and toxins responsible for certain skin issues due to cell damage.
Here are 4 benefits of sunflower oil on your skin:
1. Prevents Premature Aging
Earlier signs of aging usually occur on the face and are characterized by fine lines and wrinkles. These signs occur when the cells of your skin get damaged due to free radicals and toxic compounds.
Premature aging can be prevented by consuming moderate quantities of vitamin E from different sources of food or applying sunflower oil directly on your skin.
Sunflower contain compounds that protects collagen and elastin (skin's connective tissues) giving a more youthful appearance. If you are after reaping this great benefit, you should apply sunflower oil on a regular basis.
2. Fights Acne
Acne is mostly caused by the excessive production of sebum by sebaceous glands. It occurs when oil, sweat, and other impurities get blocked and infected by bacteria.
Acne is a common problem affecting even adults but common in teenagers. By applying sunflower directly onto your skin, it will help create a protective layer essential in preventing bacteria to come in contact with your skin and thus prevent acne infection.
Advertisement
*All individuals are unique. Your results can and will vary.
Sunflower oil is also loaded with vitamin E and fatty acids for nourishing your skin while offering protection at the same time. For optimum results, apply sunflower on a regular basis after cleansing your face.
3. Prevents Sun Damage
Exposure to sunlight and environmental conditions accounts for most skin problems that people experience. It's very unfortunate because the environment contains large quantities of free radicals responsible for triggering certain types of cancer, including skin cancer.
The good news is that by applying sunflower oil topically on your skin, you will create a protective layer to shield environmental toxins and harmful rays of the sun.
4. Prevents Infections
As stated earlier, sunflower oil is loaded with essential fatty acids, including omega-6, which have been shown to be effective in eliminating skin infections like dermatitis and sunburns.
In addition, this oil comes with antioxidant and anti-inflammatory properties. It also contains linoleic acid which works along with omega-6 fatty acid to help in cell regeneration.
This means that other than creating a protective layer to prevent bacterial infections, sunflower oil when applied topically also helps in skin rejuvenation. Regular use of sunflower oil can also give radiant and glowing skin.
5 Easy Tips To Use Sunflower Oil
Just like with any cosmetic product, sunflower oil must be used properly to get the desired results. Although you can apply it directly, there are various ways you can use to enhance the effects.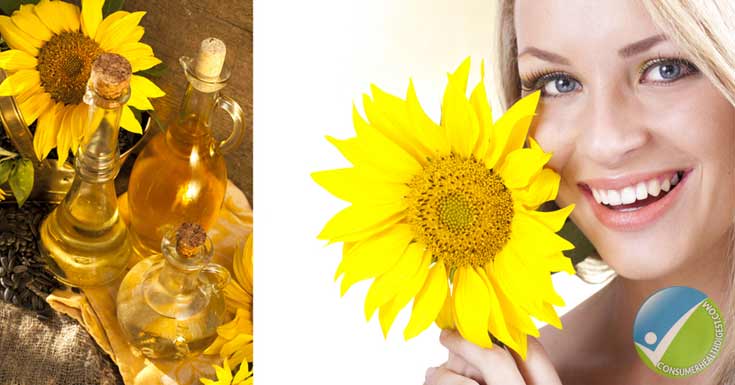 Massage on your skin: It is the best method for using sunflower oil after taking a warm bath. The oil will penetrate to deeper layers of your skin for effective nourishment. You can apply this oil on any part of your body without the need to wash it off.
Avoid putting clothes immediately: Sunflower oil is greasy and may stick clothes to your body if you dress immediately after applying. Give yourself at least 20 minutes to allow sunflower oil penetrate to deeper layers of your skin before dressing.
Make sugar-sunflower scrub: To enhance the effect of sunflower oil on your skin, create a scrub by mixing it with a small amount of white sugar until you get a thick oily mixture.
Always soak your skin in warm water prior to applying sunflower – Sugar scrub to raise your skin's temperature. This helps in dampening and softening dry or dead skin layers. Apply the scrub on a circular motion on desired areas of your body.
Follow manufacturer's instruction – The right dose of sunflower oil varies depending on several factors including user's age and health condition. Bear in mind that natural products are not always safe and the dosage is very crucial. Check direction for use on product labels or consult a pharmacist or healthcare provider before using.
Conclusion
Sunflower oil is a great treatment for a number of skin problems that most people are faced with. It is natural, safe and effective in dealing with acne, dermatitis, sunburns, fine lines and wrinkles among others.
Results will only remain with consistent and regular use of sunflower oil. You can add a few drops of sunflower oil to a regular moisturizer for optimum benefits and use it every day. For safety reasons, apply sunflower oil as directed by them.
View All