In This Review
Overview
Are you tired of looking for a skincare product with ingredients that nourish and benefit your skin? Do you seek straightforward, cruelty-free, and affordable solutions for your skincare routine without the fear of harmful additives? You're not alone.
Many people strive for radiant, healthy skin but are wary of complex, expensive products with unclear formulas.
Out of the many skincare options, a potential solution emerges: Itk Skincare. Launched by influencers Brooklyn and Bailey, this online brand aspires to be a straightforward, budget-friendly alternative. It aims to cut through the skincare confusion and offer a streamlined, stress-free approach to achieving and maintaining healthy skin.
In this review, we'll closely examine Itk Skincare's most popular products, exploring the science behind their ingredients and seeing whether the brand's promises are true.
How Does It Rate?
Overall Rating: 3.9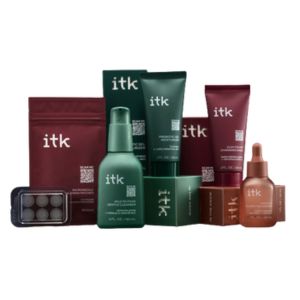 Itk Skincare
Brand Highlights
Itk Skincare, born from the influence of popular personalities Brooklyn and Bailey, emerges as a fresh and trendy skincare brand.
In an industry often riddled with complexities, this brand is your straightforward, no-nonsense solution.
Exclusively available at Walmart, Itk Skincare proudly presents itself as the go-to choice for budget-conscious consumers in the vast skincare landscape.
At the heart of Itk Skincare lies a commitment to transparency, accessibility, and inclusivity.
It seeks to offer a product line that resonates with a broad and diverse audience, all while fostering a supportive, judgment-free dialogue about the importance of skin health.
Key Ingredients
Prebiotic
Squalane
Cucumber Extract
Niacinamide
Aloe Vera Leaf Juice
Glycerin
Bakuchiol
Chamomilla Recutita (Matricaria) Flower Extract
Pros
Itk Skincare offers high-quality products at budget-friendly prices.
The brand promotes inclusivity and fosters positive conversations about skin health.
Customers benefit from clear information about product ingredients and usage.
Itk Skincare offers a range of products to address various skincare needs.
The brand's association with influencers like Brooklyn and Bailey can attract a younger demographic.
Cons
Products are exclusively sold at Walmart, limiting accessibility for some consumers.
Results may vary from person to person, and not all products may work equally well for everyone.
---
About the Brand
Itk Skincare is a trendy skincare brand launched by influencers Brooklyn and Bailey. Recognizing the complexities and ambiguities often associated with skincare shopping, this brand aims to offer a simplified, clear alternative.
With products sold exclusively at Walmart, Itk Skincare positions itself as a convenient and budget-friendly brand in the expansive skincare market.
Central to Itk Skincare's ethos are its pillars of transparency, accessibility, and inclusivity as it aims to create a line that appeals to a wide and diverse audience while fostering a positive, judgment-free conversation around skin health.
Popular Itk Skincare Brand Products
Tri-acid Toner
The Tri-acid Toner by Itk Skincare is a multi-action product that aims to exfoliate, balance, and hydrate the skin. With a serum-like consistency, this toner boasts a unique blend of AHA, BHA, and PHA, catering to diverse skincare needs.
Key Ingredients:
The ingredients in this toner include aqua (water/eau), lactic acid, propanediol, glycerin, gluconalctone, niacinamide, malic acid, salicylic acid, chamomilla recutita (matricaria) flower extract, phytic acid, sodium citrate, sodium hydroxide, sodium polyacrylate, sodium benzoate, magnesium chloride, citric acid, potassium sorbate, calcium gluconate, calcium chloride, sodium carbonate, sodium chloride, potassium chloride.
How to Apply Itk Skincare Tri-acid Toner:
For optimum results, dispense 2-3 pumps of the solution onto a cotton pad, allowing it to soak. Gently wipe the pad across clean, dry skin, concentrating on areas with extra congestion.
---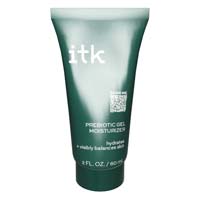 Prebiotic Gel Moisturizer
The Prebiotic Gel Moisturizer by Itk Skincare is crafted to deliver hydration and energy to the skin. The unique formula harnesses the power of prebiotics, assisting in maintaining the skin's natural balance and promoting a healthy complexion.
Key Ingredients:
This moisturizer comprises water (aqua/eau), glycerin, dicaprylyl carbonate, coco-caprylate, butylene glycol, alpha-glucan oligosaccharide, squalane, niacinamide, silica, cucumis sativus (cucumber) fruit extract, aloe barbadensis (aloe vera) leaf juice, chamomilla recutita (matricaria) flower extract, lactic acid, sodium hyaluronate, serine, biosaccharide gum-1, phenoxyethanol, hydroxyethyl acrylate/sodium acryloyldimethyl taurate copolymer, panthenol, aminomethyl propanol, acrylates/c10-30 alkyl acrylate crosspolymer, allantoin, ethylhexylglycerin, disodium edta, caprylic/capric triglyceride, urea, tea-lactate, sorbitol, sodium lactate, sorbitan isostearate, polysorbate 60, propylene glycol, ethoxydiglycol, sodium chloride, sodium benzoate, glucose, potassium sorbate, caramel, and bisabolol.
How to Apply Itk Skincare Prebiotic Gel Moisturizer:
Apply a blueberry-sized amount of this moisturizer to clean skin in the morning and at night.
---
Nightly Clarifying Serum
The Nightly Clarifying Serum by Itk Skincare targets skin congestion while simultaneously working to prevent visible signs of aging. A plant-based super ingredient, Bakuchiol, is paired with Azelaic Acid to offer a product suitable for sensitive skin types.
Key Ingredients:
The serum is formulated with water (aqua/eau), glycerin, pentylene glycol, caprylic/capric triglyceride, simmondsia chinensis (jojoba) seed oil, potassium azeloyl diglycinate, polyacrylate crosspolymer-6, niacinamide, biosaccharide gum-1, bakuchiol, butylene glycol, propylene glycol, panthenol, tocopheryl acetate, disodium edta, sodium lactate, urea, tea-lactate, sorbitol, serine, lactic acid, allantoin, carnosine, carbomer, phenoxyethanol, sodium chloride, polysorbate 20, sodium hyaluronate, sodium benzoate, palmitoyl tripeptide-1, palmitoyl tetrapeptide-7
How to Apply Itk Skincare Nightly Clarifying Serum:
Apply 2-4 drops to clean skin for nighttime use and follow up with your preferred Itk moisturizer.
---
Exfoliating Gel Cleanser
The Exfoliating Gel Cleanser offers a gentle yet effective cleansing experience. It aims to remove daily grime, excess oils, and makeup while the exfoliating agents help slough off dead skin cells, revealing a refreshed and bright complexion.
Key Ingredients:
Key ingredients in this cleanser include water (aqua/eau), coco-glucoside, propanediol, phenoxyethanol, xanthan gum, ethylhexylglycerin, sodium pca, malic acid, glycolic acid, aloe barbadensis (aloe vera) leaf juice, lactic acid, tetrasodium glutamate diacetate, spirulina platensis extract, trehalose, sodium citrate, citric acid, sodium hydroxide, sodium benzoate, potassium sorbate.Aqua (Water/Eau), Sodium Laureth Sulfate, Glycerin, Jojoba Esters, Aloe Barbadensis Leaf Juice, and Citrus Medica Limonum (Lemon) Fruit Extract, among others.
How to Apply the Exfoliating Gel Cleanser:
Dampen the face and apply a dime-sized amount of the cleanser. Gently massage in circular motions and rinse thoroughly with lukewarm water.
---
Daily Hair + Skin + Nails
The Daily Hair + Skin + Nails supplement supports overall wellness by promoting the health of your hair, skin, and nails. With its blend of essential vitamins and minerals, this dietary supplement aids in maintaining a vibrant appearance and robustness.
Key Ingredients:
The main components include biotin, Zinc, vitamin C, vitamin E.
How to Use Daily Hair + Skin + Nails:
Take one capsule daily, preferably with a meal or as directed by a healthcare professional.
---
Broad Spectrum SPF 50 Sunscreen Serum
The Broad Spectrum SPF 50 Sunscreen Serum protects against harmful UVA and UVB rays. Its lightweight formula blends seamlessly, leaving no white residue, making it suitable for daily use under makeup or on its own.
Key Ingredients:
Prominent ingredients in this sunscreen serum include:
Active ingredients: zinc oxide 24%
Inactive ingredients: water (aqua/eau), coco-caprylate, glyceryl oleate stearate, peg-8 stearate, glyceryl stearate, tocopheryl acetate, polysorbate 20, polyhydroxystearic acid, panthenol, benzyl alcohol, cetearyl alcohol, triethoxycaprylylsilane, caprylic/capric triglyceride, xanthan gum, sorbitan oleate, lauroyl lysine, sodium phytate, dehydroacetic acid, carnosine.
How to Apply Broad Spectrum SPF 50 Sunscreen Serum:
Shake well before use. Apply liberally 15 minutes before sun exposure. Reapply after 80 minutes of swimming or sweating, immediately after towel drying, and at least every 2 hours.
---
Itk Skincare Ingredients Are They Safe And Effective?
The Itk Skincare products feature a mindful blend of ingredients, each selected for its potential to nourish and protect the skin.
Prebiotic
Sourced from natural fibers, prebiotics help to balance the skin's microbiome. According to a review by Folia Microbiologica[1], prebiotics can significantly improve skin hydration and barrier function.
Dr. Laura Scott, a Board-Certified Dermatologist, explains, "Prebiotics nurture the beneficial bacteria on the skin, promoting a healthier and more balanced skin environment."
Squalane
Derived from olives, squalane acts as a powerful moisturizer. It mimics the body's natural oils, providing deep hydration without irritating, as noted by the MDPI Molecules Journal[2].
Dr. Sarah Williams, a Cosmetic Scientist, states, "Squalane is an exceptional hydrator. It's perfect for locking in moisture without triggering breakouts or sensitivities."
Cucumber Extract
Rich in antioxidants and vitamins, cucumber extract provides a soothing and anti-inflammatory effect. As a Fitoterapia study[3] states, it reduces swelling and redness.
Dr. Alan Carter, a Pharmacist, opines, "Cucumber extract offers soothing properties that can calm skin inflammation and reduce puffiness effectively."
Niacinamide
A form of vitamin B3, niacinamide visibly improves the appearance of enlarged pores, uneven skin tone, and fine lines. A review in the British Journal of Dermatology[4] highlights its anti-inflammatory and brightening effects.
Dr. Jane Marshall, a Dermatologist, says, "Niacinamide is a standout ingredient due to its versatility—it benefits almost every skin concern imaginable."
Aloe Vera Leaf Juice
A renowned healing agent, aloe vera leaf juice soothes and hydrates the skin, as supported by research from the Indian Journal of Dermatology[5].
Dr. Lisa Anderson, a Herbalist, explains, "Aloe vera is not just soothing; it's also deeply hydrating and helps to heal damaged skin more quickly."
Glycerin
A well-known humectant in skincare, glycerin draws water into the skin and holds it there, as detailed in a report by the International Journal of Cosmetic Science[6]. Our Kollagen Intensiv Reviews mentions that glycerin makes the skin resistant and stronger.
Dr. Mark Daniels, Chemist: "Glycerin is a gold standard in skin hydration. It effectively attracts moisture from the air into the skin's outer layer."
Bakuchiol
A plant-derived alternative to retinol, Bakuchiol is known to reduce signs of aging without the typical irritation associated with retinol. According to research published in the International Journal of Cosmetic Science[7], it has been found to improve skin brightness and elasticity.
Dr. Rebecca Klein, a Dermatologist, states, "Bakuchiol offers a gentler alternative to retinol, effectively reducing wrinkles and hyperpigmentation without the associated irritation."
Chamomilla Recutita (Matricaria) Flower Extract
Sourced from the daisy-like flower of the German chamomile plant, this extract is known for its soothing properties. A National Center for Biotechnology Information study[8] shows that it contains anti-inflammatory and antioxidant compounds essential for calming irritated skin.
Dr. Sarah Green, a renowned dermatologist, states, "Chamomilla recutita is a cornerstone in skincare for its soothing properties. It's especially beneficial for individuals with sensitive skin or those prone to inflammation."
Lactic Acid
Lactic acid is an alpha hydroxy acid (AHA) exfoliant derived from fermented sugars. A study in the Journal of the American Academy of Dermatology[9] highlights that it aids in shedding dead skin cells, improving the skin's texture, and enhancing hydration.
Dr. Jane Foster, a skincare scientist, says, "Lactic acid is an effective exfoliant that promotes smoother, more radiant skin. It's gentle, making it suitable even for people with sensitive skin."
Sodium Chloride
Commonly known as table salt, sodium chloride is a natural preservative and thickening agent in many skincare formulations. Research from the Journal of Leukocyte Biology[10] underscores its role in maintaining the skin's natural barrier function.
Dr. Carlos Rivera, a cosmetic chemist, mentions, "Sodium chloride, in the right concentrations, can help in enhancing product texture and stabilizing formulations, ensuring products remain effective."
Caprylic/Capric Triglyceride
Sourced from coconut oil and glycerin, this ingredient is an excellent emollient. A Life Journal study[11] shows that it improves skin moisture, making the skin feel softer and smoother.
Dr. Lisa Mitchell, a skincare expert, comments, "Caprylic/Capric Triglyceride is a hero for hydration. It's lightweight and doesn't leave the skin feeling greasy, making it a favorite in many formulations."
Azelaic Acid Derivative
This ingredient, derived from grains, reduces inflammation and hyperpigmentation. A study from the International Journal of Dermatology[12] highlights its effectiveness in treating rosacea and acne.
Dr. Patricia Wilson, a Skincare Scientist, explains, "Azelaic acid is a powerhouse for fighting inflammation and evening out skin tone."
Palmitoyl Tripeptide-1 and Palmitoyl Tetrapeptide-7
These peptides stimulate collagen production and reduce inflammation, contributing to younger-looking skin, as per a study in the International Journal of Molecular Sciences[13].
Dr. Henry Adams, a Cosmetic Chemist, says, "These peptides are remarkable. They stimulate skin to act younger, boosting collagen and reducing fine lines."
Jojoba Seed Oil
A natural emollient, Jojoba Seed Oil closely resembles the skin's sebum and is known to condition and soften the skin, according to a Polymer Journal study[14].
Dr. Sarah Lin, a Botanist, opines, "Jojoba oil is nearly unmatched in its ability to moisturize and balance oil production in the skin."
Sodium Hyaluronate
A salt form of hyaluronic acid, it deeply hydrates the skin by holding water molecules, as stated by the Dermato Endocrinology Journal[15]. Our Anti-Wrinkle Creams Review discusses some of the best ingredients for aging skin, including hyaluronic acid.
Dr. Robert Chen, a certified Dermatologist, states, "Sodium hyaluronate excels at deeply hydrating the skin, resulting in a visibly plumper and smoother complexion."
Sodium Benzoate
While effective as a preservative, sodium benzoate can form benzene, a potential carcinogen, as observed by a review in the Physiology International Journal[16].
Dr. Maria Lopez, a skincare scientist at the Beauty Research Institute, states, "Sodium benzoate is a prevalent preservative. However, caution is advised as it can form benzene, a potential carcinogen."
Potassium Sorbate
Although a common preservative in cosmetics, it causes skin irritation in individuals with sensitive skin, as noted by the Contact Dermatitis Institute[17].
Dr. Lucas Grant, a cosmetic dermatologist, mentions, "While potassium sorbate is a common preservative in cosmetics, it's crucial to be cautious as it can cause irritation, especially for those with sensitive skin."
Phenoxyethanol
Phenoxyethanol is a preservative in cosmetics but is toxic in human cells, as mentioned in a review in the Experimental Eye Research Journal[18].
Dr. Ayesha Khan, a dermatology researcher, notes, "Phenoxyethanol is a favored preservative in many cosmetics. However, there's evidence indicating its toxic effects on human cells."
Verdict: Itk Skincare Products offers a selection of ingredients backed by science, aiming to moisturize, calm, and promote healthier skin. However, the use of certain preservatives, like sodium benzoate, potassium sorbate, and phenoxyethanol, could be a point of concern for people with sensitive skin or strict ingredient standards.
For these individuals, seeking alternatives with more transparent ingredient compositions might be beneficial.
Itk Skincare – FAQs
Q: Are Itk Skincare products tested on animals?
A: No, Itk Skincare products are cruelty-free. They do not undergo animal testing at any product development or production stage.
Q: 2.Do Itk Skincare products contain parabens or sulfates?
A: No, Itk Skincare formulations are paraben and sulfate-free, ensuring users get the safest and most natural ingredients in their skincare routine.
Q: Are Itk Skincare products vegan?
A: Itk Skincare products are 100% vegan. They do not contain animal-derived ingredients or by-products, making them suitable for vegan individuals.
Q: I have sensitive skin. Can I use Itk Skincare products?
A: While Itk Skincare aims to craft gentle and effective formulations suitable for all, it's recommended to do a patch test with any new skincare product, especially for those with sensitive skin or allergies.
Q: Where can I buy Itk Skincare products?
A: Itk Skincare products are exclusively available at Walmart. Visit your nearest Walmart store or shop online on the Walmart website to purchase your desired Itk Skincare items.
Q: Does Itk Skincare offer a return or refund policy?
A: For information about returns or refunds for Itk Skincare products, please refer to Walmart's return policy, as all purchases are managed through them.
Q: I've seen Itk Skincare products on other websites. Are they legitimate?
A: Itk Skincare products are exclusively sold at Walmart. If you find them elsewhere, they might not be genuine. For authentic products, always shop at Walmart.
Itk Skincare Customer Reviews
Let's see what some customers had to say about their experiences:
Severe Burning Sensation
I was so excited to try out a new toner. It's made with less harsh products so I thought why not give it a try? After about 30 seconds of putting it on my face, it felt like it was burning and swelling. I looked in the mirror and my face was bright red. The sensation just got worse and my face became more red and hot. Even after scrubbing it off, it still did not go away. I do not recommend for sensitive skin. Waste of money sadly. –Justyce
My Life (and skin) Saver
For months I have been struggling with really dry and patchy skin, as my skin has NEVER adjusted well to weather and temperature changes. Living in Texas, the weather is different every week so my skin has been struggling. After one use, I have noticed such a positive difference in my skin- having woke up with no dry or red patches after using this moisturizer the night before! With results like this in a 24 hour period I know my skin will continue to flourish with use of this moisturizer! –Britney
White cast
This sunscreen feels smooth when you're spreading it on your face and the unscented scent is pleasant. That being said, it leaves a horrible white cast that would not fade no matter how long I blended or left it to dry. I have medium toned olive skin and the white cast that was left on my face was horrendous. I would not recommend this sunscreen if you are not fair skinned :(. –Samanth
Verdict: Itk Skincare offers a range of products that have garnered varied reactions from its users. While some have found immediate positive results, others have reported adverse reactions on their skin types. Potential users need to consider individual skin sensitivities and needs before incorporating these into their skincare routine.

Itk Skincare – Conclusion
The skincare industry is flooded with brands promising transformative results. Itk Skincare's approach, emphasizing transparency, accessibility, and inclusivity, is undoubtedly commendable. Their expansive product range meets diverse skincare needs, but individual responses can differ.
While many praise its efficacy, others note adverse reactions. So, if you're considering Itk Skincare, a patch test is important, especially for those with sensitivities.
Remember, skincare is deeply personal; a miracle for one might not resonate the same for another. It's always wise to explore products aligned with your health and quality preferences.