In This Review
Overview of Revlon Touch and Glow
Revlon Touch and Glow Advanced Fairness Cream is an advanced skin care formula that provides you a shine-free mattified look for an entire day.
It maintains normal moisture balance in your skin and minimizes dark spots. It contains a mattifying agent that inhibits melanin production in your skin cells, thus providing you glowing skin all day long.
It effectively helps to reduce the development of black pigments and black spots. The formula contains SPF 15 that protects your skin against harmful UV rays by blocking it, thus preventing skin darkening.
It contains honey that softens and deeply moisturizes your skin, thus contributing to a velvety smooth skin.
How Does It Rate?
Overall Rating: 3.7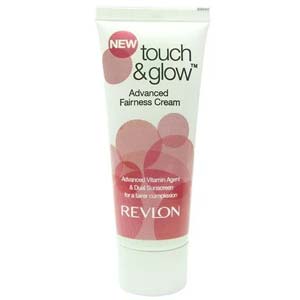 Revlon Touch and Glow
Brand Highlights
The company behind the product is called Revlon.
This is a manufacturer with fairly rich experience and reputation in the field of beauty care and skincare.
This is something that has to be taken into proper consideration – it goes on to show that the product itself comes from a company with a lot of expertise, hence increasing its own reputation as well.
Key Ingredients
Water
Stearic Acid
Glycerin
Titanium Dioxide
Honey
Pros
The product might help you renew the skin cells and replenish them.
It might provide you with anti-aging benefits and prevent wrinkles.
The product could help minimize the formation of dark spots and pigmentation.
It is very easy to use and it's not sticky.
The product might be able to provide deep nourishment.
Cons
Many of them feel that it provides a strong odor as that of an ointment or shaving foam, which lasts for up to 2 to 3 hours.
Although, it is claimed by the manufacturers to be a fairness cream, it doesn't provide remarkable fairness.
It is not an appropriate moisturizer for extremely dry skin.
---
How does Revlon Touch and Glow Work?
It is a triple-action fairness product that is infused with advanced vitamin agents.
It is enriched with Advanced Vitamin Agent (AVA) that effectively nourishes your skin deeply and remarkably makes it fairer. The Dual sunscreen blocks harmful sun rays and protects your skin against sunburn.
This face brightener cream works by preventing premature aging and skin darkening. It noticeably makes your skin fairer and more radiant.
Honey is a natural moisturizer that makes your skin look beautifully soft and supple.
Revlon Touch and Glow Ingredients – Are they Safe & Effective?
The ingredients in the product include:
Water
– This is a must-have product in all skincare creams because it dilutes the ingredients and helps with the proper distribution.
Stearic Acid
– This is something that might have prominent overall benefits to your skin and its condition. Minimal skin irritation has been reported in some people following skin application of diluted stearic acid or cosmetics containing stearic acid [1], as per a study.
Glycerin
– This is also something that is going to enhance the hydration and moisturizing capabilities of the product[2].
Titanium Dioxide
– This is a commonly used ingredient which is used to prevent oxidative stress and other harmful effects[3].
Honey
– This is going to bring a very nice scent as well as a prominent source of powerful nutrients to your body.
Revlon Touch And Glow Questions and Answers
Q: How do I use Revlon Touch And Glow?
A:
After cleaning, apply to the face, neck, and arms.
Use it twice a day for optimal results.
Q: Where to Buy It?
A: Revlon Touch And Glow Advanced Fairness Cream is available on Amazon and Walmart.
Alternatives to Revlon Touch And Glow Advanced Fairness Cream:
The Dos and Don'ts While Using Revlon Touch and Glow
Dos
Do test this formula by applying it on a small inconspicuous area of your skin to detect whether you are sensitive or allergic to any of its ingredients
Don'ts
Do not use this formula if you develop an allergy to any of its ingredients
READ NEXT – Alura Lux

Revlon Touch and Glow Advanced Fairness Cream Review – Final Verdict
All in all, this product might be able to provide you with quite a lot of benefits. The fact that it is made by a reliable company is an advantage that's worth accounting for.
It contains natural ingredients which are said to be prominent and they contain no chemicals.
If you are looking for something to prevent the common signs of aging such as fine lines, pigmentation, and wrinkles, this might be a good option.
Nevertheless, you must calculate your risks and check other best skin brightening products options before you get your hands on this product.
Revlon Touch And Glow can be purchased through Amazon.com.
Skin Brighteners aid in reducing post-inflammatory hyperpigmentation revealing even skin tone. Skin brighteners also can help revitalize tired and dull skin resulting in a youthful, healthy glow.
Below you'll find some of the most effective skin brightening products on the market today, in our opinion.
Our Top Rated Skin Brighteners
Verdict on Claimed Benefits: Below is our summary of the available evidence for the claimed benefits of below mentioned anti-aging supplements, creams, serums, and moisturizers based on the available research:
Essential Skin Food | Skin Nourishing Collagen Support

Diminishes the Dark Spots*
Gold Star Evidence
Boosts Skin's Plumpness*
Gold Star Evidence
Improves Skin's Radiance*
Gold Star Evidence
Brighten Skin Naturally*
Strong Evidence
Dermelect | Advanced Skin Formula
Nourish and Protect Skin*
Gold Star Evidence
Rejuvenate the Skin*
Strong Evidence
Non-Irritating Formula*
Gold Star Evidence
Suitable for All Skin Types*
Strong Evidence
BioRestore Complete | Clear Skin Support
Deeply Nourishes Skin*
Gold Star Evidence
Improves Skin Texture*
Strong Evidence
Reduces Inflammation*
Strong Evidence
Works for All Skin Types*
Strong Evidence