In This Review
Overview of Proactiv Dark Spot Corrector
Proactiv is one of the best-known brands in the world for acne treatments. Starting with the success of their acne home treatment kits, the company has built one of the largest skin care brands around.
Expanding their offerings beyond acne treatments, Proactiv has started moving into other segments of the market.
One of their newer offerings is the Proactiv Dark Spot Corrector, which targets the market for skin lightening products.
The tie-in between this product and other acne-correcting products from Proactiv is that this product is touted as a dark spot treatment that can be left behind by acne scars.
In fact, the product is marketed as one part of their special 3-Step Acne System. You can either buy the full product set together or can purchase just the Dark Spot Corrector on its own through Retailer sites.
Dark spots on the skin can also be due to other factors, such as skin damage from the sun, hormonal changes, unhealthy diet, and hyperpigmentation.
The question is whether this product can really remove dark spots due to various causes, and bring back beautiful skin.
How Does It Rate?
Overall Rating: 3.9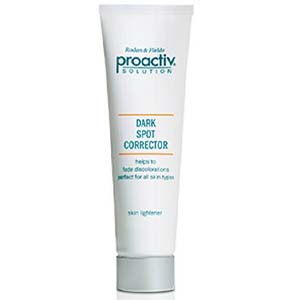 Proactiv Dark Spot Corrector
Brand Highlights
Proactiv Dark Spot Corrector is made by the company, KIK Holdco Company Inc.
Key Ingredients
Vitamin A
Vitamin C
Vitamin E
Hydroquinone
Cons
May irritate the skin

because it contains hydroquinone
Contains artificial ingredients that could

trigger allergies

Some people may not consider the Proactiv Dark Spot Corrector a safe product to use
---
How Does Proactiv Dark Spot Corrector Work?
Proactiv Dark Spot Corrector hydrates the skin and it contains powerful antioxidants meant to neutralize free radicals that damage your skin.
This product claims visible results due to potent ingredients such as hydroquinone (2%) and glycolic acid (4%). The combination of these two ingredients argues to be an outstanding option for those who want to get rid of skin discolorations.
Proactiv Dark Spot Corrector Ingredients – Are they Safe & Effective?
Proactiv Dark Spot Corrector includes the following ingredients that are supposed to lessen the appearance of dark spots and improve your skin.
Vitamin A
– This helps hydrate your skin, replacing the moisture it needs [1].
Vitamin C
– This vitamin contains a powerful antioxidant that helps neutralize the free radicals that cause damage to your skin, and are associated with the aging process [2].
Vitamin E
– This vitamin also contains antioxidants to help protect the skin [3].
Hydroquinone
– This is a powerful chemical which is used in many skin lightening products on the market. It is typically used to fade discolorations of the skin which are caused by hyperpigmentation and inflammation.

Proactiv Dark Spot Corrector FAQ's
Q: How do I use Proactiv Dark Spot Corrector?
A:
First, cleanse your skin.
Then apply a dab of the serum to the affected region and massage it in.
Q: What are the precautions when using this serum?
A: When possible, Proactiv advises keeping away of the sun. You should also use a sunscreen or moisturizer with at least an SPF of 15. The serum can even be worn under makeup.
Q: How Long Will It Takes To Show The Result?
A: If you're using Proactiv Dark Spot Corrector in conjunction with Proactiv's 3-Step System, apply it in between steps 2 and 3. You should see a difference, but if you don't observe any improvement after three months, stop using it.
Q: Where to Buy?
A: You can buy it from Amazon and Walmart.
Proactiv Dark Spot Corrector Review – Final Verdict
Proactiv Dark Spot Corrector can be effective for lightening some dark spots and discolorations left by sun damage or acne scars.
However, there are other products on the market such as Garnier Skin Renew Dark Spot Corrector. which are more effective and safer at that. Reading their review will make your purchase wiser.
It makes sense to try the safer products first before you take unnecessary risks to your health.
Skin Brighteners aid in reducing post-inflammatory hyperpigmentation revealing even skin tone. Skin brighteners also can help revitalize tired and dull skin resulting in a youthful, healthy glow.
Below you'll find some of the most effective skin brightening products on the market today, in our opinion.
Our Top Rated Skin Brighteners
Verdict on Claimed Benefits: Below is our summary of the available evidence for the claimed benefits of below mentioned anti-aging supplements, creams, serums, and moisturizers based on the available research:
Essential Skin Food | Skin Nourishing Collagen Support

Diminishes the Dark Spots*
Gold Star Evidence
Boosts Skin's Plumpness*
Gold Star Evidence
Improves Skin's Radiance*
Gold Star Evidence
Brighten Skin Naturally*
Strong Evidence
Dermelect | Advanced Skin Formula
Nourish and Protect Skin*
Gold Star Evidence
Rejuvenate the Skin*
Strong Evidence
Non-Irritating Formula*
Gold Star Evidence
Suitable for All Skin Types*
Strong Evidence
BioRestore Complete | Clear Skin Support
Deeply Nourishes Skin*
Gold Star Evidence
Improves Skin Texture*
Strong Evidence
Reduces Inflammation*
Strong Evidence
Works for All Skin Types*
Strong Evidence